News & Stories
SIPA Students Engage with 20 UN Experts at Virtual Roundtable
Posted Apr 14 2021
Image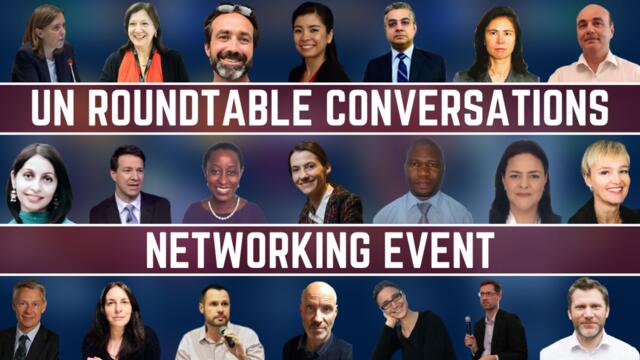 SIPA's United Nations Roundtable Conversations and Networking event on March 26 gave 120 students the chance to connect meaningfully with 20 UN experts from around the word.
The program was organized by Professor Daniel Naujoks, interim director of SIPA's International Organization and UN Studies specialization. Recalling the success of last year's in-person event, Naujoks observed that this year's virtual format allowed SIPA students to connect not only with officials in New York but also with experts based in Geneva, Washington, and in-country offices in Tanzania, Costa Rica, Jordan, Lebanon, Turkey, Germany, Kenya, France, Panama, India, and Moldova.
The event featured virtual breakout rooms that brought together six students with each participating expert. Discussions centered on the experts' work and experiences to foster development, cooperation, peace, human rights, climate change, and prosperity.
Over the course of the evening, each student took part in three different roundtable conversations, enjoying the opportunity to interact with staff members from a broad range of international organizations, including UNDP, World Bank, OECD, UN Women, UNFPA, ILO, UNEP, UNFCCC, UNICEF, UNHCR, IOM, UN DESA, UNCDF, OHCHR, UN-ESCWA, and the UN Global Compact.
Ahmed Jamal Watoo MPA '21 praised the experience of engaging with experts working on peacebuilding. "Interacting with UN staff in countries ranging from Jordan and Lebanon to Costa Rica and Turkey was extremely beneficial and provided a fresh new paradigm for viewing the important work that the UN is doing at a global level," he said.
"The collection of such a diverse UN panel made sure that there is something for every SIPA student, whatever their area of interest might be," said Aawanti Singh MPA '22.
The event concluded with a virtual reception on the platform Wonder, which allowed experts and students to virtually circulate in the room and engage in conversations about their own professional goals, careers at the UN, and paths forward.
Denisa Tamarez EMPA '22, co-president of SIPA's United Nations Association, the student organization working on promoting multilateral cooperation, said the event encapsulates the opportunities at SIPA.
"During the roundtables, students were able to engage closely with experts, get inputs for their research, advise on building a UN career and network at a personal level," Tamarez said. "The invited experts were extremely generous with their detailed advice and recommendations. I am sure this event will have long-term consequences for many students."
Students were not the only ones who appreciated the conversations. Alumna Devika Iyer MIA '06, who is now a policy specialist for inclusive growth and sustainable development at UNDP's office in Amman, Jordan, said she thoroughly enjoyed engaging with students, both at the roundtables and at the reception.
"It was an immense joy to interact with this diverse body of students at the roundtables," she said. "I was enthralled by their passion to tackle complex development challenges, by their inquisitive minds, and their deep conviction to make this world a better place. A bright future certainly awaits!"
Alia El Yassir, UN Women's regional director and representative to Turkey, Europe, and Central Asia, shared heartening words of wisdom for SIPA students.
"You may have a clear career path in mind and that's just fine. It's also fine to keep an open mind and understand that unplanned opportunities may arise that can take you in a completely different direction," said El Yassir. "Be open. Trust your instincts. Don't be afraid of change. And even if you don't enjoy every experience along the way, use each of them as a learning opportunity and make sure that you end up in a place where you feel connected to what you do and ideally, look forward to going to work every day."
Naujoks said the UN Roundtable Conversations showed that despite the limitations of life during the pandemic, virtual networking events can reap the benefits of global and scaled interaction.
— Sanya Batra MPA '21