PhD In Sustainable Development
PhD In Sustainable Development
Application Deadlines
Final Application: December 15, 2023
The 2024 application will open in September.
The sustainability of development presents some of the most important policy challenges concerning the future of our planet, and it requires an interdisciplinary approach involving the social, natural, engineering, and health sciences. The PhD in Sustainable Development includes a set of rigorous core requirements in the social and natural sciences designed to provide a deep understanding of the interaction between natural and social systems, and provides students with the flexibility to pursue in-depth research in a broad variety of critical policy areas. No other doctoral program produces graduates with the unique combination of diverse skills and deep insight into the most challenging problems of future human welfare. Together with experts and faculty at Columbia, you'll conduct research in a wide variety of areas, including climate change and its social consequences, causes and solutions to extreme poverty, energy systems, agricultural transitions, water resources, and more.
Director Perspective
"We demand that our students are experts in physical systems and social systems... something that is not done anywhere else."
– John Mutter, Director
Students must complete the following as part of this program.

At least 60 overall credits
Completion of an MA thesis
Completion of a dissertation prospectus and oral examination for the MPhil
Six semesters of teaching or research fellowships assignments
Defense of dissertation

Given that a large part of the program's curriculum is dedicated to a unique set of required core courses, credit for previous work is very rarely granted. However, credit for previous graduate work done elsewhere, at a GPA of 3.5 or higher, may be granted on a case-by-case basis and at the discretion of the program directors after a student has been admitted to the program, and cannot exceed a total of 30 credits.

Admission to the PhD program is processed by the Graduate School of Arts and Science (GSAS); please refer to their website for basic admission requirements.

The PhD program requires the following:

Strong background in social science, including four courses in college-level social science with a minimum of two economics courses
Quantitative skills, including at least two courses in college-level calculus through multivariate calculus (Calculus III in the US) and at least one college-level course in linear algebra
Three or more college-level courses in natural science or engineering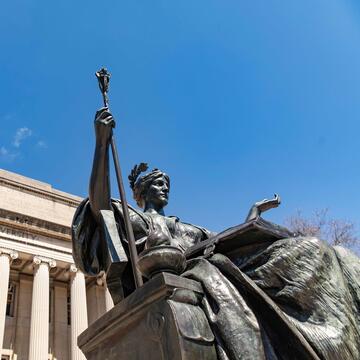 PhD in Sustainable Development
Contact Us
John Mutter
Director, PhD in Sustainable Development
Professor of Earth and Environmental Sciences and of International and Public Affairs
+1 212-854-0716
[email protected]
Tomara Aldrich
Program Coordinator
School of International & Public Affairs
420 West 118 Street
New York, NY 10027
[email protected]

Frequently Asked
Questions