International Fellows Program
Applications Closed for the 2023-2024 Cohort
Applications Deadlines
April 3 — May 2
Applications Closed!
Columbia University is a global institution where students from around the world and faculty from all disciplines address the rapid political, economic, social, and intellectual transformations of our time. Through its International Fellows Program (IFP), Columbia's School of International and Public Affairs (SIPA) has for half a century offered students a unique course of graduate study that combines a heightened understanding of international change with practical preparation to deal with the new world it is creating.
The International Fellows Program is a two-semester seminar open to students of all graduate degree programs at Columbia University. The diverse perspectives and professional backgrounds that fellows bring to the program enrich their year-long common enterprise.
All fellows receive a stipend and study a curriculum with two goals – to examine the origins of the current international order, in which the United States has for decades played the leading role, and to look ahead to the new world that is emerging, dominated by a larger number of actors, new problems, and approaches to problem solving that have yet to be defined. Weekly meetings of the International Fellows Program are supplemented by study trips to Washington, D.C., and the United Nations, where fellows have extraordinary access to senior policymakers, diplomats, legislators, journalists, and leaders of non governmental organizations.
There are fellows from SIPA, but also from other schools at Columbia and from all over the world. It's exciting to know that we'll be spending the rest of the year together.

Toumai Kafri MIA '22
Curriculum
During their first of two semesters in IFP, students develop an understanding of the emergence of the United States as a dominant world power, including a historical review of U.S. foreign policy focusing on key episodes and developments over its first two centuries.
In their second semester, students focus on a post-Cold War world that has become less American, more globalized, and more multipolar, while confronting a new array of problems and challenges.
Throughout both semesters, students will meet with current practitioners and other outside speakers, write and present policy papers, and visit the United Nations and key policymakers in Washington, D.C.
Program Requirements
The International Fellows Program (IFP) is open to any student pursuing a graduate or PhD program at Columbia University. All candidates are asked to submit a résumé or CV, transcripts, and a statement of interest (no longer than 300 words) for consideration, in addition to a letter of recommendation. 
For students applying to SIPA:
Students may submit an IFP statement of interest as part of their application for admission to SIPA. The résumé, transcript(s), and letters of recommendation submitted to the Office of Admissions will be used in consideration for the International Fellows Program. The application for the Fall 2023 semester is due along with your SIPA Fall application.  
For continuing SIPA and non-SIPA students:
Please submit an application online available at the link on this page. The application for the Fall 2023 semester will be available on this page from April 3, 2023, until May 2 at 11:59 p.m. 
Applications are evaluated on the basis of academic records, professional promise, recommendations from previous instructors, and an applicant's demonstrated and estimated ability to emerge as a leader of his or her chosen field and in the field of international affairs.
Leadership
Stuart Gottlieb is a professor of international and public affairs at SIPA and interim director of the International Fellows Program. His professional interests center on American foreign policy and international security.
Dr. Gottlieb's diverse career includes senior positions both in and out of government. He has served as a foreign policy adviser and chief speechwriter in the U.S. Senate, and is also a former founding partner of Prides Crossing Executive Communication, a speechwriting and communications consulting firm based in New York City. He has taught in various capacities at SIPA since 2003, where he is also a member of the Saltzman Institute of War & Peace Studies.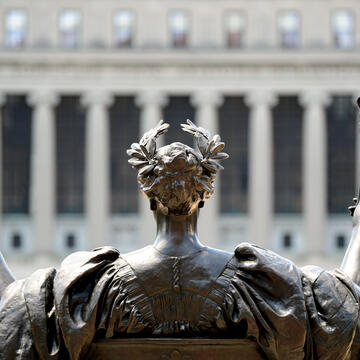 Contact Us
Stuart Gottlieb
Interim Director
Columbia University | School of International & Public Affairs
420 West 118 Street
New York, NY 10027
[email protected]
For Program and application questions, please contact:
Alexandra Dignan
[email protected]
Imane Mabrouk
[email protected]