News & Stories
International Fellows Program Holds Annual UN Day
Posted Mar 07 2023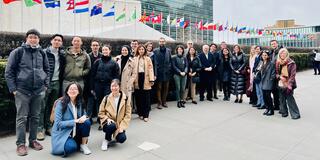 Ambassador Ronaldo Costa Filho spoke about Brazil's priorities at the UN with SIPA International Fellows Program (IFP) students.
On Friday, March 3, the International Fellows Program (IFP) held its annual UN Day meetings with top officials from several permanent missions to the UN.
This year's program included candid, off-the-record discussions with Ambassador Maged Abdelaziz of the League of Arab States, Minister Felix Boateng of Ghana, and Ambassador Ronaldo Costa of Brazil.
Professor Stuart Gottlieb and the 30-member IFP cohort also engaged in a lunchtime discussion with Eva d'Ambrosio, a U.S. foreign service officer who is this year's Davis Fellow at SIPA, and Jean Krasno, a Columbia lecturer in political science and longtime UN adviser and practitioner.
The day ended with cocktails at the UN's Delegates Lounge, where students were joined by several SIPA alumni now working at the UN, among other guests.