MPA in Environmental Science and Policy
Application Deadlines
Early Action: November 1
Fellowship Consideration: January 15
Final Application: February 15
Learn to drive sustainability through the formulation of policy and the management of organizations.
Image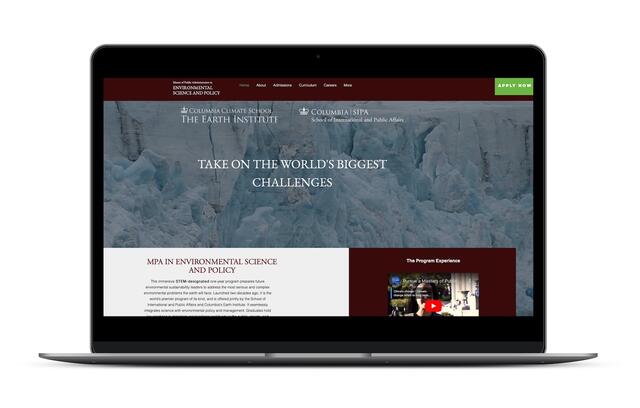 This immersive STEM-designated one-year program prepares future environmental sustainability leaders to address the most serious and complex environmental problems the earth will face. Launched two decades ago, it is the world's premier program of its kind, and is offered jointly by the School of International and Public Affairs and Columbia's Earth Institute. It seamlessly integrates science with environmental policy and management. Graduates hold key positions in important organizations worldwide in the public, private, and nonprofit sectors. 
The MPA-ESP program prepares students to become sustainability professionals in government, business, and the nonprofit sector.
Students must complete the following as part of this program.

54 Points in three semesters of full-time study beginning in the summer semester.
Required core curricula include the three-semester course in Workshop in Applied Earth Systems Management, in addition to applied environmental science, economics, statistics, environmental policy, ethics, sustainability management, and financial management.  
Concentration and specializations are not required for the MPA-ESP program. Instead, students may select electives, a topic area within the Workshop in Applied Earth Systems Management course, and if desired, an internship in the spring semester that enhances an area of interest.
There is no language requirement.

The MPA-ESP program has the following admissions requirements:

Program must be pursued full-time.
As our program is designed with a required course sequence, students must begin in the summer semester.
Students may not defer admission to a future program year.
Students must show English proficiency, with a preferred TOEFL score of at least 110.
Employment information as reported by the graduates six months after graduation. In 2022, 69 students graduated from the MPA-ESP program, 61 reported.

Frequently Asked
Questions
Contact Us
Maya Lugo
Assistant Director, MPA-ESP
School of International and Public Affairs
420 West 118 Street
+1 212-853-8164
[email protected]