David N. Dinkins Leadership & Public Policy Forum
Named for the 106th Mayor of the nation's largest city
Named for the 106th and first African American Mayor of New York City, the David N. Dinkins Leadership & Public Policy Forum is a vehicle for analysis, focus, and dialogue around the ever-changing dynamics that impact and inform urban policies, programs, and initiatives.
24th Annual David N. Dinkins
Leadership and Public Policy Forum
Wednesday, April 26th  |  6-7:15 p.m.
For the first time since 2019, this legacy event returns to campus, in-person, as we welcome the Honorable Eric Adams, 110th Mayor of the City of New York and New York's second African American Mayor, as our featured speaker to share his vision for our 'Gorgeous Mosaic,' as David N. Dinkins famously and lovingly coined our city.
SIPA's Dean Keren Yarhi-Milo will open the program. Our featured guest will deliver his remarks titled: Continuing the Dinkins Legacy of Public Safety and participate in a roundtable discussion with Michael Nutter, 98th Mayor of Philadelphia and David N. Dinkins Professor of Professional Practice in Urban & Public Affairs at SIPA, and Ester Fuchs, Professor of Political Science and Urban Social Policy at SIPA.
Since 1995, this forum has addressed many of the challenging issues that successful urban ecosystems must contend with including education, the environment, labor, homelessness, immigration, and fiscal crises.
23rd Forum – "Righting the Wrongs: Public Policy, Civil Unrest, COVID-19"
Virtual Discussion featuring the Honorable Michael A Nutter, 98th Mayor of Philadelphia, David N. Dinkins Professorship Chair at SIPA; and Van Jones, CEO of REFORM Alliance, CNN host, NY Times best-selling Author
July 9, 2020
22nd Forum – "Protecting Immigrant Children – A Public Policy Crisis"
Keynote by Maria Hinojosa, Founder, Futuro Media Group, Barnard Alum
April 10, 2019
21st Forum – "The Incarceration Crisis that Threatens America's Democracy" 
Keynote by the Honorable Eric H. Holder, Jr., 82nd US Attorney General
April 24, 2018
20th Forum – "Our Struggle is a Struggle to Redeem the Soul of America"
Keynote by the Honorable John R. Lewis, U.S. Representative, Georgia's 5th Congressional District
March 30, 2017
19th Forum – 21st Century Policing and Criminal Justice Reform
Keynote by the Honorable Loretta E. Lynch, 83rd Attorney General of the United States
April 7, 2016
18th Forum – Mass Incarceration (first policy speech of HRC Presidential Campaign)
Keynote by the Honorable Hillary Rodham Clinton, 2016 Presidential Candidate
April 29, 2015
17th Forum – 
Keynote by Bill de Blasio, 109th Mayor, City of New York & SIPA Alum
April 25, 2014
16th Forum – Gun Control: Safe Streets, Safe Cities
Keynote by Marc H Morial, President & CEO Na Urban League
April 29, 2013
15th Forum – Voting Rights v. Voter Suppression
Keynote by Benjamin Jealous, NAACP President & CEO
March 26, 2012
14th Forum – Crisis in State Budgets
Keynote by Sen. Kirsten Gillibrand
April 11, 2011
13th Forum – Economic Recovery in the Cities
Keynote by Rep. Charles Rangel
February 1, 2010
12th Forum – Wealth and Poverty in Global Cities
Keynote by David Jones Community Service Society President
April 16, 2007
11th Forum – Global City: New York City as Model & Magnet
Keynote by Professor Saskia Sassen
October 10, 2005
10th Forum – Changing America: National & Urban Responses to Immigration
Keynote by John Sweeney AFL-CIO President
November 16, 2004
9th Forum – Affirmative Action & Higher Education
Keynote by Lee Bollinger President, Columbia University
May 1, 2003
8th Forum – Economic Rebuilding of New York City
Keynote by Mayor Michael Bloomberg
April 29, 2002
7th Forum – Urban Education: Making New York City Public Schools Work for the Community
Keynote by Sen. Hillary Rodham Clinton
April 23, 2001
6th Forum – Livable Urban Communities: The Environmental Movement & Community Building
Keynote by Rodney Slater Transportation Secretary
May 8, 2000
5th Forum – Labor & Community Building
Keynote by Dennis Rivera SEIU Local 1199 President
April 26, 1999
4th Forum – Culture & Tourism: Tools for Urban Economic Development
Keynote by Representative Charles Rangel
May 4, 1998
3rd Forum – Welfare to Work: Can the Business-Government Partnership Succeed?
Keynote by Mayors Edward Rendell and Norman Rice
March 31, 1997
2nd Forum – Urban Agenda for Election '96
Panel of Governors Jim Florio, Ann Richards and Lowell Weicker
May 2, 1996
1st Forum – Empowering America's Cities
Keynotes by Vice President Al Gore, HUD Secretary Henry Cisneros, and Mayors
Arnold Webster and Bill Campbell
March 3, 1995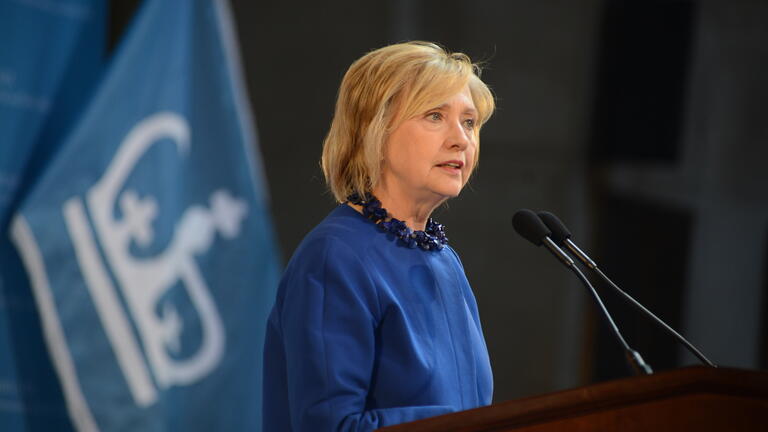 Contact Us
David N. Dinkins Leadership & Public Policy Forum
420 West 118th Street
New York, NY 10027
sipa.columbia.edu/forums/dinkins
Lynda Hamilton
Event Consultant-SIPA
+1 646-391-4906