News & Stories
Students Engage with UN Experts at Inaugural Roundtable Conversations
Posted Mar 08 2020
Image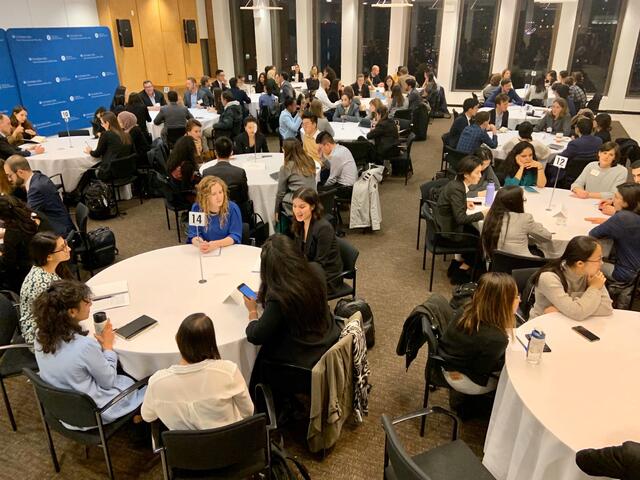 It was only fitting that the event took place in IAB 1501, under the gaze of Dag Hammarskjöld, the second UN General-Secretary, whose portrait overlooked the proceedings.
Eighteen officials representing various UN agencies had come to SIPA on February 24 for the inaugural UN Roundtable Conversations and Networking event. Seated at round tables and joined by a half-dozen students at a time, they discussed their own work and how the United Nations' various bodies promote peace, human rights, sustainable development, environmental resilience and cooperation among states and other stakeholders.
They also shared valuable career advice: how to get meaningful internships at the UN, how to make the most of them, and what students should consider when they enter the job market.
Almost 100 students took part in the conversations, each visiting three different tables for 30 minutes apiece. An additional 100 students joined a reception that concluded the evening.
A broad range of agencies were represented, including the UN Development Program, UN Women, the High Commissioners for Refugees and for Human Rights; the International Organization for Migration, UNICEF, the UN Global Compact, and the Office for South-South Cooperation. Officials from the UN Secretariat represented offices including Economic and Social Affairs, Political and Peacebuilding Affairs, and the Special Adviser on Africa.
Vato Gogsadze MPA '21, co-president of the student-run UN Association, contrasted the evening with more conventional networking events.
"The format allowed students to have a more personal discussion with UN representatives," he said.
Professor Yasmine Ergas, director of SIPA's Gender and Public Policy specialization, praised the program.
"This was a terrific, innovative event that allowed students and UN experts to discuss their work and emerging issues in depth," she said.
For participants like Lei Zhu, MIA '21, the event delivered all that and more.
"This is the best career networking event I have ever attended," she said.
The event was organized by SIPA's International Organization and UN Studies specialization, led by Professor Daniel Naujoks, the interim director.
"Our students are highly motivated and equipped with an exceptional foundation in social and environmental justice, critical development tools, and an understanding of why today's challenges require multilateral solutions," Naujoks said. "Tonight's discussions showed once more that SIPA students are willing and ready to become thought leaders of international cooperation."
Firas Kayal, a senior policy adviser at the United Nations High Commissioner for Refugees, was one of several visitors who said they enjoyed meeting the students.
"Each time I'm at SIPA, I'm impressed by the students' level of knowledge, experience, and enthusiasm," Kayal said. "In the conversations tonight, I saw bright future leaders, perhaps future UN colleagues or diplomats, who are ready to work on the important and urgent issues our world is facing today."
Sponsors: International Organization and UN Studies specialization; Economic and Political Development concentration, MPA Program in Development Practice; Human Rights and Humanitarian Policy specialization; Gender and Public Policy specialization; Office of Career Services; UN Association student organization.