News & Stories
New York Cyber Task Force

Makes Recommendations to Improve Collaboration and Trust Between Policymakers and Industry Leaders
Posted Nov 20 2023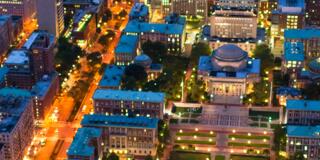 NEW YORK, November 20 — The New York Cyber Task Force (NYCTF) today released a report that provides insight into how policymakers and industry leaders can cultivate collaboration and foster trust in the face of growing threats to our digital landscape.
The report — entitled "Bridging the Trust Gap" — examines recent high-profile cyber incidents and evaluates private-sector perspectives on operational collaboration while providing implementable policy recommendations to improve trust between industry and government.
NYCTF members have spent the last year both investigating the private sector's perspective on the current and future state of operational collaboration, and working to understand the federal government's aims and aspirations in improving how industry and government work together.
The group assessed three high-profile cyber incidents — the SolarWinds breach, Colonial Pipeline ransomware attack, and Shields Up campaign — working to identify gaps and leverage points where industry and government can reinforce collaboration.
NYCTF members acknowledged that trust in government had improved significantly over the past decade but identified multiple impediments to further improvement. Notable challenges, they said, include the increasing need for a whole-of-society approach based in grassroots interpersonal relationships; uncertainty within the private sector over growing regulations and its effect on collaboration; and the mismatch between varying organization size and maturity, with a standardized collaboration process.
The New York Cyber Task Force comprises more than 40 cybersecurity experts in business, public policy, and academia. Its executive director is Erica Lonergan, an assistant professor at Columbia SIPA who is also affiliated with SIPA's Institute of Global Politics. NYCTF co-chairs include Michael Daniel, president and CEO of the Cyber Threat Alliance; Greg Rattray, co-founder and partner at Next Peak; and Jason Healey, a professor and senior research scholar at Columbia SIPA.
"Recent security incidents underscore the growing necessity of collaboration and trust between industry and government," said Lonergan. "The shifting nature of cyber challenges facing the United States today renders cooperation more essential than ever. Industry and government must improve trust through initiatives at both the federal and local levels that encourage effective operational collaboration. We need to cultivate resilient public-private partnerships through improved communications, professional incentives, incorporating state and local actors, and improving warning of significant cyber events in order to face increasingly complex cyber threats that will emerge in the future." 
Lonergan and selected task force members will discuss key findings from the report at a launch event this evening (Monday, November 20) hosted by SIPA's Institute of Global Politics and the SIPA Cyber Program.
Read the report: "Bridging the Trust Gap"
Media Contact: Marcus Tonti, [email protected] or 212-851-1818.