News
In Memory of Edward C. Luck
Posted Mar 04 2021
Image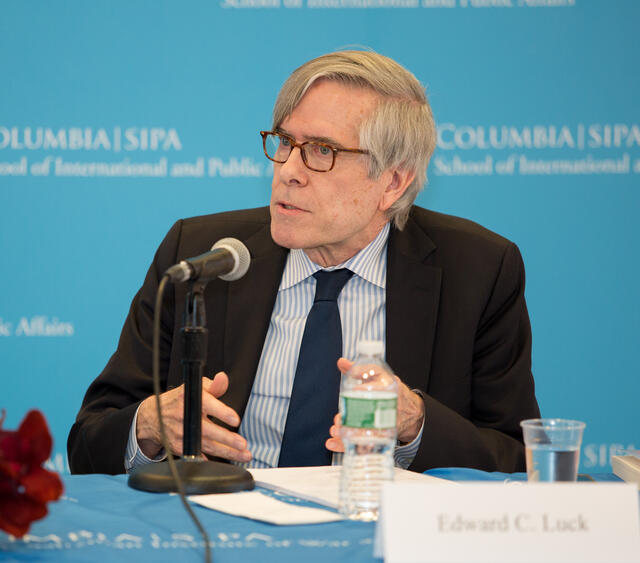 Professor Edward C. Luck MIA '72, the Arnold A. Saltzman Professor of International and Public Affairs and director of SIPA's degree specialization in International Conflict Resolution, died on February 16 after a battle with cancer.
 
Luck was among the world's foremost experts in the field of international conflict and the United Nations, particularly the UN Security Council. In recent years he became known for his work on Responsibility to Protect, a doctrine that aims to prevent and halt genocide and other mass atrocities.
"Professor Luck was a longtime colleague, mentor, and friend to so many in our community," said Dean Merit E. Janow of SIPA in a message to the SIPA community. "We will greatly miss his warmth, deep expertise, and intellect."
Luck first arrived at Columbia University some 50 years ago, earning an MIA degree at SIPA in 1972 and then a PhD in political science at the Graduate School of Arts and Sciences. He returned to SIPA as a faculty member in 2001, serving until 2010 as a professor of practice in international and public affairs and director of the UN Studies program. He rejoined the faculty in 2015 as the Saltzman Professor.
In 2008, Luck was appointed UN assistant secretary general and special advisor to Secretary-General Ban Ki-moon. In that role, which he held until 2012, he was instrumental in conceptualizing and implementing the Responsibility to Protect, known as R2P.
Ban praised Luck and his work in a letter of condolence:
"Professor Luck has been an influential scholar who inspired the world with his intellect and expertise. Outside academia, he greatly promoted human rights and justice through his defining legacy of conceptualizing and implementing the Responsibility to Protect.... He will always remain in the memory of people around the world, including myself, who have long admired his teachings, insights, and strong commitment to ending genocide and other mass atrocities for global peace and security."
"No one did more than Ed Luck to advance the dream of making R2P a reality," said Gareth Evans, chair of the international advisory board of the Global Centre for the Responsibility to Protect. "With his passing we have lost a giant contributor to the cause of human rights, decency and dignity."
"Our work in this area will constitute an enduring part of [Luck's] legacy," said a spokesperson for UN Secretary General Antonio Guterres.
Beyond his work at the UN, Luck served as senior vice president at the International Peace Institute and president and CEO of the United Nations Association of the USA. He was also a member of the Council on Foreign Relations and the Century Association, and served on the boards of several nonprofit organizations.
Most recently at SIPA, Luck led the Kent Global Leadership Program on Conflict Resolution, an initiative launched in 2020 that is designed to train a new generation of practitioners in conflict resolution and to advance scholarship and understanding of contemporary conflict.
Luck was the author or editor of five books, including The UN Security Council: Practice and Promise, and numerous articles. His professorial posts outside SIPA included Sciences Po in Paris and Princeton University.
A native of Illinois, Luck received his BA from Dartmouth College. 
Following are additional remembrances of Edward Luck from selected colleagues at SIPA:
I was so sorry to hear of Ed's passing.  We have worked together on and off in various capacities since 1978 when I was a consultant to the United Nations Association, an NGO, that he led so well. His colleagues will miss his scholarship, focused as it was so well on serious policy problems.  We all benefited from his commitment to the institutions that he helped make so effective, starting with UNA but including the programs he created at NYU, Columbia, and the International Peace Institute, and the "Responsibility to Protect" mandate he filled so well for UN Secretary-General Ban Ki-moon. I and his many other friends will miss his dedication and consideration. 
— Michael Doyle, University Professor
Ed Luck was a beautiful human being, and an amazing colleague. He was treasured by the students here at Columbia, and by anyone I know who has ever worked with him at the UN. He was indeed a rare breed and will be greatly missed.
— Stuart Gottlieb, Adjunct Professor of International and Public Affairs
Remembering Ed: Low on ego, high on calm confidence; low on sounding off, high on thoughtful contributions; low on dodging duties, high on going the extra mile; low on anger, high on friendly.  The list could go on. He was a good man. 
— Kenneth Prewitt, Carnegie Professor of Public Affairs
Faculty members who wish to submit their own statements may contact Marcus Tonti, editorial director.