News & Stories
SIPA Remembers David N. Dinkins
Posted Nov 23 2020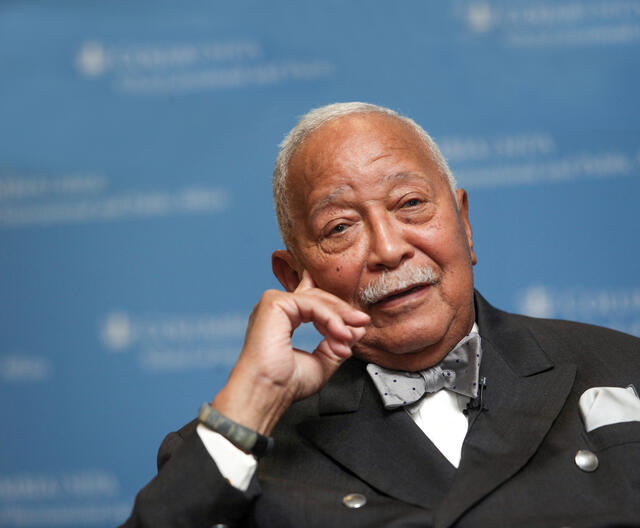 The longtime SIPA professor David N. Dinkins, who joined the faculty after making history as New York City's first Black mayor, died on November 23 at his home in Manhattan. He was 93.
 
Dinkins became a professor in the practice of public policy in spring 1994 at the invitation of then University president George Rupp and then SIPA dean John Ruggie. He had served as mayor from 1990 to 1993 but narrowly lost his reelection bid.
Aged 66 at the time, Dinkins would remain a faculty member for almost 27 years.
"It is with great sadness that today we mourn the loss of one of the most beloved members of our faculty and the SIPA and Columbia community," said Dean Merit E. Janow. "Mayor Dinkins was a trailblazing political leader—the first and only Black mayor of New York City, who devoted his life and talents to public service and improving the lives of others. His legacy as mayor and as a public servant will long endure.
"Mayor Dinkins was also a remarkable and generous educator," Janow added. "He enriched our community in so many profound and lasting ways, teaching generations of SIPA students the intricacies of local and urban governance, drawing from his vast knowledge and first-hand experience." 
"We feel with his passing the end of an era," observed University President Lee C. Bollinger. "We knew David as the rest of New York did, as a person of wisdom, empathy, uncompromising integrity, and homespun humor, all qualities regrettably becoming vanishingly rare in public life. David was also a cherished member of the Columbia community [and] a steadfast leader for social justice."
Beginning in 1995 the former mayor oversaw and hosted the annual David N. Dinkins Leadership & Public Policy Forum, which treated challenging issues such as education, criminal-justice reform and race, the environment, immigration, voting rights, and gun control. The forum welcomed as keynote speakers national figures like Vice President Al Gore, then Senator Hillary Clinton, and U.S. Rep. John Lewis, the late civil rights icon.
For most of his tenure Dinkins taught a pair of classes each year, Critical Issues in Urban Public Policy and Practical Problems in Urban Politics. He frequently welcomed municipal leaders and other guest lecturers to his classes—among them Mayor Bill de Blasio MIA '87, who got his start in New York City government working for Dinkins and enjoyed visiting with the next generation of SIPA students.
As Columbia News reported in 2013, upon the publication of Dinkins's memoir, the former mayor "always trie[d] to get his students to take an interest in public policy, even if they [were] not particularly inclined to work for the government or run for public office."
"I don't care if it's the Red Cross or the NAACP—do something," said Dinkins. "I think there's no better laboratory than the city of New York for the things that we teach here.'"
It was in 2015, during de Blasio's first term, that the city named the Manhattan municipal building for Dinkins. Early the next year, the University celebrated the completion of the David N. Dinkins Archives and Oral History Project at Columbia University Libraries.
Around the same time SIPA created a professorship in Dinkins's honor. The inaugural David N. Dinkins Professor, former Philadelphia mayor Michael Nutter, is now completing his fifth year at SIPA.
Over more than 25 years at the School, the always dapper Dinkins became a beloved fixture among fellow faculty and especially students. One former such student, Karine Jean-Pierre MPA '03, recently served as campaign chief of staff for VP-elect Kamala Harris. She praised the mayor when she spoke at SIPA in late 2019.
"It matters to have mentors, it matters to have people who care about you, and [Dinkins and fellow professor Ester Fuchs] were not just invested in me while I was at SIPA, they were invested in me after SIPA," she said.
Dinkins reduced his teaching load in 2017 and was slated to formally retire at the end of this year. In the interim he continued to oversee the annual Dinkins Forum. For the final event, held virtually on July 9 of this year, Nutter welcomed Van Jones of CNN for a penetrating conversation on "Righting the Wrongs on Public Policy, Civil Unrest and COVID-19."