News
SIPA Faculty Remember David Dinkins
Posted Nov 24 2020
Image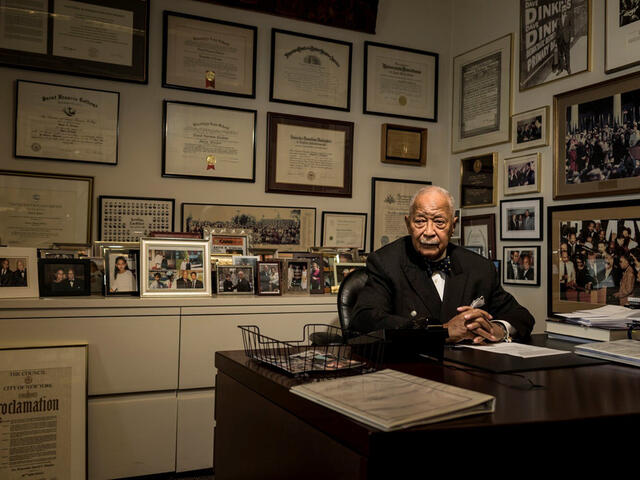 The longtime SIPA professor David N. Dinkins, who joined the faculty after making history as New York City's first African American mayor, died on November 23 at his home in Manhattan. Below, selected faculty share their memories. (SIPA faculty may contact Marcus Tonti with additional comments.)
Read more:
SIPA Remembers David N. Dinkins
SIPA Remembers David N. Dinkins: Selections from social media
Statement of Dean Merit E. Janow
Lisa Anderson
James T. Shotwell Professor Emerita of International Relations
Dean, Columbia SIPA, 1996-2008
David Dinkins was everything people say he was: smart, kind, courtly, dapper, passionate about tennis, devoted to his family, committed to the welfare of children. He was enormously fun to walk down the street with since there was not a New Yorker, perhaps not a person in the world, who did not recognize him. He invariably had a pleasant word for those who worked up the courage to approach him but he was happiest to greet children. He really did believe that the youngsters were, as he would say, the hope of the future. He believed in progress, and he embodied it.
How did he do it? How did he have the courage to be what he became—someone who intrigued, inspired and instructed millions of Black Americans, indeed millions of people of all colors and creeds around the world? He had an answer and I recall when I was dean the astonishment it occasioned we shared it with his students: "Be uncomfortable."
Really? Who aspires to be uncomfortable? No parents wish distress for their children, no teachers urge disquiet on their students. But, of course, Professor Dinkins, as he was to us, was right. Seek out being uncomfortable and you will discover the ways in which you can change the world. And when you do that, you begin to realize his conviction that the world of the future will be better than it was when you found it.
Our world is certainly better for David Dinkins' willingness to be uncomfortable. He lived by his advice, insisting on making virtue of necessity and taking inspiration in adversity. Let us celebrate him by taking strength and encouragement from his example.
Ester Fuchs
Professor of International and Public Affairs and Political Science
Director, Urban and Social Policy
While New Yorkers are mourning the loss of the 106th mayor of the City of New York, the Honorable David N. Dinkins, we at SIPA and the entire Columbia community join in the collective sadness and recognize his extraordinary and special contributions to our SIPA family. Since 1994, Mayor Dinkins has taught two core courses on New York City and urban policy in the USP concentration. These courses offered our students an insider's view of how urban policy gets made. New York City's most important civic leaders competed to make guest appearances in his class. Whether they were long time elected officials, senior government officials, community organizers, journalists, civic, union or business leaders, Mayor Dinkins had them there for a specific purpose. The mayor's introductions were effusive, but his questions were hard hitting and most importantly, our students could ask their own questions, and could learn what no textbook could teach them. Mayor Dinkins had a plan for his students. They were meant to see firsthand the opportunities for them to go into public service and to do something really valuable for society. Not only did he teach our students what it means to be a public servant, he continued to use his position and authority to improve people's lives and to help those he considered most in need. We at SIPA all benefited from the mayor's generous spirit and his lifelong commitment to mentoring children and young adults. I was fortunate to have the office across form Mayor Dinkins, to work with him each year on the David N. Dinkins Leadership in Public Policy Forum to feel the warmth of his soul and the generosity of his spirit and to benefit from his wisdom.
Two notes I received from SIPA grads represent the feelings of all his students.
Nina Robbins MIA '11 wrote, "Mayor Dinkins gave me faith in politicians. He was always decent, optimistic and warm. He always said hello to all the "nobodies" (including me) on the 14th floor. I am so sorry for your loss and I wish you strength and vivid memories of your best times together."
Pedro Espaillat Tavarez MPA '18 wrote, "Mayor Dinkins passing is very sad news for me as well. I am forever grateful for the opportunity to have worked for him, and to have learned more about a true hero of NYC and social justice. I wish to even live one percent of the life he lived and the impact he had. He will be deeply missed and forever remembered. I am sending you love and strength in these challenging times.
Let us cherish our memories and continue the work of Columbia University and SIPA Professor and mayor of New York City David N. Dinkins.
"David Dinkins' Life & Legacy" — Ester Fuchs joins the Brian Lehrer Show on WNYC radio (audio from ~22:10, with transcript). 
Michael Nutter
David N. Dinkins Professor of Professional Practice in Urban and Public Affairs
Mayor David N. Dinkins was a man of dignity, grace and respect. I would often hear his name mentioned along with other pillars in NYC – Percy Sutton, Charlie Rangel, and many others. A leader among leaders, this seemingly soft-spoken man had a huge voice when it came to speaking up on behalf of real people in real need. But, what I will remember most about Mayor Dinkins is his kindness, his encouragement, his support of young people and his public engagement with citizens.
I was recruited to Columbia SIPA by Dr. Ester Fuchs and Mayor Dinkins. My 2nd Term as Mayor of Philadelphia was coming to a close, and I was vaguely thinking about the future, but not very attentively. Ester told me about the Chair named for the Mayor and that there was a review process occurring, looking at various names of people to potentially take on this prestigious position.
All I kept thinking about was the opportunity to be connected to and work with a man whom I had admired from far away Philadelphia, during my time in City Council and as Mayor. The man would is still the only Black Mayor of the largest city in America, and one of the greatest cities on the planet. It took however long a nanosecond is to figure out THIS is the right thing to do!
I learned so many things from Mayor Dinkins both during his tenure and even more afterwards. He was the person who started the downward trajectory of crime in NYC, but is hardly ever given credit. He is the one who created tremendous focus on young people in the City. He is the one who talked about and took action on equity issues, social and racial justice, and creating economic vitality for a then struggling City.
I learned about resilience from him, and fairness/unfairness, and grace under fire, and dealing with the treachery of politics and shifting alliances, as well as dealing with a loss or being out of office and needing to figure out "what's next?" Well, for Mayor Dinkins, what was next was even more incredible than what happened "before" – he utilized his popularity and position to raise money for non-profits that served people, he went to many, many events that took time away from family because of his commitment "to the people", and he taught students about the REAL MEANING of politics and public service for 25 years!
David N. Dinkins was a man, a son, a husband, a father and a true public servant. I will continue to learn lessons from him for years to come. Thank you Mayor!
William B. Eimicke
Professor of Professional Practice in International and Public Affairs
Director, Picker Center for Executive Education
I remember meeting with then borough president David Dinkins in his Manhattan office with a group of folks encouraging him to run for mayor. As always he was humble and responded that he would consider it if he came to believe he was the person who could do the most to help the city he loved.
I remember the excitement in the city when Mayor Dinkins brought Nelson Mandela to Gracie Mansion when I lived in the neighborhood.
And I remember talking with Mayor Dinkins and [fellow SIPA professor] Steve Cohen at the SIPA gala at the Mandarin Hotel overlooking Central Park.
Steven Cohen
Professor in the Practice of Public Affairs
Director, Research Program on Sustainability Policy and Management, the Earth Institute
Director, MPA in Environmental Science and Policy
After David Dinkins moved into his office on the 14th floor of Columbia's International Affairs building, I worked with him to develop the two classes he would teach. Both were designed to take advantage of his unique experiences and singular ability.... 
For a quarter-century, Professor Dinkins and his guests presented students with a comprehensive and nuanced view of urban policymaking, in the special context of New York City. The Mayor had a deep and profound understanding of the city's politics and political history. He was mayor during one of the most difficult periods in the city's history and despite mistakes and setbacks, he achieved a great deal — much more than is acknowledged.
"Remembering the Honorable David Dinkins" — read Steven Cohen's complete remembrance at State of the Planet.