Event Highlight
"India in the Emerging Global Order"
Posted Sep 27 2022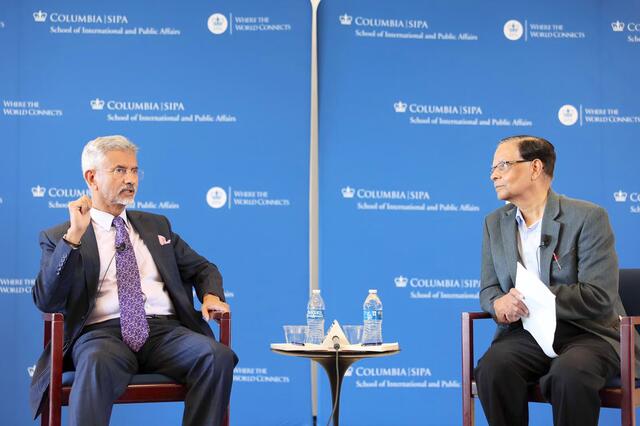 The Raj Center on Indian Economic Policies hosted Dr. S. Jaishankar, India's external affairs minister, on September 21, 2022. He spoke about "India in the Emerging Global Order" in conversation with Professor Arvind Panagariya, director of the center.
In a wide-ranging discussion, Jaishankar talked about how the relationship between India and the United States had evolved over many decades. He also acknowledged China's increasing prominence, and said India should become a permanent member of the UN Security Council, among other topics.
The event was recorded by the Indian news agency ANI and featured on various news sites. It was posted a few days later by the Ministry of Foreign Affairs. (Scroll down to view video.)
Additional coverage of the event appeared in many of India's leading newspapers and magazines, including both general-interest and business publications. Here's a partial list:
Times of India* | "'Not good for UNSC': Jaishankar on India not being permanent member"
Hindustan Times | "PM Modi's practical attitude has key role in transforming US ties: Jaishankar"
Indian Express | "India was wary of US for 5 decades, overcame assumptions after much efforts: Jaishankar"
Economic Times* | "India not sitting as UNSC permanent member 'not good' for global body: Jaishankar"

Business Today

 [video clip]
* Coverage provided in full or in part by the Press Trust of India (PTI), the nation's largest wire service.
 VIDEO: 

"India in the Emerging Global Order"