2023 Competition & Awards
In October 2022, nine semi-finalist teams were chosen in the tenth competition of the SIPA Public Policy Challenge. Semifinalist teams participated in bootcamps including Prototyping, Financial Planning, Law and Startups and Effective Pitching. Teams were also provided support through funding and a team of Advisors. In February 2023, five finalist teams were selected to further refine and develop their projects. Winners of the tenth round of competition were announced in April 2023.
First Place Winner
Brineworks
Image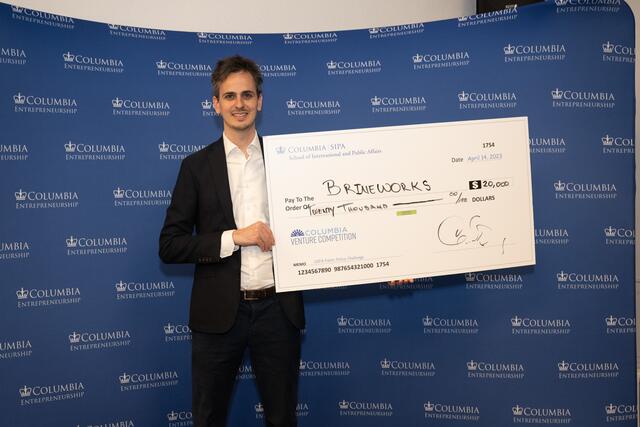 Brineworks: Brineworks' technology removes CO2 from the atmosphere in a highly measurable and permanent manner through advanced processing of desalination waste. The technology also enables the production of sustainable raw materials for industries ranging from construction to agriculture. Brineworks' mission is to remove massive amounts of atmospheric CO2 and usher in a new era of sustainable raw material production from seawater. 
Students: Gudfinnur Sveinsson, Theophile Pouget-Abadie, Dylan Malloy
Recognition Award Recipients
Recognition Award Recipients
AmazonSeeds is a digital platform that works as a matchmaker between investors and grassroots projects in the "deforestation arc" of the Brazilian Amazon Forest. The platform has a dynamic map containing (1) data about the regions' socioeconomic and environmental characteristics, (2) information on the region's economic potentials; and (3) a list of grassroots projects in each region, divided by segments.

Students: Felipe Aleixo , Izabel Campos Ferreira, João Francisco Adrien Fernades, Luma Teixeira Dias, Rafaella Moreira Lopes

Bazuriza is a digital marketplace for recyclable solid waste in Peru, aiming to increase recycling rates, promote transparency, and encourage the shift towards a circular economy. The marketplace tackles the current pain points in the recycling value chain by enabling waste generators, recyclers, and producers to connect and conduct transactions, with services such as waste collection, traceability, and analytics. The solution is timely, relevant, and transformative for the industry in Peru and beyond. 

Students: Daniela Tagle, Jorge Beltran, Taniya Agarwal, Ana Nogueiras, Sophia Posadas Parker, Victoria Racciatti

Campaign Brain is an artificially intelligent campaign management software, sold as a service (SaaS). Using machine learning, political science, and empirically proven campaign tactics and strategies, Campaign Brain guides a political candidate every step of the way from filing to elected office.

Campaign Brain generates campaign branding, drafts social media and press release content, supercharges fundraising and executes digital ad campaigns, builds voter and volunteer support, and provides daily action items for candidates, ultimately winning more races. Inserting artificial intelligence into all aspects of a political campaign, Campaign Brain provides individualized campaign strategies at a fraction of the cost of consultants by removing financial and knowledge barriers to increase access to office for local candidates.

Students: Nathaniel Levin

OwnYourData is a a women-led project with the mission to promote health equity through improving health data interoperability and sharing. OwnYourData aims to increase the representation of women and BIPOC in clinical oncology trials through a digitized web-/mobile-based platform that offers a secure, centralized system for collecting and sharing health information as well as accessing clinical trials.

Students: Sarah Werner, Alexa Aalami, Galy Kouyoumjian, Madeline Ninno
Semifinalists
Semifinalists
Climate Adaptive Response and Resilience Training (CARRT) is envisioned as a tool to empower native youth in regions hit hardest by the climate crisis, and to help build capacity in a context-sensitive manner that enables rapid and efficient disaster response. By providing critical training to promote short-term crisis action and long-term resilience, CARRT helps create a sustainable platform for indigenous action and advocacy. Through curriculum development, in-person programming, and an online database for coordination and action, we hope to benefit diverse stakeholders and help create a real impact in the world's most vulnerable communities.

Students: Aiman Chaudhary, Seamus Boyle, Dylan Malloy, Tobias Neise

ComparaVe is a novel web-based tool that will provide Venezuelan migrants information on the most competitive exchange rates and other conditions offered by remittance providers in their host countries. We strive to reduce remittance costs by empowering Venezuelan migrants with an efficient and transparent remittance service.

Students: Manuel Galilea, Maleeha Jamal, Carlos Mesa, Ishfaq Khan Malik

CUCO (Circular Used Cooking Oil) aims to purchase and pre-treat unused cooking oil (UCO) from households and other sources in the Philippines and then sell it to partner refinery companies to produce biofuels. Piloting in Jakarta, a densely populated city with a busy culinary industry, the establishment of a circular economy, and the production of biofuels are among the main determining factors in replicating the project in other big cities in Indonesia.

Students: Sawitry Apriati, Muhammad Prakoso, Chaedar Permana, Siti Shafira, Melody Oratmangun

e-Haat aims to bring traceability and transparency in the food supply chain in India. It is a digital platform which provides support to handle post-harvest supply chain and connect farm output with the customers. It will enhance trust among stakeholders by providing real-time information of the product along various stages of the supply chain using blockchain technology.

Students: Ambrose Wong, Arielle Herman, Varshini Sridhar, Nitansha Bansal