Tracking Poverty, Making Policy
By Brett Essler
Posted Mar 03 2021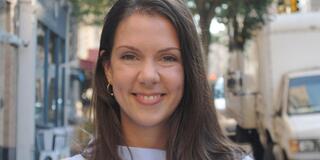 Even before COVID-19 devastated New York City's economy, large swaths of the city's population were grappling with issues of income inequality, food insecurity, and disparities in health outcomes across racial lines. The pandemic has exacerbated these fault lines, stressing city services, hospitals, and food banks while disproportionately affecting communities of color and other vulnerable populations. 
Data collected by the Poverty Tracker, a longitudinal study that follows a panel of 4,000 New York City residents, helps shine a light on these inequities and demonstrates how government policy, such as SNAP or the CARES Act, can make a huge difference in the lives of struggling New Yorkers.
The project is led by Columbia School of Social Work's Center on Poverty and Social Policy (CPSP) in partnership with the Robin Hood Foundation. Among its lead researchers is Sophie Collyer MPA '16, a former dual-degree student who also earned a master's degree in social work during her time at Columbia. 
"We work with the same families and households for up to four years, assessing both their poverty status and their experiences of material hardship, which includes things like food hardship, facing eviction, and not being able to see a doctor because of cost," Collyer said. "There are lots of different material hardships that we measure to get a more holistic understanding of the challenges that New Yorkers are facing." 
The results of CPSP's recent food hardship study revealed that, even with government assistance, many New Yorkers struggle to feed their families. This circumstance predates COVID-19 and has persisted through the pandemic to date.
"We've seen about a 300 percent increase in the rate of food pantry use among New Yorkers," Collyer said. "And when we look at rates of pantry use among New Yorkers who are receiving SNAP benefits, the rates are just significantly higher. Before the pandemic, about 33 percent of SNAP recipients reported using a food pantry, but in September and October [2020] it moves to 65 percent. It shows that these benefits are not covering the needs of New Yorkers right now." 
This year, Collyer and her colleagues projected that reforms to the child tax credit included in President Biden's COVID relief package had the potential to cut child poverty in half. (Biden's $1.9 trillion stimulus package, which won Senate approval on March 6, includes an expanded child tax credit of up to $3,000 per child.)
"The child tax credit card is the largest federal expenditure made to directly benefit children, but a third of kids are left out because their families don't earn enough to qualify for the full credit," she explained. "We've been modeling what would happen if that credit was made fully refundable and it wasn't tied to your taxes owed." 
Their data show that Biden's reforms could reduce the poverty rate by 51 percent of those under 18. It would reduce poverty by 39 percent for Latinos and 34 percent for Blacks. 
Collyer's path to the intersection of social work and policy analysis began before SIPA, when she worked at an "alternative to incarceration" program for youth and taught elementary school in Baltimore and New York City. In each case she witnessed firsthand how "systems were working against low-income people, in particular Black and Brown children. You can't address the achievement gap without addressing income inequality." 
Collyer lauded the MPA-MSW degree program for "combining on-the-ground community work with quantitative and policy-based work."
At SIPA she studied with economist Harold Stolper—whose research has included a study on the disproportionate ways fare evasion is policed. His quant classes, she said, "introduced the idea of how these methods can be applied in a real-world setting and how you can be doing work in a more applied way." 
Collyer worked as a research assistant at CPSP during her third year in the dual-degree program and took a full-time role after graduation. She is currently research director at the Center. 
She now encourages SIPA students—including current CPSP graduate assistants Andrew Hinton MPA '22, Barbara Lantz MIA '22, and Michael Williams MPA '21—to "be curious and to dive in" to data analysis, even if the learning curve seems steep. 
"For me, it opened up an opportunity to be able to say something about the potential impacts of different policies on families across the United States. And that is just a really powerful tool to have in your toolkit."
Collyer says that while justice issues have not changed—indeed, they are compounded by centuries of systemic racism and income inequality—she is hopeful in the sense that more people are now aware of them.
"When I was younger, the idea of how systems work against people was not really a way I heard a lot of people talking," she said. "Now, I think it's a framework which more people employ to understand the problems and challenges that we see.. And that is a positive thing."