News
Toomas Hendrik Ilves Will Serve as George Ball Adjunct Professor for Spring 2020
Posted Jan 30 2020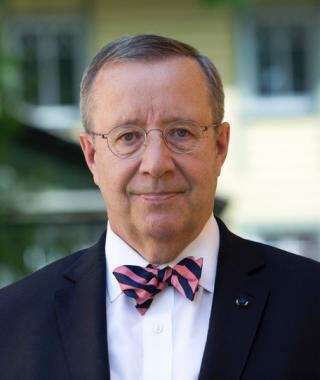 Former Estonian president Toomas Hendrik Ilves, who currently co-chairs the World Economic Forum working group on blockchain technology, will be SIPA's George Ball Adjunct Professor for Spring 2020.
Known internationally for leading the digital transformation of the Estonian government, Ilves will teach a course entitled Democracy, Policy, and Digital Governance. The course will focus on the policies, laws, regulations and technical requirements needed to digitize governance and public services, especially in the wake of growing cyber surveillance and security.
He also will give the George Ball public lecture on the same subject on February 21.
"Toomas Ilves has played an instrumental role in Estonian public life for much of the last 25 years," said Dean Merit E. Janow of SIPA. "He helped his country transition to a western-style democracy and contributed to Estonia's leadership in addressing the challenges of our digital age. We are fortunate this longtime friend to Columbia and SIPA will share his extensive experience this semester."
Ilves served two five-year terms as president of Estonia between 2006 and 2016. Before that he was vice-president of the European Parliament's foreign affairs committee (2004-06) and foreign minister of Estonia (1996-2002), during which he led Estonia's EU and NATO accession processes.Ilves is currently a Berggruen Fellow at the Center for Advanced Study in Behavioral Sciences and a distinguished visiting fellow at both Stanford's Hoover Institution and its Global Digital Policy Incubator. He also serves on numerous advisory boards, including the German Marshall Fund's Alliance for Securing Democracy, the Oxford University Centre for Technology and Global Affairs, and the Free Russia Foundation.
The Ball Adjunct Professorship is named in honor of George Ball, the former under secretary of state during the Kennedy and Johnson administrations who served as U.S. ambassador to the United Nations in 1968. Since its establishment in 2009 with support from an anonymous donor, the Ball Professorship has brought numerous distinguished scholars, diplomats and former government leaders to SIPA, including most recently Juan Gabriel Valdés and Nirupama Rao.
Like previous Ball chairholders, Ilves was selected in recognition of his record of groundbreaking contributions to international policy and understanding.
Ilves earned his BA in psychology from Columbia in 1976 (and later obtained a master's degree in the same field from the University of Pennsylvania). More recently, he visited campus in 2014 to discuss challenges to European peace and security and again in 2017 to talk about Russian interference in democratic elections.