News
Students Engage With Alumni and Companies at Washington Career Conference
Posted Jan 29 2020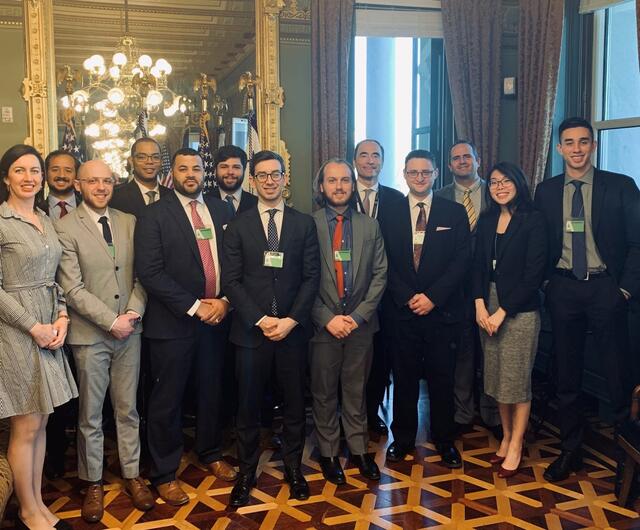 Earlier this month, SIPA students descended on the global hub of Washington to visit employers in a variety of industries and meet with alumni working throughout the city and as part of the School's 44th annual Washington, D.C., Career Conference.
More than 250 students participated in the series of events from January 14-17, which was capped by a discussion of foreign policy that featured Stephen Hadley, who served as national security advisor during President George W. Bush's second term.
Thanks to the efforts of SIPA's Office of Career Services, participating students enjoyed the chance to visit a variety of government agencies, private firms, and multilateral organizations.
A few lucky students visited the White House and Eisenhower Executive Office Building, where they met Ludovic Hood MIA '06, IF '06, the current Middle East advisor to Vice President Mike Pence, Ryan Arandt MIA '12, who works on the Middle East peace process between Israel and Palestine, and Caitlin Welsh MPA '09, the lead coordinator for G7 and G20 summits.
Students also made site visits to the World Bank, U.S. State Department, Fiscal Note (a data and media company), and the National Counter Terrorism Center, among other organizations.
"Attending the NCTC site visit was one of the highlights of the trip," said Alex Shulz MIA '21. "It's not every day that one gets to see behind the curtain of the nation's national security apparatus, and this event allowed us to do just that."
Michelle Meza Reusche MPA '20 said the visits — like one to a consultancy that specializes in international development — provided a unique perspective.
"Dalberg provided a tour of their facility and walked through a case study on agricultural development," she said. "This was very helpful, because like other consulting firms [the company] conducts case-based interviews... it was great to get the inside scoop."
Regional ambassador Eric Medina MPA '15, who serves as SIPA's alumni leader in the Washington area, led a tour of his employer, the national security and defense contractor Booz Allen.
"It's always great when I'm able to share with SIPA students insights of transitioning into the workforce," he said. "My time at SIPA gave me the tools to be successful here in D.C. Paying it forward has been rewarding."
The conference closed with a fireside chat among Hadley, Dean Merit E. Janow, and Professor Stephen Sestanovich. The three addressed today's pressing foreign-policy questions, including the state of U.S. trade and geopolitical relations under the Trump administration. 
Approaching the economic elephant in the room, Janow asked Sestanovich and Hadley for their takes on the future of U.S.-China relations.  
"We're trying to solve the puzzle whether two nations can be strategic competitors and cooperators at the same time," said Hadley.
But he underscored that a strategy of containment would not be nearly as effective as in a previous adversarial relationship.
"Containment worked because the Soviet Union was disconnected from the global economy and building a fence around it worked," he said. "China is integrated, and the biggest trading partner in Europe."
Hadley said a three-part approach could help move forward: "Being present in the region diplomatically, economically, military; aligning ourselves with allies; and not requiring them to choose between us and China, but working with them to shape the environment in which China is emerging and developing." 
"There's some analogy to the Cold War that has some useful thinking about the way in which the U.S. actually finally won a confrontation by sustaining a unity among allies," Sestanovich said. "The problem for our allies in East Asia today is the choice is much more complicated and they don't want to have to choose."
The Washington conference's networking opportunities were apparently worth a trans-Atlantic flight, inducing a dual-degree student to travel from Berlin. 
"The conference connected me with alumni who have gone on to have successful careers in security and political risk and who have shown a willingness to help me in the near future, said Trey Marks MPA '20, currently studying at the Hertie School. 
Concluding the night was a reception where both alumni and current students met some new faces and reconnected with old ones.
"Being back around my classmates reminded me of how grateful I am to have built lifelong friendships because of my time at SIPA," said Bumni Akinnusotu MPA '14.
— Daniel E. White MPA '20