Alumni News
SIPA's Thomas Christensen joins Taiwan Alumni for Breakfast, Conversation
Posted Feb 22 2023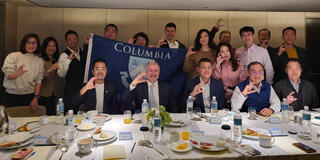 On January 20 SIPA's Thomas J. Christensen – the James T. Shotwell Professor of International Relations and an expert on China's foreign relations and related topics – joined the Taiwan Columbia Alumni Association for a breakfast at the Madison Taipei Hotel.
Christensen and the alumni discussed bilateral relations among China, Taiwan, and the United States and their potential impact on the 2024 elections in the latter two countries. 
The breakfast was organized by Richard Jao '14GSAS, a career foreign officer who serves as political counselor at the American Institute in Taiwan, the highest representative office of the United States in Taiwan.
Earlier in the week, Christensen met with several top officials in Taiwan, including the president's chief of staff, the foreign minister, the deputy director of the national security council (Hsu Szu-chien '97GSAS), and the Deputy Minister of Defense, among others.
Sixteen Columbia alumni attended, including SIPA graduates Mark Hsieh MIA '92, Lorraine Kuo MIA '03, Wen-Ti Sung MIA '09, and Chingyu Yao MIA '03.
Learn more about SIPA's Taiwan Regional Alumni Community and the Columbia Alumni Association of Taiwan.