News & Stories
SIPA Students Present Policy Proposals at Annual GPPN Conference
Posted Mar 30 2021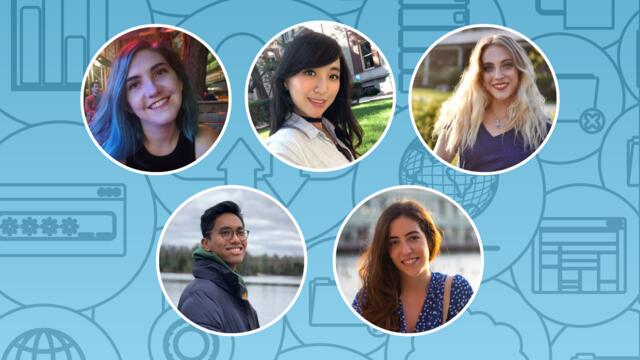 A group of SIPA students joined peers around the world at the annual conference of the Global Public Policy Network, hosted virtually by the Graduate School of Public Policy at the University of Tokyo from March 4 to 6. Of the three SIPA teams who presented policy projects, two were awarded prizes.
The annual conference, which was first held in 2006, brings together students and deans from member schools to discuss and address the most pressing policy challenges of today. Student teams participate in a competition to develop the most creative and effective solutions to policy issues and present it to a judging panel of deans. 
"The GPPN conference provides a wonderful opportunity for SIPA and other policy students to come up with creative solutions to problems they care about,"  said Dean Merit E. Janow, who served on the judging panel. "They can apply what they've learned in the classroom and in their work experiences in a collaborative and creative setting."
"It is also a chance for deans from all of these leading schools to exchange ideas about our changing world," Janow added. This year's Dean's Roundtable focused on the future of public policy education in light of the increasing digitalization of governance tools and of society in general.
In line with the conference theme of "The Crisis of Globalization as We Know It," participating students were asked to develop projects that address the economic, ethical, and political challenges surrounding globalization. Teams came up with projects aimed at enhancing regional and international cooperation as well as strengthening global governance and specific sources of friction.
"This year, students really grounded their policy proposals in the context of the pandemic and the global changes we've seen as a result," said Professor Glenn Denning, who serves as SIPA's scientific advisor to GPPN.
One SIPA team, Tech2Protect, proposed a learning platform to address sexual- and gender-based violence. 
"Child abuse is a hidden pandemic happening alongside COVID-19," Marjorie Tolsdorf MPA-DP '21 told SIPA News. As the pandemic has forced children to attend school from home, away from the watchful eyes of teachers, "there has been a decrease in reporting despite a spike in rates of abuse."
Tolsdorf, Julia Vieira de Andrade Dias MPA '21, Madeleine Dejean MPA-DP '21, Minji Ko MPA-DP '21, and Saiful Salihudin MIA '21 plan to develop a technological tool, Athena, that would empower educators to monitor and respond to child sexual abuse. The platform would provide learning tools for children, intervention resources for teachers, and data for policy advocates to share best practices on abuse prevention.
Tech2Protect won the conference prize for Best Presentation. "Representing SIPA was the highlight of the experience," Tolsdorf said, "particularly because SIPA has so graciously provided us with the resources and support needed to launch such a tremendous and complex endeavor." The team is currently testing a prototype.
A second SIPA team focused on the human rights concerns surrounding privacy and data protection in the midst of the COVID-19 pandemic. The inherent tension between contact tracing methods deployed to keep communities safe from disease and the need for data protection inspired this team to develop a Guidance on Privacy Protection and Digital Contact Tracing. Along with a set of assessment principles, this guidance allows the team to evaluate different countries' contact tracing methods and provides governments with a framework to ensure data privacy and human rights in the process.
This team won runner-up for Best Presentation and included Andrea Rojas Perez Palma MPA '22, Danielle Murad Waiss MIA '21, Haejo Kang MIA '22, Hanako Sasaki MIA '22, and Jianing Joanne Li MIA '22. 
"It was an absolute pleasure to work with this group of amazing women," Waiss told SIPA News. "We all came to this project with different backgrounds and nationalities (South Korea, China, Japan, Perú, México and Canada), and we had all been living through the pandemic in different countries…. It was an honor to represent SIPA and participate alongside students from around the world."
The third SIPA team, made up of Abhinav Joshi MPA '21, Kaoru Nagasawa MPA '21, Poorvaja Sundar MPA '21, and Vrinda Handa MPA '21, proposed a network to effectively manage the disposal of electronic waste in Southeast Asia. Their framework would serve as a regional cooperation mechanism to strengthen the formal and regulated electronic waste recycling value chain.
"GPPN encourages students from across the globe to develop innovative solutions to important policy projects", said Dean Cory Way, who represents SIPA in the network. "We are proud that each year SIPA students rise to this challenge and consistently perform so well."
The University of Tokyo also welcomed two keynote speakers to close off the three-day event. Bilahari Kausikan, Chairman of the Middle East institute at the National University of Singapore, explored the limitations of using the common and emotionally-charged term "crisis" in describing the challenges of globalization. Yumi Araki, a multi-platform storyteller and journalist with experience in print, video, and radio, reflected on whether global reporting can move from underscoring differences between communities to highlighting the universality of common stories.
The GPPN was founded in 2015 and its membership includes SIPA, the London School of Economics, the School of Public Affairs at Sciences Po, the Hertie School of Governance, the Lee Kuan Yew School of Public Policy at the National University of Singapore, the Graduate School of Public Policy at the University of Tokyo and the Fundação Getulio Vargas (FGV) at the Escola de Administração de Empresas​.
—Aastha Uprety MPA '21