Student Spotlight
SIPA Student's NGO Provides Humanitarian Assistance to African and African-descent Students Displaced by War in Ukraine
Posted Feb 24 2023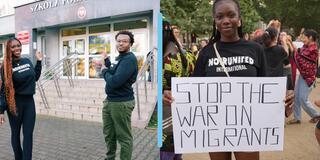 Photos courtesy of Macire Aribot MIA '23
For the one-year anniversary of the war in Ukraine, SIPA student Macire Aribot MIA '23 and her team at NoirUnited International have spent the last week in Europe visiting displaced African and African-descent students and families affected by the war. Her team has been raising awareness of their untold stories and hosting community workshops to commemorate the day their lives changed forever.
Macire shared an update on her important work with us: 
"Over the past year, my NGO NoirUnited International has continued providing humanitarian assistance to displaced African and African-descent students and families who've faced discrimination since the onset of the Ukraine crisis. Our teams have been working in several cities across Poland, Germany, and France to meet their needs and raise awareness of the unequal treatment of third-country nationals from Ukraine. Thanks to our efforts, we were awarded grants from the Open Society Foundations and Mercy Corps to expand our reach and continue our work. 
Through our decolonial and racially conscious approach, we have provided housing, food, material, and technology assistance to the most marginalized communities affected by war. Our teams are working with legal aid organizations to provide legal support to students who have faced challenges seeking temporary protective status and forced deportation. As this community has faced the double trauma of racism and war, we provide culturally affirming psychosocial support through community healing circles and art therapy. 
Access to education is at the center of our advocacy work. Thousands of African and African-descent students have been denied access to continue their education in neighboring countries and have been told to return to their countries of origin without any regard for the conditions they left. For several students, the war in Ukraine is now their second time being displaced from conflict after leaving countries such as Cameroon, the Democratic Republic of Congo, and Haiti. I am happy to share that we recently launched the NUI Visions Scholarship to support the educational costs of students fortunate enough to enroll in a university or continue with online school."