Event Highlight
SIPA Holds Class Day for 824 Graduates
Posted May 15 2023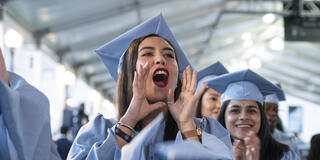 Photo: Barbara Alper
SIPA held its Class Day on Sunday, May 14, as 824 graduates converged on Columbia's south lawn for the annual ceremony. The featured speaker was 2021 Nobel Peace Prize winner Maria Ressa, who assessed the bleak landscape of democracy around the world and called out social media companies for allowing lies to spread while evading responsibility – triggering what she called "the doomsday clock for democracy."
"This is the battle you are walking into today," Ressa said, "and, boy, do we need you. We need your energy, your optimism, your commitment to justice….  Don't complain about your government, or corporate bureaucracy, or the UN moving slowly. They do. You've got to jump in and change it."
She underscored that SIPA's newly minted graduates can make a difference in the fight, charging them with three main tasks.
First, to "draw the line" by choosing the values that define them and, moreover, holding onto them in difficult times: "Every choice you make defines who you are. They can be really simple choices like turning right instead of turning left…. Character is created in the sum of all these little choices we make."
We are living in science fiction times, and our fate is in your hands. I think I shouldn't say congratulations; I should say welcome to the battlefield.
— Maria Ressa
Second, to "embrace your fear." She cautioned that "people will try to coerce or manipulate, intimidate or threaten to get what they want. You have to be clear what you're afraid of because those are the buttons they will push."
And lastly, she instructed them to "beware the mob." "This is the worst of who we are, of human nature," she said, "and social media is doing its best to fan that flame inside you; it is inciting fear, anger, hate, tribalism."
"We are living in science fiction times," she added, "and our fate is in your hands. I think I shouldn't say congratulations; I should say welcome to the battlefield."
Ressa was awarded the Nobel for her fearless journalism as the cofounder of Rappler, a Manila-based news agency that exposed the corruption and atrocities of Rodrigo Duterte, the former leader of the Philippines.
Response among students was overwhelmingly positive, with one posting on Instagram about "the realest, most inspiring speech… thank you for challenging us to go into the world."
Despite the ominous tone of Ressa's remarks, the mood was otherwise festive amid balmy weather that was a perfect 71 degrees, sunny, and dry.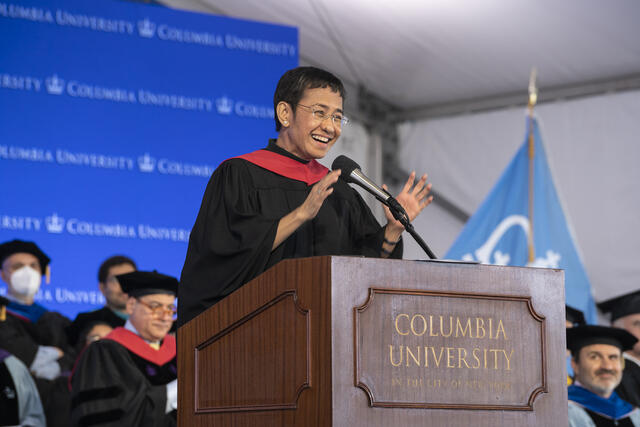 The exercises kicked off with the ceremonial bells and strains of music wafting amid the breeze, as thousands of guests rose to welcome their loved ones, craning necks to catch a glimpse, waving to get their attention. The members of SIPA's Class of 2023 appeared at the rear of the center tent as if from nowhere, turning what had been a field of white folding chairs into a sea of Columbia blue regalia.
Presiding over her first Class Day ceremony, Dean Keren Yarhi-Milo was ebullient — plainly thrilled to be leading the celebration of new graduates in seven academic programs representing 70 countries.
She urged the assembled graduates to seize the moment.
"I want you to carry a sense of pride graduating from a School that is busily reinventing itself to meet the moment we're in, so that we are able to not just respond to the problems of today but also to anticipate the problems of tomorrow," Yarhi-Milo said. "Whatever your concentration or specialization at SIPA was, whatever your background, now is your moment to dream big and to give back to the world."
Following the featured speaker's remarks, SIPA Alumni Association cochair Kirsten Imohiosen MIA '03 welcomed the new graduates to the alumni community. The former SIPASA president Courtney Manning MIA '23 then introduced the student speaker, Kat Sewon Oh MPA '23.
Citing the words of her late aunt — imo in Korean — Oh gave a benediction of sorts: "I'm proud of everything you've done up to this point. And I'll be proud of everything you do in the future," praising her classmates for their achievement.
Then, amid a stream of camera flashes, the students marched to receive their diplomas that paused only briefly when a new faculty member or administrator stepped to the podium to read the names. Throngs of graduates and family members filled Ancel Plaza after the ceremony to celebrate. The perfect day had turned into a perfect evening, clear and cool, and conversation buzzed as selfies were taken.
Watch the complete Class Day program: