News & Stories
2023 Graduation Speaker: Maria Ressa
Posted Apr 12 2023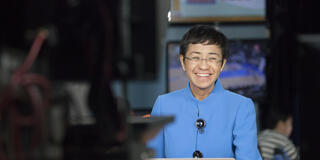 Maria Ressa, the Nobel laureate and Filipina journalist known for her work to protect media freedom, will be the featured speaker at Columbia SIPA's graduation ceremony on May 14, 2023. Ressa is the cofounder of Rappler, a Filipino news website that exposed corruption, human rights violations, and abuses in former President Rodrigo Duterte's war on drugs.
In 2021 Ressa and corecipient Dmitry Muratov of Russia became the first journalists to receive the Nobel Peace Prize since 1935. In its citation the Nobel committee recognized "their efforts to safeguard freedom of expression, which is a precondition for democracy and lasting peace."
Ressa in particular, the Nobel committee wrote, "has distinguished herself as a fearless defender of freedom of expression and has exposed the abuse of power, use of violence and increasing authoritarianism of the [Duterte] regime."
Ressa helped set up and headed CNN's Manila bureau in the late 1980s and then in 1995 set up the Jakarta bureau. She covered the region for CNN and other outlets for many years. Because of her intrepid reporting, Ressa has been arrested and charged with various infractions — unfairly so, in the eyes of most observers — and the threat of prison still looms.
"Maria Ressa is a role model for anyone trying to make a difference," said Dean Keren Yarhi-Milo. "I am awed by her talent, her fearlessness, and above all her dedication to doing what's right in the face of fierce and powerful opposition. It will be an honor to welcome her to SIPA and Columbia this spring, and I know our 2023 graduates will value the insight and inspiration she is sure to provide."
In her November 2022 memoir, How to Stand Up to a Dictator, Ressa highlights the threats to free media and to democracy itself — from not only the state but also indifferent social media companies. "Her urgent message now," according to the Guardian, "is that news organizations are being replaced by technology companies that have no interest in protecting facts, truth, or trust, whose business model has divided societies and weakened democracies, and for whom the drive for profit is paramount."
In her Nobel acceptance speech of December 2021, Ressa emphasized the sacrifices of journalists around the world to "bring you the truth and hold power to account."
Ressa was born in the Philippines and moved at age 10 to New Jersey. After graduating from Princeton University, she received a Fulbright fellowship to study at the University of the Philippines Dillman.
Over the years Ressa has received numerous honors for her work and activism. In May 2019, Columbia Journalism School awarded Ressa its highest honor, the Columbia Journalism Award, in recognition of "the depth and quality of her work [and] her courage and persistence in the field."
The SIPA graduation ceremony, also known as Class Day, will take place in its customary location on the South Lawn of Columbia's Morningside campus.