News
SIPA Graduation 2022
Posted May 15 2022
Everything old was new again as SIPA's Class Day exercises returned to campus after two years away. Faculty, family, and friends convened on Columbia University's south lawn May 15 to celebrate 597 new graduates in seven academic programs representing 51 countries.
Dean Thomas J. Christensen, the school's interim leader, embraced the occasion and offered words of welcome: "We are so excited to be celebrating this momentous day with you…. We are all so proud of you."
If the class was slightly smaller than the last one to cross the stage in person, the achivement was bigger. As numerous speakers observed, the class arrived at and attended SIPA under historic circumstances.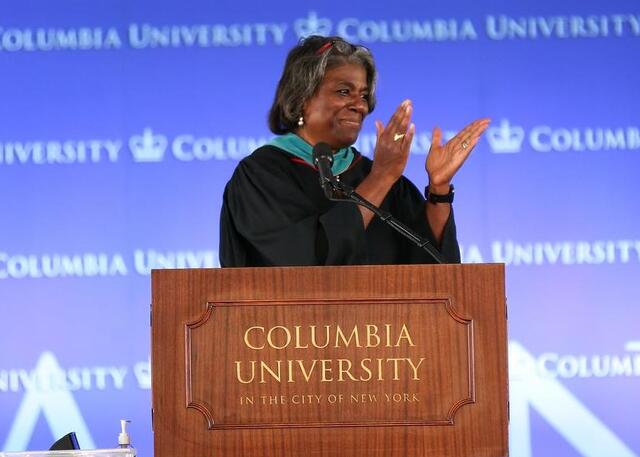 "You have faced a persistent, devastating global pandemic that has taken millions of lives," Christensen said, "and reminded all of us of the interconnectedness of a our world and the need for sound leadership."
The featured speaker, UN Ambassador Linda Thomas-Greenfield, offered the graduates some practical advice — frame your new diploma before it gets misplaced or crinkled — and riffed on the joys of living in New York, and the grit it instills. She also shared a fond remembrance of the late Madeleine Albright, the pioneering former U.S. secretary of state who addressed SIPA graduates just last year.
But ultimately Thomas-Greenfield called on the grads to help address the world's pressing problems, including global public health, climate change, and an "unprovoked and brutal invasion" that has displaced millions from Ukraine.
"We need you. The world right now is facing some truly sobering challenges. And you are the ones who will have to take them on."
"These are you fights," the ambassador continued. "You will be at the forefront now…. We need your energy. Your optimisim. Your commiment to justice your global perspective. And you're ready."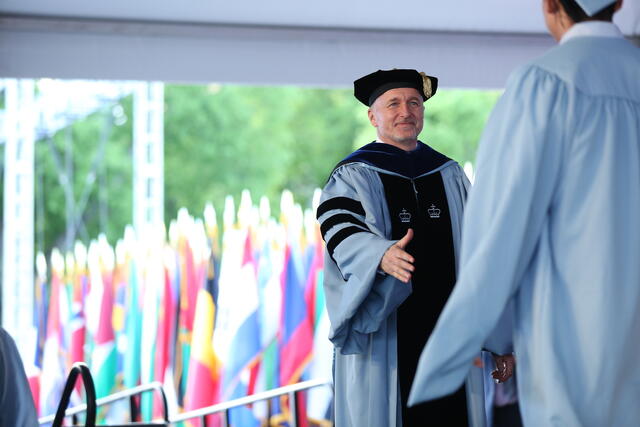 The ceremony featured remarks by Kirsten Imohiosen MIA '03, a former chair of the SIPA Alumni Association who welcomed the new graduates to the alumni community. Students also heard from two peers, Xu Zhang MIA '22 and Lily F. Ghebrai MPA '22. Zhang, the former SIPASA president, found the lighter side of attending graduate school during a pandemic.
"If COVID-19 didn't stop us from submitting problem sets on time, what will?"
It didn't stop graduates and family members from enjoying the traditional reception on Ancell Plaza, outside the International Affairs Building. Often derided, occasionally tolerated, the building looked uncharacteristically beautiful in the soft blue light of dusk, the sounds of the world's languages combining into one great murmur below.
Christensen, himself a PhD graduate of the University, shared some moving thoughts in closing his remarks to the graduates whose diplomas will bear his signature.
"Like you, I am proud to have studied here," he said. "Columbia students are smart, driven, and accomplished. It is quite obvious to me that after your graduation, as you leave with your degrees, you are all going to do very well. Please just always remember to do good."
SIPA celebrates 2022 graduates at Class Day