Event Highlight
Questioning the Intelligence
Posted Sep 26 2022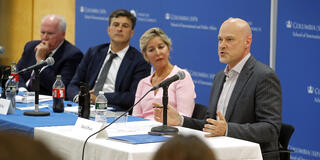 The day after Donald J. Trump took office as U.S. president, he visited the CIA's headquarters in Langley, Virginia, and stood at the Memorial Wall.
At the time, the former CIA director John Brennan — whose time leading the agency ended with the new president's inauguration — was at the gym on a stationary bike because, he said, "thinking about Donald Trump going to CIA headquarters, I needed to burn off some energy." Watching the president "bloviate about the size of the inaugural crowd and using it as a political event," Brennan said he "saw red" and decided he needed to make a statement.
"I just felt that Donald Trump lacked the integrity, the ethics, the professionalism, the responsibility to carry out the oath of office of the presidency of the United States," Brennan said.
Brennan recalled this story, among others, during his recent visit to SIPA for a panel discussion of "Trump's Strained Relationship with the Intelligence Community: Four Perspectives," hosted by SIPA and the Saltzman Institute of War and Peace Studies on September 15.
Brennan was joined by Mark Mazzetti, an investigative correspondent for the New York Times; Danielle Pletka, a senior fellow in foreign and defense policy studies at the American Enterprise Institute; and the Lawfare publisher David Priess, an author and former CIA officer. Dean Keren Yarhi-Milo of SIPA provided opening remarks; Peter Clement, Saltzman's interim director, was the moderator.
Each panelist offered a varying perspective on Trump's strained connection with the intelligence community in the nearly two-hour conversation, which can be watched in full here:
Highlights
"Trump is very calculating in the fights he chooses to take on. And so I think that there is a potential danger [in] doing public battle with the president, whether it's former members of law enforcement or the intelligence world or generals or reporters… Whether they're going to go toe-to-toe with the president on Twitter. Whether they're going to engage in the fight he wants to engage in, which in a way, becomes a kind of self-fulfilling prophecy that the deep state is against him."
– Mark Mazzetti
"I believe very strongly in the integrity, the importance, the professionalism, the ethics of the intelligence community. And when you have politicians of whatever stripe that are using the bully pulpit or using their role, responsibilities, and positions to undermine it, I will speak out again."
– John Brennan
"The fundamental truth is that there is no other president that is a direct parallel to Donald Trump in terms of his relationship with the intelligence community. Other presidents have had serious problems with the intelligence community, with specific assessments, and with the management of the intelligence community and they've handled it in what you would call, traditional ways by actually talking to them, hashing it out. Making some enemies along the way, yes, but doing it in a way that did not harm the overall national security infrastructure of the United States. That makes Trump unique."
– David Priess
"For a lot of people, the word intelligence professional is synonymous with apolitical. That's not true. That's just not how it works. In our democracy, that's natural. People are entitled to their views, their opinions, and their responsibilities... Do we want a politicized intelligence community? Do we want one that is at daggers drawn with the president of the United States?"
– Danielle Pletka