News & Stories
Peter Clement Will Serve as Interim Director of Saltzman Institute of War and Peace Studies
Posted Jul 20 2022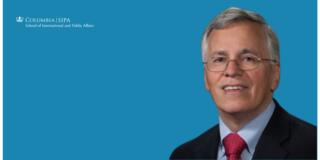 The Saltzman Institute of War and Peace Studies announced the appointment of Peter Clement, a senior research scholar and adjunct professor at SIPA, as interim director. He began his tenure on July 16.
A Russia expert, Clement has been a senior member of the Institute since 2018 and previously served a visiting professor at SIPA from 2012 to 2015. He has taught — and won several teaching awards for — courses including Contemporary Russian Security Policy (scheduled for Fall 2022) and Intelligence and Foreign Policy. Clement also directs Emerging Voices in National Security and Intelligence, a program to expand curricula at SIPA and Columbia and encourage female, BIPOC, and first-generation students to consider and pursue professional opportunities in national security and related fields.
In 2018, Clement retired from the CIA, where he had held several senior analytic and management positions. He served the CIA most recently as deputy assistant director for Europe and Eurasia, and before that as deputy director for intelligence for analytic programs (for eight years) and director of the Office of Russian and Eurasian Analysis, among other positions. In 2003 and 2004, Clement was primarily responsible for delivering the President's Daily Brief to Vice President Dick Cheney, National Security Council Adviser Condoleezza Rice, and Deputy NSC Adviser Stephen Hadley. He did a brief tour at the National Security Council as the director for Russia and later served as the senior CIA representative to the U.S. Mission to the United Nations.
Clement has been a member of the Council on Foreign Relations since 2001 and is a longtime member of the Association for Slavic, East European, and Eurasian Studies. He taught Russian history and politics for more than 10 years at the University of Maryland and the University of Virginia's northern Virginia campus. Clement has published journal articles and book chapters on Soviet and Russian foreign policy, U.S. intelligence reform, and the Cuban Missile Crisis. He holds a PhD in Russian history and an MA in Modern European history from Michigan State University, and a BA in liberal arts from SUNY Oswego.
Read our past Q&As with Peter Clement: November 2020 | September 2013