Event Highlight
Pelosi, Clinton Discuss Danger of 'Taking Democracy for Granted'
By Elizabeth Horwitz MPA '23
Posted Apr 04 2023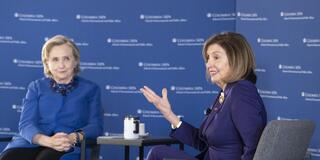 photo: Barbara Alper
SIPA kicked off its Spotlight Interview series on April 3, welcoming House Speaker Emerita Nancy Pelosi for a conversation with former Secretary of State Hillary Rodham Clinton. The two touched on a wide range of issues including the perilous state of U.S. democracy; their personal experiences with deep fakes and conversations with Facebook and foreign leaders about AI and algorithms; and advancing women's rights at home and around the world.
The event was hosted by SIPA Dean Keren Yarhi-Milo; Columbia President Lee C. Bollinger provided opening remarks, noting the critical role universities play in any open and democratic society. Bollinger added that "strong, wise, and caring voices are in short supply these past few years," calling Clinton and Pelosi "two of our nation's and world's best."
The fireside chat-style discussion felt like a relaxed conversation between longtime friends and colleagues: Clinton and Pelosi opened by recollecting their first meeting in the 1970s, when they were each mothers of young children, prompting Pelosi to reflect on her remarkable journey from housewife with five children to the first female House speaker in U.S. history.
"Be ready," said Pelosi to the audience of mostly students in the room and watching via livestream. "Know your 'why.' What is it you're passionate about? Know what you're talking about—have some understanding of your issue and your passion, and be strategic about it. How am I going to gather other people to support what I'm doing?"  
The event was the first in a planned series of intimate interviews with high-profile political leaders, policymakers, and other public intellectuals to discuss important global events and reflect on lessons learned as they close one chapter in their careers and look toward the next.  
Pelosi and Clinton paid homage to each other's political and social contributions throughout, while also taking time to dive into some of the most challenging issues facing policymakers. "Let's start with this little matter of democracy," said Clinton, posing the first question, "[as] there is a concerted effort to undermine some of the very foundations, democratic governance of a democratic society." 
Be ready. Have some understanding of your issue and your passion, and be strategic about it.
— Speaker Emerita Nancy Pelosi
 
Pelosi tackled the question from many angles, citing a quote from Abraham Lincoln that she said motivates her. "Public sentiment is everything," she said, paraphrasing the 16th U.S. president. "With it, you can accomplish almost anything. Without it, practically nothing."
Expanding on this idea, Pelosi stressed the need to make public service more attractive for young people to enter, by reducing "the role of big, dark money in politics," divisiveness, and online harassment against politicians, especially female politicians. She traced what she called the "horror show of the politics of destruction" back to the assault against the Clintons in the 1990s and the obstructionist pledge made at the outset of Obama's presidency by Senator Mitch McConnell, then as now the Republican leader.
Deep polarization seems to have made both parties dig in their heels, but the two women agreed that what makes democracy work is the delicate art of consensus and coalition-building, even with political opponents "diametrically opposed" to one's views or values. But that does not mean giving up the fight, the former speaker said, cautioning against this country literally turning the clocks back when it comes to advancing women's reproductive rights.
"In the [political] arena, you have to be ready to take a punch," Pelosi added, "but you have to be ready to throw a punch for the children."
The discussion turned to national security matters and Pelosi's high-profile visits to Ukraine and Taiwan last year. Pelosi said her trip to Ukraine early on in the war "was pretty scary… I thought we could possibly die." But she was also inspired by the courage of Ukraine's president Volodymyr Zelensky, noting how 11 million Ukrainians are either refugees, displaced, or living in a war zone. She promised to hold Russia's senior leadership accountable "for every crime" committed on Ukrainian soil, including rape "as a weapon of war to demoralize the country." Paraphrasing a conversation she had with a prominent Russia watcher, she said, "Make no mistake, [Russian soldiers] don't do anything they are not ordered to do."
Of visiting Taiwan as speaker, Pelosi said she was surprised by the scrutiny and backlash her trip received in Beijing but also inspired by her midnight arrival in Taipei, where she saw "thousands of people in the street waving American flags." She noted the importance of speaking out against human rights abuses in places like China.
"If we do not speak against human rights in China because of commercial interests," she said, "we lose all the moral authority to speak out in any other place." 
Clinton and Pelosi were both asked about being the victims of AI-generated "deep fakes." Pelosi used the student question to segue into a larger discussion around the dangers of social media apps like TikTok, which can allow governments like Beijing's to access users' data and exploit it for espionage purposes.
Clinton added: "If you are applying to Columbia or maybe you are out of Columbia and have a job in some business causing concern for China, or maybe China wants to take it over, the capacity for extortion or blackmail based on your data becomes a huge problem…. We'll all be racing around saying, 'We didn't say that,' and will be in a constant state of uncertainty and instability because other people have captured so much information on us." 
Both speakers took social-media tech companies like Facebook to task for refusing to take down content that was clearly deep fakes. "If we are going to turn our politics over to people who are making up stuff, where does it stop?" asked Clinton.
The perils facing democracy are also seen by the backsliding of women's rights across the globe. Pelosi framed it as a hypothetical question of what she would do if she ruled the world, to which she answered: "Education for women and girls. Nothing makes more of a difference to a society … We always say when women succeed, America succeeds, [but] when any women succeed, any country succeeds."
She closed by advising students in the audience to "be yourself—that authentic you. That's what the world is waiting for and wants to see."
Watch the complete event — or access list of highlights by clicking icon at top right of video: