Dean's Message
Secretary Hillary Rodham Clinton Will Join SIPA Faculty
Posted Jan 05 2023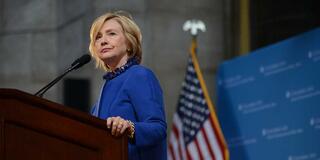 SIPA will welcome the former U.S. secretary of state, U.S. senator from New York, and First Lady of the United States on February 1.
Dear SIPA community:
I am pleased to join Columbia President Lee Bollinger in sharing the exciting news that Secretary Hillary Rodham Clinton will join SIPA as a professor of international and public affairs with a joint appointment at Columbia World Projects, effective February 1.
Secretary Clinton, who served as U.S. secretary of state, U.S. senator from New York, First Lady of the United States, and is a longtime activist and volunteer, is one of the world's foremost experts on public policy and international affairs. She is a remarkable leader who has been on the front lines of virtually every critical challenge facing our world today — from the global fight to save democracy, her advocacy for women's rights, and her staunch defense of marginalized people everywhere.
She now brings her leadership and expertise to SIPA as we seek to prepare the next generation of global policy leaders and advance our role as a critical partner and resource for current practitioners and stakeholders looking for solutions to today's challenges.
With the world in flux, SIPA is intensifying our efforts to engage the leading local, national, and global academics and practitioners in developing timely, cutting-edge, and practical policy proposals. To that end, Secretary Clinton will help lead a major new SIPA effort to convene the best policy minds from around the world for robust debate and collaboration aimed at developing innovative policy solutions. We will say more in the coming months about this endeavor, which will complement the University's "Fourth Purpose" initiative that explicitly links our scholarship to engagement with key leaders outside our gates.
In addition, Secretary Clinton will help us deliver on our mission to educate a new generation of principled policy leaders and generate innovative ideas grounded in research. Starting in the 2023–24 academic year, students will have the opportunity to engage with and learn from her in the classroom, benefiting from her unparalleled experience in foreign and domestic policy. With her arrival, our outstanding roster of faculty and students is taking another big leap forward.
Finally, I am personally thrilled by the opportunity to work alongside a woman whom I have long admired and now have the honor of calling an esteemed colleague. On behalf of the entire SIPA community, I extend a warm welcome to Secretary Clinton as she becomes a distinguished member of our faculty.
Keren Yarhi-Milo
Dean, School of International and Public Affairs (SIPA)
Adlai E. Stevenson Professor of International Relations
Columbia University