News & Stories
"More Than Just Treaties and Protocols"
Posted Dec 21 2020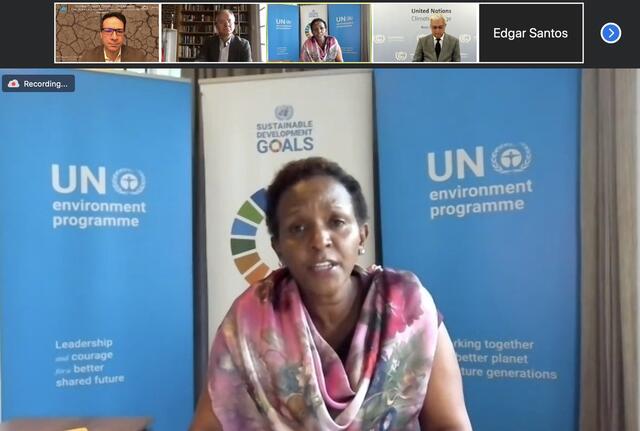 "The state of the planet is broken."
UN Secretary General António Guterres began his recent address at Columbia's World Leaders Forum with this grim statement, urging the world to come together to build a truly global coalition on carbon neutrality, put global finance to work for climate, and enhance adaptation and resilience.
On the heels of Guterres's December 2 speech, a panel of experts shed light on the specific role of international organizations in promoting global governance around climate change. SIPA's specialization in International Organization and United Nations Studies (IO/UN) joined other programs at Columbia to host the program in collaboration with the secretariat of the UN Framework Convention on Climate Change (UNFCCC) and the United Nations Environment Programme (UNEP).
"Our understanding of the role international organizations play in global governance mechanisms is often naïve and legalistic," emphasized moderator Daniel Naujoks, the IO/UN director.
UNEP is, in fact, "more than just treaties and protocols," said Joyce Msuya, UNEP's deputy executive director and assistant secretary general.
The Paris Agreement asks each country to outline and communicate their actions on climate, known as their Nationally Determined Contributions (NDCs). Through this process, UNEP assists countries around the world via technical support, capacity building, and resource mobilization that helps address key issues related to climate change, biodiversity, and pollution. Msuya cited, as examples, how UNEP provided capacity building for African negotiators during climate negotiations and used its Emissions Gap Report to provide current data and science to inform policy decisions.
UNEP estimates that climate change and adaptation in Africa alone will require $50 billion to $300 billion in resources per year, Msuya said. Echoing the secretary general's plea earlier in the day to align climate finance with the Paris Agreement, Msuya emphasized the role international organizations play to channel public and private investments for clean technologies, sustainable energies and climate change adaptation.
Other actors in the field have focused on the role of law in climate action. UNEP conducts training sessions for judges on climate law, and a pending report prepared in cooperation with the Sabin Center for Climate Change Law at Columbia Law School will shed light on the global status of climate change litigation.
Another participant, the UNFCCC deputy executive secretary and assistant secretary general Ovais Sarmad, highlighted differences and collaborative work between treaty bodies such as the UNFCCC and organizations like UNEP and UNDP that have significant field presence. As the UNFCCC provides a platform for the implementation of the Paris Agreement, Sarmad urged all stakeholders to assist in revamping NDCs to be as ambitious as possible. He said that UNFCCC refrains from tactics associated with "naming and shaming," instead assisting governments in making their NDCs ambitious by providing specific expertise and data and by creating intergovernmental platforms and venues for exchanges, including best practices, such as the recent Climate Dialogues.
The third panelist, SIPA professor and vice dean Scott Barrett, said the pursuit of unilateralism alone is counterproductive and that it would not allow us to achieve outcomes that are desirable to all people on the planet. A leading scholar on transnational global challenges and international cooperation who served as the lead author for the Intergovernmental Panel on Climate Change, Barrett illustrated the potential role of the UN with two historical examples.
Barrett said the eradication of smallpox in 1977 and the 1987 Montreal Protocol, which limited the production and consumption of 100 different chemicals worldwide, show that multilateral solutions can be highly effective if all countries understand that they could come together to achieve a common goal. He proposed that the UNFCCC Secretariat could further strengthen its role as a think tank to generate new ideas, incentives and practical solutions, in addition to providing expertise and access to data.
A major theme throughout the discussion was the importance of civil society partnerships. Msuya stressed that the global community needs to ensure that civil society and other stakeholders—including the most vulnerable, such as women, youth, indigenous communities—have a seat at the table around international politics.
Reiterating UNEP's focus on providing access to NGOs to UNEP meetings, Sarmad emphasized the need for more "inclusive multilateralism" that engages cities, private sector, and civil society. Through the Non-state Actor Zone for Climate Action, UNFCCC engages with actors from around the globe—countries, regions, cities, companies, investors, civil society and other organizations—on their commitments to act on climate change. The "Race to Zero" campaign seeks to attract the private sector to commit to reach net zero targets by 2050 or earlier and UNFCCC engages with 200 mayors from around the world on cities' contributions toward creating a sustainable planet.
While applauding the meaningful involvement of non-state actors, Barrett cautioned that ultimately only states have the regulatory power to create large-scale and lasting changes and bind other actors. Thus, while civil society, the private sector, and local governments should have a seat at the table, it remains paramount to pressure national governments to act on climate change.
As we celebrate the 75th anniversary of the United Nations and the fifth anniversary of the Paris Agreement, Naujoks observed in conclusion: "While international organizations create binding treaties and help to monitor and enforce their provisions, UN agencies, specifically the UNFCCC and UNEP, work in multiple and complex ways with governments and non-state actors to promote climate governance at various levels."
— Adina Klein MPA '21
"Global Climate Change Governance: The Role of International Organizations"
December 2, 2020