News & Stories
João Vale de Almeida, EU Ambassador to United Kingdom, Will Join SIPA Faculty as Visiting Professor
Posted Sep 14 2022
Image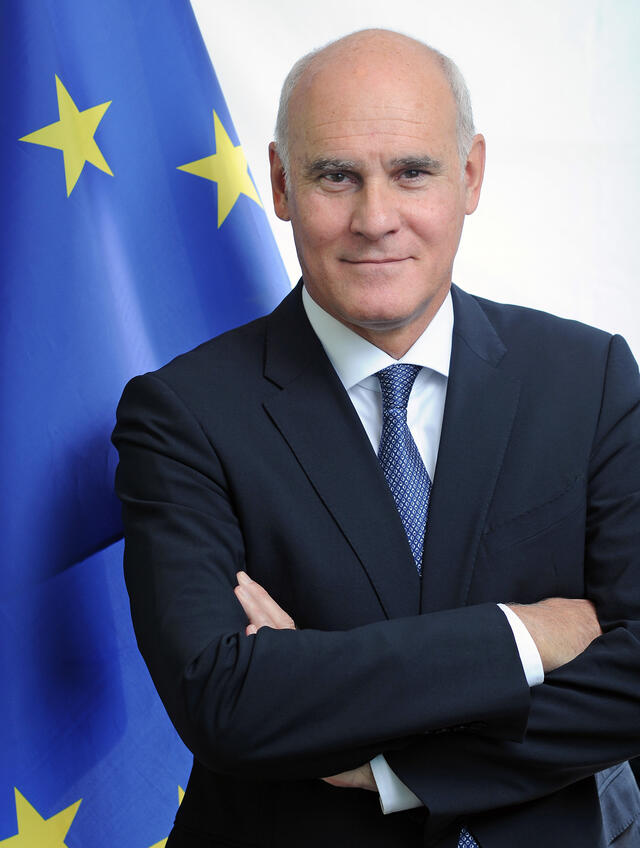 João Vale de Almeida, a longtime European diplomat who currently serves as the European Union's ambassador to the United Kingdom, has been named as SIPA's George W. Ball Adjunct Professor of International and Public Affairs for the spring 2023 semester.
A native of Portugal, Vale de Almeida has vast experience in international governance and for many years helped to devise and implement European foreign policy. Before becoming the EU's first ambassador to the UK in February 2020—in the wake of Brexit—he served as its ambassador to the UN from 2015 to 2019 and as the first EU ambassador to the United States from 2010 to 2014. In the latter role, he worked to strengthen EU-U.S. relations on all fronts, from foreign policy and security to trade.
"I look forward to welcoming Ambassador Vale de Almeida as our Ball Professor for 2023," said Dean Keren Yarhi-Milo. "He has devoted much of his career to building understanding between European nations and helped shape and refine institutions that reinforce the EU's vital place in the world. I know our students and the entire SIPA community will benefit from his experience and insight."
Vale de Almeida previously held a number of other high-level positions in the European Union's executive body, the European Commission. As the EU's director general for external relations, he helped formulate and execute the EU's foreign policy and played a key role in establishing the European diplomatic service, known as the External Action Service, under the Lisbon Treaty. As head of cabinet for the president of the European Commission, Vale de Almeida was chief of staff and senior adviser to then Commission president José Manuel Barroso, playing an instrumental role in multiple EU, G8 and G20 summits and ensuring coordination between Brussels and member states' governments.
Vale de Almeida began his career as a journalist and first became involved in the European government in 1982, when he joined the delegation of the European Commission in Lisbon.
As the Ball professor, João Vale de Almeida will teach a course on international relations in times of geopolitical and economic turbulence and deliver the annual George W. Ball Lecture, among other activities.
The Ball professorship is named in honor of George Ball, the former under secretary of state during the Kennedy and Johnson administrations who served as U.S. ambassador to the United Nations in 1968. Since it was established in 2009 with support from an anonymous donor, the Ball Professorship has brought numerous distinguished scholars, diplomats and former government leaders to SIPA, including most recently Juan Manuel Santos (in 2022), Christopher Hill (2021), and Toomas Ilves (2020).
Vale de Almeida previously visited Columbia University in 2017, when he took part in a European Institute conference on "The EU at 60," and in 2014, when he spoke at Columbia Journalism School on TTIP and the importance of an EU-U.S. partnership.
— Sarah Cohen MPA '23