Dean's Message
Happy New Year

from Dean Keren Yarhi-Milo
Posted Dec 21 2022
Only six months have gone by since I became SIPA's dean, but in this short time I have felt deeply welcomed by this community, inspired by the world-class intellect and reach of this institution and energized by our potential for impact. I've been connected to Columbia for more than 20 years. Since becoming dean, I have been awed and motivated by the collective passion of this community and its mission to impact today's international relations and prepare tomorrow's leaders.

We have all been working incredibly hard this semester, but it has also been very joyful—which I credit to the collegiality of SIPA's wonderful faculty, staff, students, and alumni. 

I want to thank you all for your support and hard work -- in the classroom, on behalf of the school, and in the policy world – as we all strive to make an impact. 

Looking ahead to 2023, we're focusing on three major goals for SIPA:

First, we will continue to organize our activities thematically around five significant global policy challenge areas — geopolitical stability, democratic resilience, climate and sustainable development, inclusive prosperity and macroeconomic stability, and technology and innovation. We have made a great start and I look forward to further progress — in our curriculum, our research, our events, and other areas. I look forward to sharing many exciting updates on this front with you in the coming year.

Second, we are pursuing a vision of strengthening SIPA's connection with the wider world. Our network of faculty, students, and alumni around the globe truly make SIPA the most international policy school. As we resume more and more of our pre-pandemic activities and settle into a new normal, we will reinforce existing connections and forge new ties that increase our engagement with the world and our contribution to it, elevating SIPA in the process.

And third, we will continue building and strengthening our community at SIPA. I want our diverse students, faculty, and staff to find a home here. That means providing opportunities for us to get to know each other, to engage in a genuine manner with one another, to celebrate one another's successes and more. And I will measure my own success by our ability to do that.

As we start the new year, I'm so glad to be part of this community. Happy New Year to you and your loved ones, and I hope we will all have a wonderful year ahead!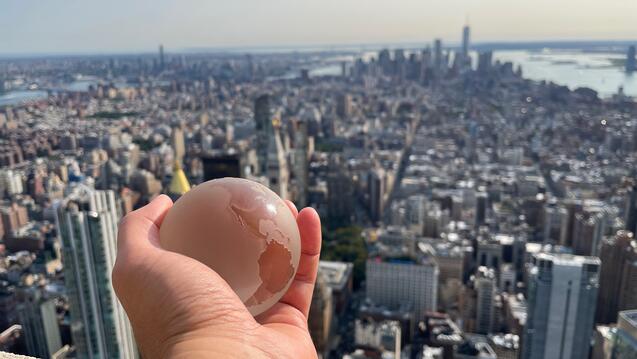 As the world's most international policy school, SIPA defines pathways to action on many of the most critical issues of our time.