SIPA Magazine
By Marcus Tonti
Posted Oct 13 2022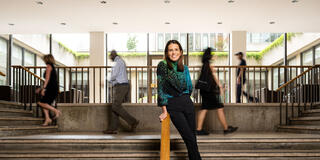 Photo by Linette and Kyle Kielinski
Keren Yarhi-Milo took office on July 1 as the new dean of SIPA. An expert in international security and conflict resolution, Yarhi-Milo joined the SIPA and Columbia faculties in 2019 after a decade at Princeton University. For the past two years, she also served as director of the Saltzman Institute for War and Peace Studies and as the Arnold A. Saltzman Professor of War and Peace Studies. She was recently named the Adlai E. Stevenson Professor of International Relations, a professorship last held by her mentor, the late Robert Jervis.
When President Lee C. Bollinger announced her appointment as dean on May 23, he emphasized Yarhi-Milo's extensive record of leadership and service at SIPA and across the University. The new dean, he wrote, is "a longstanding and devoted member of the Columbia community [and] a wonderful addition to University leadership."
Yarhi-Milo graduated from Columbia's School of General Studies in 2003 and earned her PhD from the University of Pennsylvania. In multiple conversations with SIPA Magazine, she talked about her vision for the School, her desire to be accessible to students, the importance of diversity and inclusion, challenges in the coming years, and more.
Those discussions have been abridged and edited for clarity.
Broadly speaking, where do you want to take SIPA as dean?
I'm a political scientist, and I know how important it is for me to consult closely— with our faculty, students, and staff— in formulating priorities as a new dean. That takes time, and teamwork, and those conversations are well underway. But I can also share a few observations now about the opportunities for SIPA as I see them.
Our students are preparing to be leaders in a world in flux — not just flux, really, but crisis. We are seeing, in many ways, the collapse of a world order that has sustained itself since the end of the Cold War and even since the end of World War II. As a leading policy school, we have a particular purpose: to generate new ideas, grounded in research, leading to new policies and new ways of engaging with partners on the ground.
So I have already been working with faculty on cross-cutting initiatives that take on some of the biggest challenges of the day, from climate and energy to the future of democracy. We are defining issues where SIPA can make the most difference: in our interdisciplinary research, in our teaching, and in our impact on policy. And we bring to these issues not just a desire to act but new ideas, and not just new ideas but a basis in rigorous research and an appreciation for complexity. That's how we can help leaders in government, corporations, and NGOs go beyond reacting to each crisis to also seeing the bigger picture and planning strategically for the future.
Remember, SIPA was established in the aftermath of World War II — when much of the world lay in ruins — to help prevent such a catastrophe from ever happening again. We build on that legacy today, with a stronger sense than ever of the importance of both sharing our interdisciplinary expertise and working with the world as partners, and of engaging with decision-makers and actors in every sector at every level to shape the best way forward. And we are teaching students to work that way too.
So that's a bit about where we are with the world. Here on campus, I plan to focus on creating a sense of community within the School. I want our students, in all their diversity, arriving from all over the world and across the US, to find a home here. That means providing opportunities for us to get to know each other, to engage in a genuine manner with one another, to learn together, and to celebrate one another's successes. I will measure my own success by our ability to do that.
Being the policy school at the University, we are much better positioned to not just confront challenges but to anticipate them to help decision-makers stay two steps ahead.
How do you want to interact with students personally?
I hope students learn quickly that I'm accessible, that I'm informal, and that they are a big part of why I'm excited to be the dean. We'll be engaging through brown-bag lunches and other informal activities, but I also want them to know my door is open and I'm here for them.
Remember, I've been a student at Columbia — an international student working to improve her English-language skills, a first-generation student. I had dreamed about being at Columbia since I was 12 years old. My experience at the School of General Studies, my first class with Bob Jervis — they transformed my life and gave me opportunities that I never thought possible.
Helping students, inspiring them, making sure that they will always want to come back to Columbia because they will know this was a major turning point in their life — that's what drives me. I met with some student leaders earlier today, and as I told them, I accepted the role of dean because I saw an opportunity to make the Columbia experience as transformative for everybody as it was for me.
Do you have plans for increasing diversity and inclusiveness at the School?
Absolutely. We have made important progress — much of it inspired by our students and their activism — and I think we are all eager to see a SIPA that is even more inclusive and representative. I personally started this work at the Saltzman Institute with Emerging Voices and other programs, and now have the platform to do much more. It's not just about demographics; we want to open up our thinking, too, in various fields.
SIPA is still the most international of all policy schools, with students and faculty from 90 to 100 countries in a typical year. So we're continually creating a community that we learn from. The interaction with the students who are coming from other backgrounds and other places in the world challenges us to question our thinking. In my own field, it means opening up concepts in international relations that have been very white and centered on great-power politics. We are in a constant push to engage more perspectives and be more empathetic in the way we talk about the world's problems. In many ways, greater inclusion is also being built into the curriculum and research agenda. It's ongoing.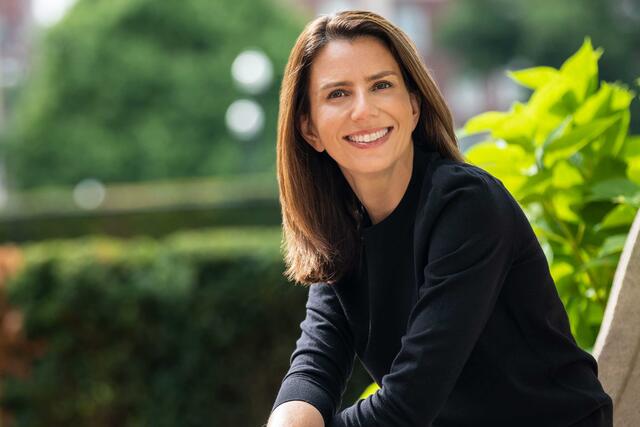 Can you say more about using the Emerging Voices program as a model for SIPA as a whole?
Emerging Voices is about thinking seriously and acting creatively to build pipelines for students who have not traditionally been part of a certain discipline or career path. Within the field of international security, it is mainly about bringing in women and students of color because of how the field has been for years: "male, pale, and Yale," as people say. So what we've done there is open up the ranks and inspire a group of people to come to feel that they belong — to feel that this is something that they can do because they keep seeing role models presenting to them again and again.
There are some parts of SIPA that would really benefit from this type of approach, and other areas where we already see great representation of female, BIPOC, and first-generation students. As a policy school, we want to have pipelines in every field for students who will be the lead- ers of tomorrow. So this is about creating opportunities for students to research and understand those paths, with a focus on those who felt that maybe they did not have those opportunities before.
When you became director of the Saltzman Institute two years ago, you talked about expanding the conception of international security to embrace gender and climate and other fields. Looking at SIPA as a whole, do you see opportunities to build cross-disciplinary connections in a similar vein?
As I mentioned earlier, initiatives tackling major world challenges will strengthen the connections across disciplines, and we have tremendous depth of expertise and experience within SIPA to draw on. Looking across Columbia, I see us working on issues around technology and innovation with the Law School, the Engineering School, the Data Science Institute, and others. There are lots of opportunities to work on climate and energy, including with the Climate School. Geopolitics and political economy seems to me like a fertile area to explore, as does inequality and the politics of redistribution.
We also need to pay more attention to keeping democracies strong and resilient. We've seen the erosion of civic norms and democratic institutions in the United States and elsewhere. We have scholars of our own who are studying disinformation and other aspects of these trends, and the Law School has also done some very relevant work. Democracy is an area where SIPA has the possibility — I would say even the responsibility — of being a leader.
SIPA has done a great job of supporting faculty and students who pursue connections across program areas and initiatives. We look forward to building on SIPA's strengths on the inside and institutionalizing partnerships and collaboration on the outside. It's similar to what I'd been trying to do with the Saltzman Institute on issues of security: finding partners not just within SIPA but also elsewhere at Columbia and with other places around the world.
You are sharing an expansive vision for SIPA, but won't it be difficult to achieve growth in our current space?
Space is definitely a major constraint, and my administrative colleagues and I are in conversations exactly on this issue. We're looking at interesting ideas for what we can do here in the International Affairs Building and perhaps eventually on Columbia's Manhattanville campus. Not having space is such a significant impediment that it has to be a priority, both in our planning and in our fundraising. I should emphasize that fundraising, both for the endowment and for space, is going to be a top priority for me. It's going to be challenging, we know, given what is happening in the economy right now, with inflation and market volatility. But gathering resources to support students, faculty, and the improved spaces they share is too important to wait for better times. And we are already having encouraging conversations with people who under- stand the urgency and relevance of what SIPA is about.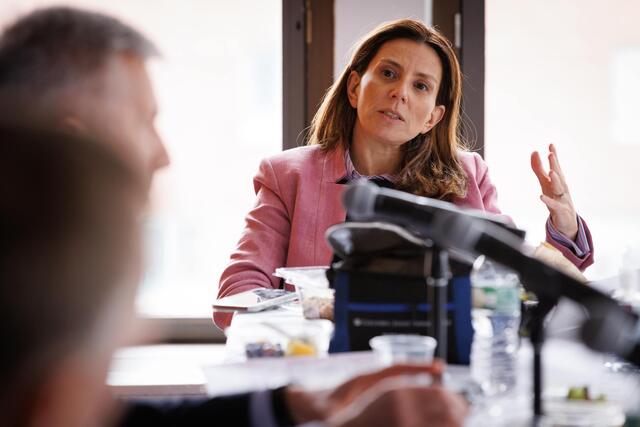 In recent years we've seen these unprecedented events that impact how students view policy: the Black Lives Matter protests, the COVID pandemic, January 6 here in the United States, the invasion of Ukraine, gun violence, climate emergencies. How does SIPA respond—in its curriculum and in its faculty recruitment—to a world that feels unsettled in so many ways?
Being the policy school at the University, we are much better positioned to not just confront challenges but to anticipate them to help decision-makers stay two steps ahead. We're not a think tank that just responds to current events, but we do produce analysis that proves very relevant. And while we're an academic institution, we're doing more than engaging with academic literature: we're engaging with problems around the world while seeing comparative trends and patterns that help prepare us for what's next. 
Take the war in Ukraine, as an example. For years, people came to me and said, "Your field is so irrelevant. You studied great-power politics, you studied nuclear weapons, all of that. That's not the world of security of today. We don't have great-power wars. We don't have those kinds of concerns. So this is irrelevant. You guys are like dinosaurs."
And then the war in Ukraine happened, and all of a sudden the demand for our expertise was through the roof. I got calls from the New York Times to come and present to the editorial board, calls from the intelligence community, from private-sector people. They wanted to hear what we had to say. Thankfully, we've had the Saltzman Institute as a place where we study this.
At SIPA you have expertise that is very current and relevant to the world and the problems of today, and you have deep expertise that will allow you to look at the context. Part of our job is to respond, part of our job is to anticipate, and part of our job is to reflect and learn. And we can do so with an appreciation for nuance and complexity that leaders, in a time of crisis, often can't. So SIPA's role is especially important when the world is in turmoil and there are so many things happening.
In a recent interview with Columbia College Today, you said that balancing service and scholarship is a challenge. Are you going to continue to teach and pursue scholarly work while you're dean? 
Yes. I worked really hard for many years to establish myself as a scholar, and I don't want to give that up. For a variety of reasons, it's still very much my passion. I lost my mentor, Bob Jervis, this year. [The long-time SIPA and Columbia professor died in December] He became almost like a second father to me, and the kind of work that I do — on decision-making in foreign policy, among other topics — is very similar to the kind of work that he had done. And I promised him and I promised myself that my way of keeping his legacy alive is continuing to publish. So the desire to publish is deeply rooted in me.
Being the dean of SIPA and pursuing an ambitious agenda is definitely going to be time-consuming. So I will have to learn to be even more efficient. My research is not something that I will compromise on, but my work as dean will take precedence and will take the vast majority of my time. As for teaching, I may not teach this year, but I will definitely teach next year.
I appreciate your candor in talking about wanting to learn and grow in your new role. As a well-known scholar in your field who has become dean, do you see opportunities to have greater visibility with audiences outside Columbia that might also bring SIPA more visibility?
Absolutely. A big part of my agenda is for SIPA to communicate and engage more closely with outside actors. I think we need to have a larger presence in DC during the year. I think we have to engage more significantly with organizations, agencies, and companies here in New York. There are alums that are eager to work with us, and we want to figure out the best way to partner with them and use their expertise. And I've already received so many calls from people interested in learning more about what SIPA does and how we can partner with them. I'm very energized, and I hope to bring this energy and enthusiasm to take SIPA to the next level. And I feel that I can do this right now because of the work of Merit [Janow] and Tom [Christensen] and all the other SIPA deans who came before me. This is the right moment. It's an exciting time for SIPA.
You joined the SIPA faculty just a few years ago, but of course you're not really a newcomer to Columbia.
No, not at all. In fact, I consider myself a product of Columbia. My engagement with the University started in 2000 when I came as an undergraduate to the School of General Studies. And I graduated in 2003, but I never really left: As a PhD student at UPenn, as a postdoc at Harvard, and over 10 years on the faculty at Princeton, I would come to Columbia at least once a month, and sometimes more frequently. I spent a sabbatical here, a full year at the Saltzman Institute. And I did all that because Bob Jervis and my other professors were here, and friends, and so on. Throughout the years I kept up with what was happening at Columbia. I knew the ins and outs of the department and SIPA and the politics.
So I'm especially excited to lead SIPA — because of Columbia's deep commitment to engaging with the world, and the international makeup of our students and faculty, and for many other reasons. Columbia is where it started for me, and coming to Columbia was also coming home.