Event Highlight
Ex-Governor of Bank of Japan Recounts Struggles to Curb Deflation
By Elizabeth Horwitz MPA '23
Posted May 01 2023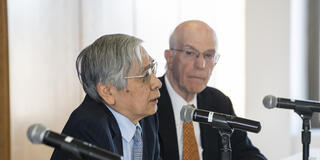 Haruhiko Kuroda and Alan S. Blinder (Photo: Barbara Alper)
When the former Bank of Japan Governor Haruhiko Kuroda visited Columbia SIPA on April 17, it represented one of his very first opportunities to speak openly about his experiences as governor of the Bank of Japan. Just nine days before, he had stepped down after 10 years at the helm.
Hosted by SIPA's MPA in Economic Policy Management, Kuroda discussed his legacy at his country's central bank and the challenge of curbing deflation. Following his remarks he sat down for a chat with a fellow central banking veteran, Alan S. Blinder, about "The Future of the International Monetary System."
In the discussion moderated by Takatoshi Ito, a professor of international and public affairs, Kuroda and Blinder also talked about their experiences dealing with fiscal and monetary crises in their respective countries. Blinder had served as vice chairman of the Federal Reserve System's board of governors in the mid 1990s. At the time, he faced a challenge opposite that of Kuroda, and looked to monetary policy to curb runaway inflation.
When Kuroda became BOJ governor in 2013, he had previously served as president of the Asian Development Bank and before that as Japan's vice minister of finance for international affairs. At the time, decades of deflation had slowed Japanese growth. His strategy in response, considered quite novel at the time, was to purchase Japanese bonds and stocks in order to encourage inflation. The policies, he noted, had mixed success.
Climate change risk is big and it will be the major risk problem in the next 20 to 30 years — but in the next two to three years' time, the fragmentation of the world economy is what I'm the most concerned about.
— Haruhiko Kuroda
"In the last 10 years or so, the economy was regenerated and [there was an] employment increase of 4 million new jobs," Kuroda explained. "Unemployment rate used to be 4 to 5 percent but is now only about 2.5 percent."
He pointed to the success of the Bank of Japan's expansionary monetary policy in driving higher employment but not achieving the 2 percent inflation target that was set. He said he was fighting against a very strong mindset of no price increases left over from 15 years of Japanese deflation.
But Kuroda is optimistic that this mindset is evolving and forecasts higher inflation for Japan's economy, especially as inflation rises around the globe. He expects wage hikes to be the highest in three decades and likely to continue.
U.S. inflation poses a separate set of challenges, according to Blinder, who is now the Gordon S. Rentschler Memorial Professor of Economics and Public Affairs at Princeton University. "If you ask the question, how can we get from 2 percent inflation to 11 percent inflation? We had supply shocks," he said. "We had a big oil shock. Then with the Russian-Ukraine war, we had a food shock on top of it and an exacerbation of the oil shock. Blissfully that part's gone away. [But] the food part has not gone away. Food inflation is still very high."
The two economists discussed the weaponization of the dollar against Russia, the idea floated of a global currency, the historic depreciation of the yen and the greatest threats for the international finance system.
"Climate change risk is big and it will be the major risk problem in the next 20 to 30 years," Kuroda said, "but in the next two to three years' time, the fragmentation of the world economy is what I'm the most concerned about."
Watch the complete program: