News & Stories
Dean's Lunches with Students Bridge the Personal and Professional
Posted Jan 28 2023
Dean Keren Yarhi-Milo speaks with students in December 2022. Photo by Brian Miller
When Keren Yarhi-Milo became dean in July 2022 she noted that students would quickly learn that she is accessible and informal. Over the past six-plus months, Yarhi-Milo has made student engagement a top priority, meeting with student body leaders, student veterans, and countless other student groups as well as individual students. 
Among her new initiatives is a series of monthly lunch small-group conversations with students. In fall 2022, four lunches were held with roughly 150 students attending the informal exchanges. 
"It has been a highlight of my time as dean so far to be able to meet with so many students through this informal lunch series," Yarhi-Milo said. "I am always thrilled to be able to spend one-on-one time with our students, getting to know more about them, their passions, and what they're doing here at SIPA. I've found these conversations to be invigorating, and I hope that students will continue to sign up for them so that I can meet even more of our outstanding SIPA class."
According to Tsuya Yee, associate dean for student affairs, the conversations have included a wide range of topics like careers, curriculum, and diversity and inclusion, as well as an opportunity for students to share their journey to SIPA and for the dean to do the same. 
In some cases, Yee said, the conversations have led to concrete action, including a new format for an alumni-student networking event that lunch participants suggested, a deeper exploration of sustainability in the International Affairs Building, and an expansion of faculty in the Data Analytics and Quantitative Analysis (DAQA) specialization.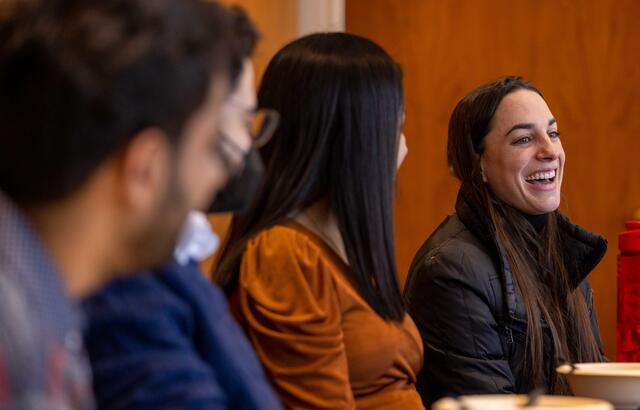 Jagannadh Mellacheruvu MPA '23, who participated in the first lunch in September, found the conversation with the dean "insightful and enlightening." 
"It was a valuable opportunity to gain a deeper understanding of the administration's perspective on University matters," he said. "I appreciate the dean's willingness to engage with students and learn more about the realities on the ground." 
Khulan Batkhuyag MPA-DP '24 attended the October lunch and expressed gratitude to the administration for "making a great effort to co-create an accountable culture and environment where honest voices from students are embraced to foster conscious, active, and integrated inclusion."
According to Yee, the dean's lunches, along with other community-building opportunities, will continue in spring 2023. Interested SIPA students can sign up for an opportunity to attend a lunch via CampusGroups.