News & Stories
Conference Examines Women in the Digital World
Posted May 22 2022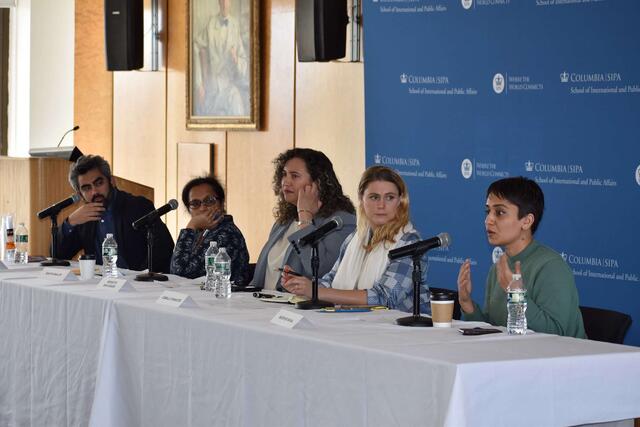 A conference devoted to Women in the Digital World convened a diverse group of journalists, activists, and scholars from around the globe at SIPA on April 21 and 22 for an examination of the relationship between women and digital media.
The veteran business journalist and author Rana Foroohar, currently a columnist for the Financial Times and an analyst for CNN, gave keynote remarks on on "Digital Polarization in the Post-Neoliberal Bi- (or Tri-) Polar World."
Scholars presented research papers on women's speech online, the gendering of political speech, and the digital divide during the COVID-19 pandemic, among other topics.
The opening panel discussion considered women and online harassment, also known as digital violence—the subject of a recent UNESCO report. Subsequent discussions tackled the regulation of big tech; combatting race and gender bias in algorithms; and disinformation in Russa's war on Ukraine.
Hosts and participants included Karen Attiah MIA '12, Washington Post columnist; Emily Bell, director of Columbia'sTow Center for Digital Journalism; Ulf Buermeye, cofounder and chairman of Germany's Society of Civil Rights (GFF); Patricia Campos Mello, editor at large, Folha (Brazil); Timothy Frye; Columbia political scientist; Nina Jankowicz, disinformation expert; Mutale Nkonde, CEO of the nonprofit organization AI for the People; the computer scientist Neal Parikh, and many others.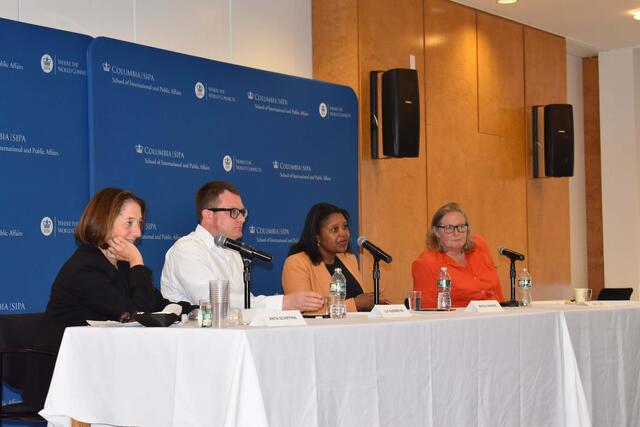 Originally scheduled for April 2020 but long delayed by the worldwide pandemic, the conference was organized by Anya Schiffrin, director of SIPA's Technology, Media, and Communications specialization, and Karolina Koc-Michalska, a sociologist at Audencia Business School in Paris. Despite the delay many of the conference papers were printed in a a special issue of the journal Information, Communication & Society.
The conference was co-sponsored by Columbia's European Institute and SIPA's Management specialization and partially funded with grants from Judith Neilson Institute for Journalism & Ideas and the Women's Media Center. Meyer Feldberg, a former dean of Columbia Business School, and his wife, Barbara, sponsored the participation of academics from Africa. 
Thanks to Anya Schiffrin and Meghan Slushevsky for their contributions to this summary.