Admissions Blog
Capstone at SIPA - Médécins sans Frontières
By Shally Baloch '23
Posted May 12 2023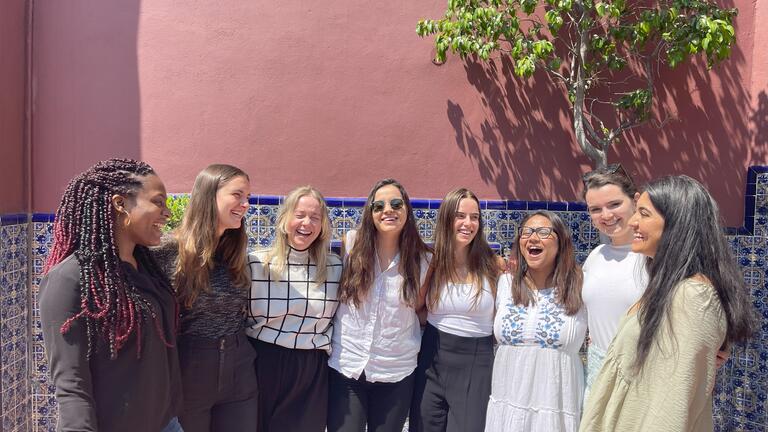 My Capstone Group and I in Mexico City during our Spring Break to meet directly with our clients, Médécins sans Frontières.
What are capstone projects?
SIPA capstones are the culminating academic experience for students. Rather than write a thesis, SIPA requires students to apply the skills and knowledge they have gained over the course of their program in a consulting project for external clients. Clients range from the United Nations to the NYC Mayor's office to the Government of Peru, from firms like Goldman Sachs to NGOs like the Rainforest Alliance. Working on projects under the direction of an advisor and client input, students produce high quality deliverables and real-world impacts.
What is your capstone project?
There must be something about being an Admissions PA that makes you more inclined to choose the Médecins Sans Frontières (MSF) / Doctors Without Borders capstone project. My capstone project this year is a continuation of projects from 2021 and 2022 (which PA Catherine was on last year- you can see her blog post here). In the previous two years, groups built an understanding of the challenges facing people on the move through Central America as they seek asylum at the Mexico-US border. They focused primarily on the indemnification of the migratory route, increased vulnerabilities en route, and the current-day impacts of migration on the mental and physical health of migrants and refugees.
This year, taking into consideration the previous years' work, we prioritized two focus areas for our research: health monitoring systems and mental health of migrants. We identify current mechanisms for tracking the health status of migrants, explore the current gaps in health provision, and provide recommendations for improved continuity of care for migrants. Additionally, we do a deep dive into mental health and psychosocial services (MHPSS) available to migrants and challenges in administering care to the extremely vulnerable migrant populations. Our methods of research included almost 80 in-person interviews with service providers, an online survey distributed to over 500 organizations, and an in-depth literature and scoping review of existing research on our target populations.
How are capstone teams decided? What is your team like?
Most students complete their capstone in their final semester at SIPA. In the semester prior, we gain access to the capstone catalog that has the clients and terms of reference for each project. You rank your top five choices and have to write a little statement about why you are interested in those specific projects. Capstone advisors then review the "applications" and hand-pick the students for each capstone. Almost all students end up in their first or second choice project!
Advisors have a pretty hefty task of putting together teams, and I think my advisor did an amazing job! There are seven other brilliant, dynamic women on my team and this has truly been one of the best group projects I have done. They all come with so much knowledge and experience and I have learned so much from them! There is so much space to be curious and ask questions within the team. I feel lucky that we get along and have created an open space to learn and work together.
Why did you choose this project?
I took a class last semester, Gender and Livelihoods with Dale Buscher that was somewhat life changing for me. I want to work at the nexus of healthcare and education and assume it would mostly look like increasing mental health support and care in public schools. That class showed me the international dimensions to that work, how humanitarian work can support the most vulnerable people in our world today, and new ways to apply my passions. I wanted to use this project as an opportunity to test if humanitarian aid is a field I would be interested in and explore something new.
More personally, my family immigrated to the United States as asylum seekers from political persecution. As urban refugees, I have seen first hand the toll of lacking health care and mental health support. It was a great honor to be chosen for this project because I got the chance to attempt to support and advocate for migrants who I, to some extent, identify with.
Finally, I really wanted to travel and through this capstone we had the chance to spend 10 days in Mexico City, going to shelters and international organizations, and meeting with researchers to understand the reality on the ground. It was an absolutely invaluable component of the learning experience. I do not think I would have had the depth of understanding or even compassion had we not traveled.
What was the most challenging part of the capstone project?
Scope creep. Migration is a massive topic with many interconnected and related compounding issues that both cause migration and make migration more difficult. We originally had wanted to expand to other countries like Honduras and El Salvador and further into Central and South America but simply did not have the capacity. We are all so passionate about the topic that at times we were exploring things such as food insecurity (which is a huge component of migrant mental health) but in the end we chose to focus only on health tracking and MHPSS. If we had more time, I think my team would have spent even more effort into making an even more detailed report.
How does the capstone project end?
Our final deliverables include a final report that contains all of our findings and recommendations (it is currently a 50-page document :o ), a presentation of our findings to MSF, and a one-pager with the key findings. I am most excited about the one-pager! We had spoken to a researcher during our time in Mexico who highlighted that many international researchers come, do their work, and leave. The people who are doing the work on the ground almost never see the results or feel the impacts of the research later. The one-pager is our way to give back to the shelters, researchers, and communities that helped us do this project!
Our final report will be available on the SIPA website this summer!