Admissions Blog
Capstone Project - Médecins Sans Frontières (MSF) / Doctors Without Borders
By Catherine Born '22
Posted May 10 2022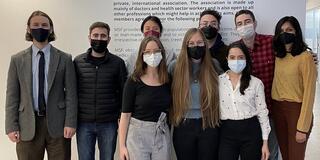 2022 MSF-SIPA Capstone Team Members at the MSF Office in New York City.
Before graduating, SIPA students are required to complete a "Capstone Workshop," which is a practical, project-based course where students work with an external client. The goal of the Capstone is to provide clients with research, analysis, and recommendations while students gain hands-on experience. You can read more about SIPA Capstone workshops and see examples of current projects on the Capstone Workshops page.
What is your project?
Our client is Médecins Sans Frontières (MSF) / Doctors Without Borders and this semester, we are taking a deep dive into issues of migration through Mexico to the U.S.-Mexico Border. Our work this year is a continuation of the work started by the 2021 MSF-SIPA Capstone team. For our project, we are identifying the effects of immigration policies in practice on migrating people, and surveying the current situation on the U.S. Mexico border, the Southern border of Mexico, and the route through Mexico. Our research has included intensive desk research, interviews with stakeholders (including NGOs, academics, and service providers in the U.S. and Mexico), as well as a bilingual survey that we launched to better understand migration through Mexico.  Our research is focused on multiple work areas, including the scope of medical care, identifying the specific needs of migrants and other vulnerable populations, the mental and physical impact of being turned away at the border, the scope of legal services and education that is offered to migrating people, and a survey of advocacy efforts of NGOs in the region.
What is your team like
?
It has been a joy working with them this semester! My Capstone team includes both MPA and MIA students from a variety of different concentrations and specializations at SIPA. We all bring very different skills to the table and contribute a diversity of perspectives, which has been a great learning experience. I have really enjoyed our discussions on information gleaned from our research and interviews, which have been very insightful.
Who is your Capstone Advisor
?
We have been working closely with our Capstone Advisor and fearless leader, Elen Costigan. She has been very helpful in offering advice, insights, suggestions, guiding our research, and supporting our interview process. Her background is in Public Administration and Public Health, and she is currently a Doctoral candidate of Public Health (DrPH) in Epidemiology at Columbia University. We have learned so much from her and we are grateful for her support and guidance!
Were you able to travel this semester?
Yes! We were very fortunate to have the opportunity to spend one week in Mexico City. This was a chance to meet in-person with stakeholders on the ground, including our client and service providers, academics, and NGOs. Having the opportunity to travel and meet in-person with stakeholders was incredibly valuable, and allowed us to more deeply understand the issue and context.
What was the most challenging aspect of the project?
Migration is such a vast, multifaceted topic. It felt like there was so much to learn in one semester! Our team was so passionate and motivated, that we had some trouble narrowing our scope and in the end we had a lot of ground to cover. We wanted to spend so much more time on the project because we were so interested in it. It was a challenge to complete such a detailed investigation in the timeline of one semester.
What is your final deliverable
?
We are consolidating our findings from our interviews, desk research, and survey into a report, which will be shared with our client with the goal of identifying ways that we can support migrating people and informing programs and humanitarian response efforts in the region.
We are looking forward to publishing our report very soon! You can look out for it on the SIPA Capstone website.