Admissions Blog
Life Beyond The Classroom: Digital Cyber Group
By Brianne Kain
Posted Sep 09 2022
The Office of Admissions and Financial Aid is pleased to share our new series, "Life Beyond The Classroom", featuring SIPA campus student organizations. SIPA Office of Student Affairs (OSA) supports and facilitates co-curricular activities and opportunities.
Image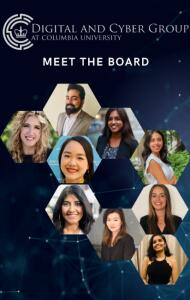 The SIPA Digital and Cyber Group (DCG) was founded in 2016 to provide a central platform for students that connects them to the wider cyber community through events, competitions, and online resources. I had the opportunity to connect with Morgan McMurray, President of DCG, to learn more about the work that DCG is doing.
What is your student organization's mission?
Digital and Cyber Group's mission is to raise the knowledge and awareness of tech and cyber policy issues amongst the SIPA student body by providing a central platform for resources, a curated series of events, and connections to the wider Columbia community.
Why did you join your student organization?
I'm pivoting from a career in private tech marketing to focus on developing policies that combat issues in the digital space, such as the spread of disinformation. DCG was a great resource for events and alumni connections during my first semester at SIPA, and I wanted to help provide that for students as part of the board.
What types of events does your organization host throughout the year? Are there any annual events?
We host several types of events throughout the year, such as coffee chats with the board, faculty discussions for students to learn about SIPA tech/cyber course offerings, alumni and career panels for students to connect with people working in the field, and socials to meet other students and tech professionals. Our big annual event is the New York Cyber 9/12 Strategy Challenge, which we host with the Atlantic Council. This is a team-based competition that asks students to respond to a simulated cyber incident. There will be complementary events during the competition, such as keynote addresses from leaders in the cyber policy field. This year's competition takes place November 4-5 at SIPA, and registration is open until September 26. I took part in this my first year, and highly recommend it!
How has your experience being a part of your organization complemented other academic or professional coursework/opportunities, and prepared you for a world post-SIPA?
The cyber and tech policy alumni network, especially in New York, is very active, so being part of DCG has provided amazing opportunities to connect with and learn from people working in these fields, including our own SIPA faculty.
How can prospective students learn more about this organization?
Please feel free to stay connected and social with us through the various outlets below! Website: https://sipa.campusgroups.com/dcg/home/ Instagram: @dcg.sipa Twitter: @SIPA_DCG and @techpolicySIPA LinkedIn group (with alumni): https://www.linkedin.com/groups/8557893/
For more information about all the student organizations at SIPA, please visit this link.