Alumni Spotlight
Why Let this Adversity Go to Waste?
By Brett Essler
Posted Feb 26 2019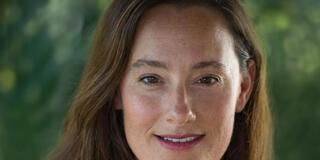 One morning in 2012, Ama Marston MIA '05 awoke to crippling pain and the realization that her hard-charging, fast-paced lifestyle would be put on hold. She soon learned that she had slipped multiple disks in her back and would spend the next six months struggling just to walk.
Three weeks prior, Ama had traveled to her father's hospital bedside in Thailand, where he was recovering from the loss of a foot after a car accident. Ama and her family's travails punctuated years of what she described as "a constant sprint" — leaving her job to begin a consulting business, struggling to cope with the global financial crisis, and maintaining her work status in her adopted home in London.
Ama's work has included projects with luminaries like Mary Robinson, Ireland's first female president, and the Columbia University professor and Nobel laureate Joseph Stiglitz. She has collaborated with businesses, NGOs, and higher education organizations spanning five continents.
The accumulated stress eventually "found a home," she wrote, in her lower back.
"How did my life get to this point?" she asked her mother, Stephanie Marston, a psychotherapist and entrepreneur. Stephanie's response was surprising — that adversity might just be an opportunity to transform her life in positive ways.
Stephanie spoke from experience, having herself overcome great odds thirty years earlier, when doctors told her she would never walk again as a result of injuries sustained in a car accident. But she made a remarkable recovery, she writes, emerging from the experience with full mobility in addition to "a renewed sense of compassion and appreciation, and a desire to make a contribution to lives of others."
Stephanie's tale over overcoming major challenges — and Ama's burnout and renewal — are now the backdrop of a book they coauthored, Type R: Transformative Resilience for Thriving in a Turbulent World (PublicAffairs/Hachette, 2018).
"It's not really about bouncing back because that's often not possible, let alone desirable," Ama said on a recent visit to New York City. "Why let this adversity go to waste? It opened all sorts of new possibilities for me that would never have occurred if I hadn't been shaken to my core.
"I have taken more risks than many which means I've faced a lot of failure and rejection, but I have become who I am and innovated because of some of those failings and I think that, in and of itself, is a success."
Type R, its authors point out, is a new way of framing the narrative around change, adversity, and stress. Through inspiring stories that illustrate grit and determination in the face of seemingly insurmountable difficulties — from citizens of Carteret Atoll in the South Pacific adapting to the loss of their homes as a result of rising seawater to Beethoven composing his Ninth Symphony while nearly deaf — Type R seeks to provide both inspiration and practical advice.
"It really starts with this mindset that something difficult has happened, yet you're going to be able to make something positive out of it," Ama said. "What's our immediate response when something difficult happens?"
The Marstons outline six of what they call "Type R" characteristics — adaptability, healthy relationship to control, continual learning, sense of purpose, leveraging support, and active engagement — which are applicable to both individually and collectively, a message Ama shares in her consulting and lectures to businesses and leaders around the world.
"Individuals are building blocks; we are what make up organizations, communities, and even nations," she said. "The organizations take on a life of their own that is more than just the sum of each of those individuals, but we have to build kind of a shared mindset which in many respects makes up culture."
In many ways, Ama's view of complex organizations was informed by her time at SIPA.
"A lot of what I learned from SIPA was getting comfortable in different worlds," she said. "It expanded my horizons in terms of what I thought was possible for myself."
The SIPA connection doesn't end there — Type R also shares the stories of three fellow graduates: Wendy Anderson MIA '04, a former senior official in the defense and commerce departments who turned her attention to filmmaking and artificial intelligence, and Maurice Nsabimana MIA '05 and Suzanna Dennis MIA '05, whose combined trauma and subsequent resilience helped them navigate later family crises and illnesses. (Nsabimana's father, Rwandan Armed Forces Chief of Staff Déogratias Nsabimana, was assassinated in 1994 along with Rwandan president Juvénal Habyarimana and President Cyprien Ntaryamira of Burundi, an event that incited both the Rwandan genocide and the First Congo War.)
Marston's research assistants included Zoryana Melesh MPA '17 and Thembi Mdachi MIA '17.
Amidst headlines of millennial burnout and widespread stress linked to technology and globalization, Ama has found that the foundation of Type R resonates with younger people, especially women. When she meets with students, she tells them to step away from social media and "suspend a certain level of judgment that we're creating for ourselves."
"We put such high stakes on ourselves," she said. "If you're not making mistakes, you might be living too carefully."
Since the book's publication in January 2018, the Marstons have shared their stories of resilience with organizations, leaders, and conferences around the globe. They have learned that individuals and businesses across sectors and societies are all struggling with adversity "from the mounting stress crisis worldwide to the future of work and AI, to divisive politics, and superstorms." The takeaway, Ama said, is a much-needed mindset shift from the traditional metrics of individual success to a more holistic, organizational view of resilience.
"We can't transform our challenges and create next iterations of ourselves, our leadership, or our institutions or nations unless we start with ourselves and with the groups of people that make up organizations and larger communities."