Event Highlight
Students in Negotiation Simulation Work Toward Peaceful Resolution of Conflict
Posted Oct 25 2022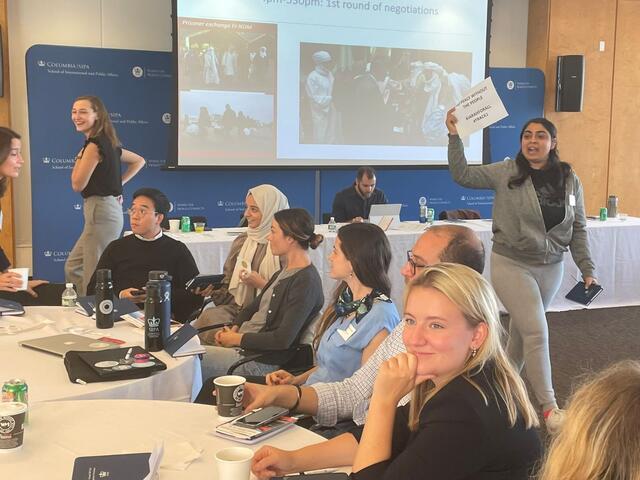 On October 15 and 16, selected students from SIPA's International Security Policy and International Conflict Resolution programs participated in the inaugural ISP-ICR Negotiation Simulation, a two-day intensive training program that convened student teams in an imaginary civil war scenario and tasked them with negotiating a peaceful resolution to the conflict.
The teams — representing the sitting government of the imaginary state of Jarah (FJ), the opposing NDM, the armed paramilitary SOM, the UN Special Envoy, the regional lead mediator, private NGO MeMediate, and civil society and business actors — were given asymmetric information about their and other parties' competing interests. Criminal and terrorist attacks almost derailed the talks, while social-media trolls and a biased state media further occluded the information environment.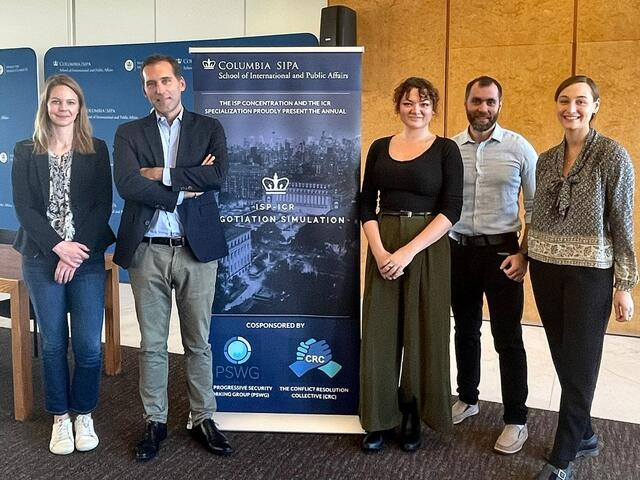 After two days of intense negotiation and mediation, a framework agreement was reached to bring peace to Jarah. The program concluded with feedback from lead facilitator Arthur Boutellis, senior adviser and former director of the Brian Urquhart Center for Peace Operations at the International Peace Institute; guest expert Pauliina Torma of the UN DPPA Mediation Support Unit; and Professor Stephen Biddle, director of SIPA's ISP concentration.
Thanks to participants for their great work and to everyone who made the event possible!
— Brit Felsen-Parsons