Event Highlight
SIPA Hosts Panel on Declassification and State Secrets
By Elizabeth Horwitz MPA '23
Posted Mar 10 2023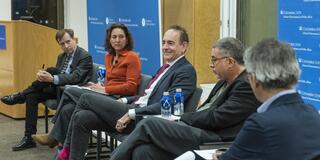 A March 7 discussion of the declassification of U.S. government secrets featured panelists (L-R) Matthew Connelly, Emily Bazelon, Timothy Naftali, Barton Gellman, and Chris H. Wiggins.
The system to declassify government documents is broken. That was the takeaway from a panel of historians, practitioners, and journalists held at SIPA on Tuesday, March 7. The panel, hosted by Columbia University Professor of History Matthew Connelly—author of the new book, The Declassification Engine: What History Reveals About America's Top Secrets—took the U.S. government to task for its unwillingness to declassify government records that are not dangerous if they were made public. The result is that every year, the government creates tens of millions of new secrets. 
This overclassification has profound consequences not only for national security and democratic accountability, according to Connelly, but also for historians, scientists, and other scholars who rely on archival material and public records to further their understanding of sensitive matters related to foreign affairs, intelligence gathering, or covert operations.
"If there were a Department of Secrets, it would now have a budget almost 50 percent bigger than that of the Treasury Department," said Connelly, referring to the roughly $18 billion spent annually to classify government documents.
The U.S. government was not always this secretive, he said, noting that the 1980s were a "boom time for political scientists and historians" as records from the Cold War were made available for academics to peruse. But that shifted in the late 1990s as public documents that were not dangerous or sensitive were increasingly marked classified. 
"A lot of that information shouldn't be protected," said Connelly. "It's not dangerous. It's not even that interesting. But because they're trying to protect all these things that are, in many cases, very important or interesting, or much less dangerous, there are things that really are dangerous  that become harder to identify and protect."
Connelly was joined on the panel by Emily Bazelon, senior research scholar in law and Truman Capote Fellow at Yale Law School; Barton Gelman, three-time Pulitzer Prize winner and staff writer at The Atlantic; Timothy Naftali, founding director of the Nixon Presidential Library and clinical associate professor of public service at NYU; and Chris H. Wiggins, associate professor of applied mathematics at Columbia and chief data scientist for the New York Times. SIPA Dean Keren Yarhi-Milo, whose own research relies on access to intelligence documents, introduced the speakers. 
The panel discussed the recent Justice Department investigations of both Donald Trump and Joe Biden for storing classified documents in their personal residences. Naftali brought up the paradox that presidents, while in office, can share classified or sensitive material with almost anyone, but are forbidden to do so once they leave office and become private citizens.
In his book, Connelly has called for a more rational, risk-management approach to safeguarding dangerous information that also would accelerate the release of public records, whether to journalists who file Freedom of Information Act (FOIA) requests or to scholars seeking archival materials. Classified materials can take upwards of 10 years to be made public and released to researchers, a process deemed far too slow by the panel.
"Even if you're pretty painstaking in how you make the request, you often wind up in a kind of bureaucratic maze of denials or redactions, and it just takes forever," said Bazelon.
The trouble is partly one of staffing, with only about 2,000 employees given clearance to declassify government records. "At the moment, [archivists] don't have any way, practically speaking, to find out what information might have already been released," said Connelly. "There is not even a centralized database of declassified documents they can consult."
The panelists talked up the potential of emerging AI technology – with a human "in the loop," of course – to accelerate the declassification process. But applying AI raises issues of accountability, says Connelly, noting that "you can't fire an algorithm."