Alumni News
SIPA Alumni Day and Reunion Dinner Draw Record Numbers
Posted Apr 05 2023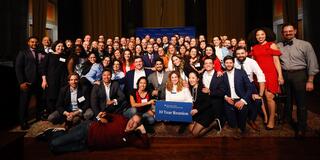 photo / April Renae
Graduates from classes spanning four decades flocked to campus for SIPA Alumni Day and Reunion Dinner on March 25. Former Air Force Secretary Deborah Lee James MIA '81 made keynote remarks while Jingdong Hua MPA '03 and Radha Kulkarni MPA '17 received the 2023 alumni awards. The day concluded with a sold-out dinner that drew 300 to Low Library's rotunda.
The evening's highlights included lots of class photos and a three-course dinner. The menu was designed by Eat Offbeat, a social-impact food company whose dishes are created by refugees and minority immigrants from across the globe, and its founder and CEO, Manal Kahi MPA '15.
The day kicked off with a lunch and keynote program at Faculty House that was attended by over 200 alumni and friends. A series of panel discussions followed. All told, more than 400 unique participants took part in the first full Alumni Day program since 2019. (A partial program was held last year.)
It was also the first Alumni Day featuring Dean Keren Yarhi-Milo, who welcomed the guests and highlighted her vision for the School. "We are truly, truly grateful for your support and for your presence here today," she told the assembled graduates.
What I learned at SIPA truly, truly made the difference for me.
— Deborah Lee James MIA '81, Former Secretary of the Air Force
Attendees then heard from James, who led the Air Force from 2013 to 2017 under President Obama, and today sits on the boards of several public and private companies and nonprofit organizations. In her remarks she discussed leadership, life lessons, and the U.S. involvement in the war in Ukraine. She also signed copies of her 2019 book on leadership, Aim High.
"When it comes to leadership," said James, "part of being a leader is developing the next generation of leaders. Part of your success as leaders is seeing the people under you go on somewhere else maybe. maybe they don't continue to work on your team, but they go to lead another team. That really speaks to not only their success, but your success."
James also praised SIPA for preparing her to meet the leadership challenges she describes in her book. 
"What SIPA really did for me was it taught me analytical thinking," she noted. "It taught me to go beyond simply reading a textbook or listening to a professor and taking notes and memorizing points. It taught me to take those points of view, but to ask the next series of questions and to do the analytical thinking that comes next. It also really helped me to burnish research and writing skills, which were enormously—they're still enormously important—let alone for the first job that you would seek. They truly, truly made the difference for me, I will say."
James also saluted the recipients of the alumni awards. Established in 2021 and first given in 2022, they honor SIPA graduates for their achievements and contributions to their communities—local, national, and global—and for service to SIPA.
Hua, who is the vice chair of the International Sustainability Standards board, was honored with the Distinguished Alumni Award, while Kulkarni, an investment manager at UNICEF's Global Finance Hub, received the Emerging Leader Award.
Kulkarni described SIPA as a "place where I feel like I truly came into my own." She thanked the School "for the exceptional education and for opening doors to unimaginable opportunities that I did not think I could have had access to, especially growing up in a middle class household in the global South as a woman, woman of color."
Hua doled out advice to the recent SIPA graduates in the room. "To the next generation, the new graduates or the new students, here's something I wanted to say," he said. "When you travel forward in life, you sort of spread random dots. But when you look back—and this is a big year for me. I turned 60—all of the dots were connected. [But] the biggest dot for my professional career was SIPA. And I thank you for that opportunity."
The afternoon featured four panel discussions, each of which convened four or five faculty and alumni experts to consider the following topics, ranging from the role of AI on misinformation and democratic backsliding, to solving global challenges through innovation and disruption, analyzing authoritarian trends in the international arena, and surveying the state of sustainable finance.
Watch keynote remarks: Deborah Lee James MIA '81 in conversation with Mila Atmos MIA '05: