News & Stories
Program Takes Students and Recent Graduates on a Cyber Career Journey Through D.C.
Posted Aug 11 2022
Thanks to Misha Giridhar MPA '23, a research assistant on cyber issues at SIPA and program director for the Digital and Cyber Group student organization, for sharing the following account.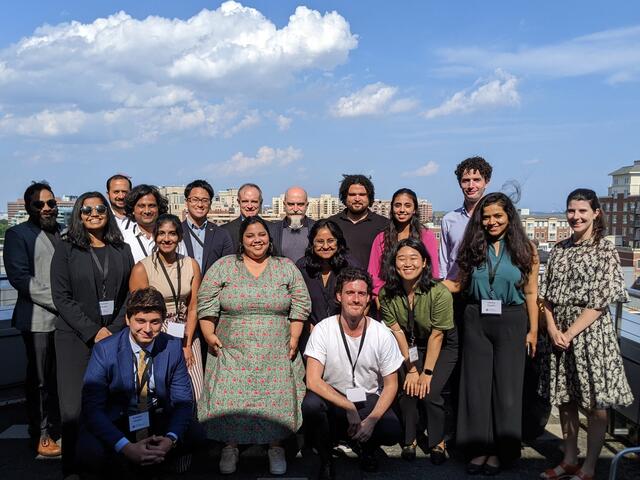 The D.C. Cyber Career Trip, sponsored by SIPA's Tech and Policy program, convenes SIPA students and recent graduates in the nation's capital to meet alumni and visit organizations working on core issues of cyber policy and cybersecurity.
Resuming after a two-year pandemic hiatus, the 2022 program spanned two days and welcomed 17 students and recent graduates. Participants met near on Pennsylvania Avenue NW near the U.S. Capitol at 9 a.m. on July 21, looking forward to seminars, panel discussions, and briefings across all things cyber.
The trip started at the offices of Crowell & Moring, a Washington-based law firm, where partner — and SIPA adjunct professor — Evan Wolff discussed the ecosystem of cybersecurity: tech, policy, and law surrounding data breaches.  Then representatives of the cybersecurity firm Mandiant, including Luke McNamara MPA '14, walked us through the structure and workings of their cyber intelligence team and provided a general overview of the cyber landscape.
We were able to visit a major consulting firm thanks to Wonny Kim MIA '20, a defense and security specialist at McKinsey & Company who hosted a lunch panel featuring a partner, an associate, and an HR specialist at the firm. They fielded questions about consulting needs in tech and cyberspace and offered career advice to policy students curious about management consulting.
After a short break, participants met with members of the Cybersecurity and Infrastructure Security Agency (CISA), an agency of the Department of Homeland Security, for another discussion. Taking part were Ian Wallace, senior advisor for strategy, Nabeela Barbari, a 15-year DHS veteran until recently working as a director at the National Security Council, and Mackenzie Crow MIA '21, a Presidential Management Fellow working at CISA as a policy analyst. Panelists shared their personal experiences, varied career paths, and what it's like contributing to the innovative and growing work taking place at CISA.
The day's final program, at the Atlantic Council, focused on the think tank's Cyber Statecraft Initiative and Digital Forensics Research Lab and provided insight into the organization's workings, people, and opportunities.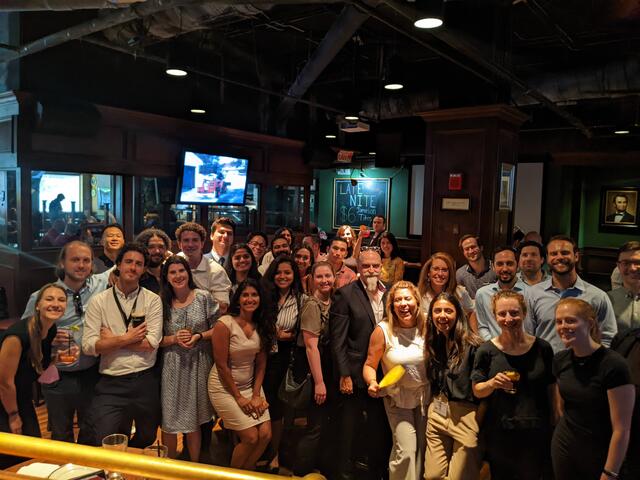 The day ended with a happy hour at a local favorite, Blackfinn Bar, where students, SIPA alumni, and other professionals networked over food and drink.
The next day we met with Natasha Cohen, senior liaison at CISA and a term member at the Council on Foreign Relations, who talked about her journey in national security, defense, and cybersecurity. She discussed the current landscape and industry crossovers and intersectionalities of various career paths.
We then moved on to Deloitte's Cybersphere, a dedicated cyber collaboration space across the river in Arlington, Virginia, for a walking tour of the state-of-the-art SOC (Security Operations Center) facility. Among other things it includes a space for simulations to assess real-world threats and vulnerabilities. Jennifer Keltz MPA '20, a cyber risk consultant at Deloitte, hosted a panel that featured two managing directors, a senior manager, and a cybersecurity analyst from Deloitte Government and Public Services.
After a quick stop for lunch, the group made its final stop at the Cyber Threat Alliance (CTA), where we met its president, Michael Daniel, who served in the Obama administration as cyber coordinator. Daniel talked about various challenges and opportunities in translating technical information into a policy case and making it work in cybersecurity. He reviewed a few cyber incidents that were significant in setting a precedent by a nation-state or at the level of harm done.
The trip then concluded when Daniel was joined by Chris Painter, president of the Global Forum on Cyber Expertise Foundation, who spoke about global diversity in cybersecurity. A longtime public servant who served, among other positions, as the United States' top cyber diplomat, Painter shared interesting anecdotes from his career — underscoring that international political diplomacy is truly an art and doesn't necessarily happen in conference rooms.
For those considering a career in the field of cyber or tech policy, especially in Washington, the trip offered a valuable opportunity to visualize and experience a variety of possible paths.