News & Stories
Presidential Management Fellows Program Selects 13 SIPA Students and Alumni for 2023
Posted Mar 06 2023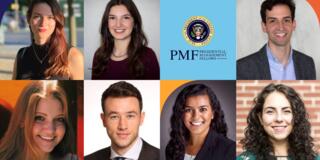 Congratulations to the seven students and six alumni selected to join the Presidential Management Fellows Class of 2023!
This year's SIPA-affiliated finalists include current students Kevin Brunelli MPA '23, Antonella Davi MPA '23, Leah Hickert MIA '23, Bhavya Jha MPA '23, Julia Kapuvari MIA '23, Cyrus Newlin MIA '23, and Rachel Swack MPA '23. They are joined by alumni Cassidy Pearson MPA '23 and Melissa Toman MIA '23—both February graduates—in addition to Meredith Palermo MPA '22, Daniel Propp MPA '21, Luna Ruiz MIA '22, and Christopher Shimamoto MIA '21.
Established in the 1970s, the Presidential Management Fellows (PMF) Program is the federal government's flagship leadership development program for holders of graduate degrees. Participants, who represent varied academic disciplines and diverse segments of American society, typically work at one or more federal agencies for two years. Some go on to careers in government while others pursue leadership positions in the private or nonprofit sector—or, increasingly, some combination of the three.
The most recent selectees represent multiple MIA and MPA concentrations, including Energy and Environment, International Security Policy, Urban and Social Policy, and Economic and Political Development. The Executive MPA program is also represented.
The prestigious program, which is overseen by the federal Office of Personnel Management, received 10,000 applications from around the world. The pool of 850 Finalists for 2023 represents 98 different degree programs across 249 academic institutions worldwide.
All told, there were 22 finalists affiliated with the University, with SIPA students and alumni comprising a majority of this group as in previous years.
SIPA's Career Advancement Center provides links to the PMF application and more. For additional information, contact CAC.