News
Nirupama Menon Rao, Longtime Indian Diplomat, Joins SIPA Faculty
Posted Sep 04 2018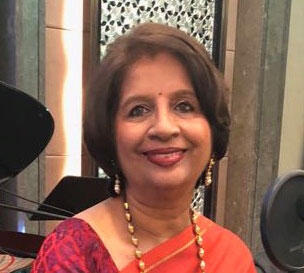 Nirupama Menon Rao, who served as foreign secretary of India from 2009 to 2011 and as India's ambassador to the United States from 2011 to 2013, will join Columbia SIPA's faculty as the George W. Ball Adjunct Professor for the fall 2018 semester.
Among many other highlights of her four-decade career in the Indian foreign service, she was the nation's first female ambassador to China.
Since retiring from the diplomatic corps in 2013, Rao has served as a fellow or visiting scholar at Brown University, the New School, and the Woodrow Wilson International Center for Scholars.
"SIPA is fortunate to welcome Ambassador Nirupama Rao as our Ball Professor," said Dean Merit E. Janow. "India is an area of great interest to our faculty, our students, and our community, and we will all benefit from the vast experience and deep insight of such an accomplished diplomat."
Rao will co-teach a course on India-China relations with University Professor Jagdish Bhagwati, and she will give a public lecture on a topic related to her expertise.
She will hold a professorship that honors George Ball, the former under secretary of state in the Kennedy and Johnson administrations who in 1968 served as U.S. ambassador to the United Nations.
The position was established in 2009 with support from an anonymous donor who wished to recognize Ball's legacy as an important establishment figure who expressed independent and often dissenting views. Over its history, the Ball Professorship has brought many remarkable diplomats, scholars, and former government leaders to SIPA, including Kishore Mahbubani, Mari Pangestu, Jorge Castañeda, and Leslie Gelb, among others.
Like previous Ball chairholders, Rao was selected in recognition of her demonstrated record of innovative contributions to international policy and understanding.
Rao received her undergraduate degree from Bangalore University and a master's degree from Marathwada University. Among awards, she holds an honorary doctor of letters from Pondicherry University in India.