Event Highlight
Huma Abedin

Discusses Her Life and Career
By Marcus Tonti
Posted Nov 07 2022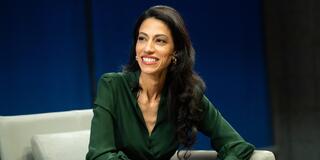 Photo by Diane Bondareff
On November 2, SIPA welcomed Huma Abedin, the longtime aide and adviser to Hillary Clinton, for a discussion of her 2021 memoir, Both/And: A Life in Many Worlds.
Born in the United States and raised in Saudi Arabia, Abedin moved back to the United States in 1993 to attend college. She has spent her entire career in public service and national politics, beginning as a White House intern and continuing through the U.S. Senate, the U.S. Department of State, and the 2008 and 2016 presidential campaigns. Abedin currently serves as Hillary Clinton's chief of staff.
Joining Abedin in conversation were Dean Keren Yarhi-Milo of SIPA and Michael Nutter, the SIPA professor and former mayor of Philadelphia. The event took place at the Forum at Columbia University, on the Manhattanville campus.
"Many of our students dream of the kind of career [Abedin] has had," observed Yarhi-Milo. "In so many ways, Huma is an inspirational role model for our students."
Over the course of the evening Abedin discussed her upbringing and the lessons she took from her parents, her faith, and her experience grappling with difficult times. She also shared stories from the White House, State Department, and Clinton's historic presidential campaigns, commenting along the way on the value of women mentoring women. the importance of staying positive, and much more.
On writing a memoir:
"I think everyone should write their story. I particularly say that to young people because each of you has an extraordinary story. And if you don't write your own story, somebody else is writing history for you."
On making a difference:
"If any of you want to make money, [government] is not the place to go. But I can tell you that if you care about your country, there is no feeling like walking into that government building or getting on that plane, whether it's Air Force One or a C-130, and to try to make a difference, both in this country and around the world. It's just an extraordinarily rewarding feeling."
On women mentoring women:
"It came from the top at the White House. Hillary [said] 'If you are going to climb the ladder of opportunity, you are not going to step on the fingers of the women on the rungs below you. You are going to reach down and lift them up, too.' And to live in that world, I think, was a tremendous privilege."
On supporting women in the workplace:
"So here I am at the State Department with my infant son and I had to nurse him in the middle of this meeting. And Hillary and Cheryl [Mills] didn't bat an eye… I was privileged to work in that environment. That should be the norm in all professional environments."
On finding one's way:
"I encourage people to consider trying different things… Being confused is okay. Not knowing is okay. All the Hillaryland people will tell you you've got to fail and figure it out. And I certainly did that. Don't expect success every single time. You have to aspire. But you're going to fall, and it's okay. It's okay."
Everything is possible:
"I had a father who was sick most of his life, all of my life. If you get up every day and you have your health, I just feel like everything else is a gift. It's a privilege to be alive in this world. And so if you have your physical health and your mental health and you can manage that, everything is possible."
On her faith:
"I was very lucky to have faith. And, as a Muslim, our faith tradition is very simple… Muslim prayer is basically meditation. It essentially is you remove yourself from the world and it is a singular conversation between you and a higher power, whatever that higher power is. And it forces you to get outside of all the nitty-gritty and just reflect. For me, I have always found that it has centered and rebalanced me to just get off the Ferris wheel for a little bit. And that's helped me."
On ongoing protests in Iran:
"A big part of our responsibility, those of us in the West, is to keep amplifying [Iranian] voices… It's still very uncertain what's going to happen there. We just have to keep saying we stand with the people of Iran and over and over and over again."
Watch event highlights: