Alumni News
Holding the Powerful to Account
By Brett Essler | Video by Brian Miller
Posted Oct 26 2022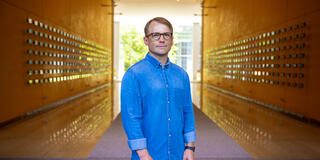 Photo by Ian DiSalvo
From an early age, Evan Hill MPA '19, knew he wanted to be a writer and historian. As a reporter on the visual investigations team at the New York Times, Hill gets to do both.
"What better way to combine writing and history than to actually chronicle the events that are going to become history?" Hill said from the Times midtown office. 
Visual investigations, Hill said, combines traditional reporting with digital forensics "to hold powerful entities to account, to unpack complicated or controversial events, and to prove who's done wrong." 
"This world of visual investigations, which really came from a broader world that is referred to as open source, started more than a decade ago and really grew with the advance of social media and handheld phones that can take videos and pictures that has become way more sophisticated now," Hill said."I'm scouring visuals, I'm looking at satellite imagery, I'm looking at maps, I'm looking at materials that have been recovered in the field by our team or other New York Times reporters, and I'm trying to put them together to create a story."
Last year, Hill coproduced Day of Rage: How Trump Supporters Took the U.S. Capitol, a documentary short film, which won a 2022 duPont-Columbia Award.
Hill also shared a 2022 Pulitzer Prize for International Reporting for his work exposing how the final US drone strike of the 20-year war in Afghanistan killed a civilian worker for a US-based aid group. The reporting led the Defense Department to offer an admission of error and initiate reforms and investigations.
It was Hill's second shared Pulitzer—the first was in 2020 for an investigation proving the Russian bombing of hospitals in rebel-held Syria.
"I think the secret drive in the heart of a lot of journalists—some of whom will admit it, and some of them won't—is that they think they're the only people who can explain events that are occurring in the world to everybody else," Hill said. "And I think that's what drives a lot of people to become journalists. I got to be the one who looks at this thing and tells everyone else what happened and what it means."
Hill developed an interest in the Middle East, studied Arabic, and worked as a reporter for Al Jazeera reporting during the Arab Spring. Unsure if his journalism was making a difference, Hill ended up at Human Rights Watch, which ultimately led to an interest in learning more about policy.
At SIPA, Hill gained "connections and experience in the policymaking world." And while he ended up back in journalism, the SIPA network has been invaluable.
"Probably the most valuable thing that I got from [SIPA] was meeting people who are going to be involved in this field forever," he said. "There were people from the US military, from foreign militaries, from foreign governments, from finance. These are people who I would never interact with, without going to SIPA."
With the success of his investigations, Hill is happy to continue his work with the Times.
"I feel incredibly lucky to have ended up at this place in journalism at this time, in a part of the industry that I feel is on the cutting edge," Hill said. "It's doing what I view as the most important thing that journalists can do—bringing human rights abuses to light, holding the powerful to account."