Alumni News
From Gratitude to Government Service
Posted Mar 01 2023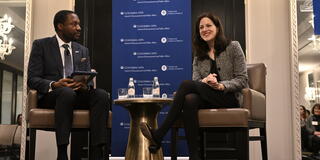 When Anne Neuberger MIA '05 was a SIPA student, government service was not in her career plans. 
"A professor, David Nissen, told me about the White House fellows program," Neuberger said. "And I kind of looked at him and said, 'I'm not sure government service is for me.'" 
A few years after graduating from Columbia, she reflected on her family and realized government service was a way to show gratitude for having "a chance to practice a faith without fear in the U.S."  
"My dad came to the U.S. as a refugee," she said. "All my grandparents came, trying to rebuild their lives that had been destroyed in the Holocaust." 
"In a very practical way, SIPA... gave me that first step into government."
Neuberger, who has been the country's deputy national security advisor for cyber and emerging technologies since January 2021, shared this personal story in a fireside chat with SIPA student Aaron "Jay" Stout MIA '24. They spoke on January 12 as part of the School's 46th Annual Washington, D.C., Career Conference. 
The gathering — sponsored by SIPA's Career Advancement Center and conducted over three days — offered SIPA students the opportunity to visit 18 employers in the capital region and take part in informational interviews with almost 120 participating alumni. On the conference's final day, more than 300 students and alumni attended a reception and fireside chat at the Four Seasons Hotel in Washington's Georgetown neighborhood. 
In the wide-ranging conversation, Neuberger discussed cybersecurity policy with Stout and shared personal reflections, too.
Neuberger was candid in identifying critical infrastructure as her greatest national security challenge, citing the likes of water and energy systems that were "not built… for the threats we understand today."
"We're digitally connecting that infrastructure — sensors on the electricity grid, sensors on pipelines — in order to determine whether there's a stoppage of some way or content," she said. "All of those sensors introduce tremendous opportunity. The data coming off that can allow for better energy balancing of the grid, better understanding of where water may not be as pure as it needs to be."
But it also introduces risk. And ensuring that as we digitize our critical infrastructure we're addressing the security and privacy risks is a big part of where I spend my time."
Stout, who is studying cyber security, asked Neuberger for career advice on behalf of the students in attendance. Among other insights, Neuberger — who completed a dual degree at SIPA and Columbia Business School — suggested that successful careers don't always follow a straight path. 
"Had somebody asked me to plan my career, I probably wouldn't have been able to because opportunities come up as you get to know people and as you're open to… the tough jobs others may not want," she said. 
Watch the full conversation: