Event Highlight
DNI Avril Haines Delivers SIPA's 2023 Silver Lecture, Praising Robert Jervis
Posted Mar 09 2023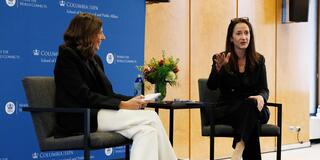 Director of National Intelligence Avril Haines delivered this year's Silver Lecture at SIPA on February 17. In her remarks, she held up the war in Ukraine as an example of how leaders' perception and experiences shape national decision making.
Haines also spoke about the need for America's intelligence community to be more thoughtful and rigorous, yet also transparent to — and willing to take criticism from — the public.
"With the increasing importance of national security in our everyday lives, the more we can help to inform the public debate around such issues, the better," Haines said. "But by doing so, we also give the public, including academia, a chance to contest our thinking, draw to our attention questions or perspectives we have not considered, and learn from those outside of our traditional circles."
As DNI, Haines oversees all of the United States' intelligence agencies. She took on her current role in January 2021, having served in the Obama administration as assistant to the president and principal deputy national security advisor, with duties that included leading the National Security Council's deputy's committee. Before that she was the CIA's deputy director from 2013 to 2015.
Her talk, which was followed by a "fireside chat" with Dean Keren Yarhi-Milo of SIPA, were part of a day-long conference honoring the late Robert Jervis to highlight the longtime Columbia scholar's influence on the U.S. intelligence community. His critical insights on misperception and decision-making were essential reading for intelligence professionals, said Haines.
"Bob was a model for how the intelligence community can and should interact with academia. He unquestionably made us better," she added.
In praising Jervis as a role model, Haines joined Yarhi-Milo, President Lee Bollinger of Columbia, and former Secretary of State Hillary Clinton, who was taking part in her first event as a SIPA faculty member. Tributes were also delivered by Jervis's daughter, Alexa; former colleagues, including Richard Betts of SIPA; and his former students, including Derek Chollet of the U.S. Department of State and Colin Kahl of the Department of Defense. (Watch the video on Jervis's legacy.)
The conference, titled "Today's Contemporary Geopolitical Landscape," also featured two panel discussions that applied Jervis's scholarly canon to today's security challenges.
The first, "Nuclear War Theory: Continuity and Change," featured Charles Glaser of George Washington University; Scott Sagan of Stanford University; Etel Solingen of the University of California, Irvine; Stephen Van Evera of MIT, and was moderated by Cynthia Roberts of Hunter College and Columbia University.
The second session focused on "Great Power Competition," featuring Thomas Christensen and Jacob Lew of SIPA, Kimberly Marten of Barnard College, Mira Rapp-Hooper of the National Security Council, and moderator Michael Doyle of SIPA.
Complete program video: "A Conference on Today's Competitive Geopolitical Landscape"
Watch the 2023 Gabriel Silver Lecture by Director of National Intelligence Avril Haines: