Event Highlight
The Current Protests in Israel: What Is at Stake?
By Talia Abrahamson
Posted Mar 31 2023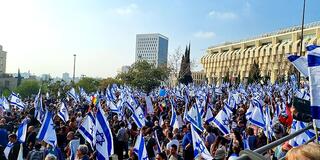 In recent weeks, Israel has seen numerous demonstrations in opposition to proposals by the Netanyahu government. Courtesy Wikimedia Commons.
After a government proposal to overhaul Israel's judiciary led to unrest and mass protests, SIPA held a rapid-response webinar at which leading experts provided analysis.
Moderated by Dean Keren Yarhi-Milo of SIPA, the March 30 discussion featured Aluf Benn, editor-in-chief of the national newspaper Haaretz; Lisa Anderson, a former SIPA dean who is now special lecturer and James T. Shotwell Professor of International Relations Emerita; and Daniel Shapiro, who served as the U.S. ambassador to Israel from 2011 to 2017.
According to the panelists, this moment marks an inflection point with wide-reaching consequences for the future of Israeli democracy, U.S.–Israel relations, and Middle East geopolitics.
Benn said Netanyahu has decided to secure his legacy through Israel's right wing, after presenting himself throughout his career as a political middleman. The reforms, intended to impair the more liberal alignment of the country's Supreme Court's, could smooth the way for his conservative base's pro-settlement priorities. In addition, given that Israel does not have a written constitution with enshrined civil liberties, the rights of all minority groups are at stake.
"There is no other law in Israel that declares that equality for citizens or freedom of speech is an important value," Benn said. "It's all in the Supreme Court rulings and decisions over the years. If the Supreme Court is gone or weakened, then each and every one, including freedom of the press, who is protected by the court should be very, very worried."
Shapiro said democracy is the "beating heart" of Israel's relations with the United States. Common democratic values strengthen the two countries'economic partnership, security cooperation, and intelligence sharing. This trust is crucial, especially as Iran nears nuclear threshold status.
"This is not exactly the atmosphere you would want to have for Israel turning to its closest ally," Shapiro said. "You'd want greater confidence, and you wouldn't want all the oxygen being sucked out of the discussion by this one judicial overhaul proposal."
Anderson said the proposed judicial overhaul is a textbook example of the new authoritarian playbook. The mass protests indicate that pro-democratic citizens are also taking lessons from authoritarian takeovers in previously democratic countries like Hungary, India, and Poland. But, the mass protests demonstrate how popular learning has so far extended only to judicial reforms, not to deep-seated tensions in Israel's democracy.
"They are satisfying emotionally for those who participate in them, but they actually don't change very much about the dynamics of politics," Anderson said. Part of that is a function of social media, whereby protests are "deliberatively not organized" and tend to "fade away just as quickly as they formed" and "don't have as much lasting power as the old-style organized syndicalism."
But the protests do echo the recent spate of protests in Iran, according to Benn, because they highlight unresolved tensions between secular and religious poles within the two respective countries.
The outcome of the proposed judicial reforms will reshape Israel's relations with Palestine, the Arab world and Middle East. Anderson said that many countries that are part of the Abraham Accord countries, which already do not consider Israel a democracy, would not be unhappy with a similarly authoritarian government.
The Knesset—Israel's legislature—is set to resume negotiations after the Passover holiday. Benn said that, despite the pause, he does not foresee Netanyahu changing his basic ideological motives to stay in power.
"Clearly, what Netanyahu would try to achieve through the timeout, through the negotiations and through building power in his own base, is to separate the mainstream protesters, the purely unprecedented and the die-hard anti-Netanyahu protests that have been going on for years and will go on for years, regardless of this," Benn said.
Watch the seminar now: