SIPA Magazine
Celebrating a Rich History of
Climate Change Expertise
By Kathrin Havrilla-Sanchez
Posted Sep 19 2021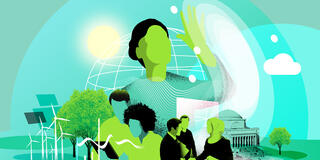 Illustration by Mario Wagner
In June of 1988, climate change became big news when the then director of NASA's Institute for Space Studies, James Hansen, testified before the US Senate Energy and Natural Resources Committee that global warming was affecting the earth's climate. The UN Intergovernmental Panel on Climate Change was also established in 1988 and was charged with the task of preparing a comprehensive review of the science and impacts of climate change.
One year earlier, SIPA created its first environmental concentration aimed at giving policy students a foundation in environmental science to better inform their work in this newly burgeoning regulatory feld. SIPA, it seems, was ahead of the pack in its understanding of and dedication to climate change policy—a trend that continues to this day.
'A Science Curriculum for Policy People'
Columbia's first full program dedicated to the intersection of policy and the environment was the Master of Public Administration in Environmental Science and Policy (MPA-ESP) degree, which seeks to prepare students to become sustainability professionals in government, business, and the nonproft sector. Initially funded by the Earth Institute, the program was started in 2002 under the advisement of Steven Cohen, professor in the practice of public affairs, director for the Research Program on Sustainability Policy and Management at the Earth Institute, and director of the MPA-ESP program.
"The program came out of my experience working with the Environmental Protection Agency in the late '70s," Cohen says. "I realized that the people making policy had very little environmental science background and the people doing the science didn't really know how the policy worked. We needed to bridge that gap with a science curriculum for policy people."
The concentrated program is packed into a cohort experience of three semesters, with core courses on topics including management, economics, and statistics— all with a sustainability focus—taught alongside more-scientific courses in environmental chemistry, hydrology, climate change, toxicology, and more.
"I was excited about a program that blended science and policy; the MPA-ESP is very unique at that intersection," says Leah C. Stokes MPA-ESP '09, an associate professor at the University of California, Santa Barbara. "In addition to the core SIPA classes, you could also take electives from all over Columbia, so I got to learn about carbon capture and sequestration and corporate social responsibility from world experts and even spent time working in a think tank."
Now Stokes's research focus is on renewable energy policy and clean energy laws. Her book, Short Circuiting Policy: Interest Groups and the Battle Over Clean Energy and Climate Policy in the American States, was awarded Best Energy Book in 2020 by the American Energy Society.
Real-World Impact from SIPA Students
A hallmark of the SIPA experience for students in the MPA-ESP, MIA, and MPA programs is their Capstone workshop. These live consulting projects provide external clients with innovative analysis and practical recommendations on real-world problems.
Many students collaborate with organizations on environmentally focused issues, from using smart-charging vehicle-to-grid technologies in electric bus feets to analyzing how leading global economies support a higher penetration of renewables.
One such project in 2021 was for Equinor, a multinational energy company that is working to become net-zero by 2050.
"Our Capstone was to analyze how carbon sinks can be used to offset emissions from Equinor's operations and products to reach their goal," says team member Francisco Galtieri MPA '21, who started his program at SIPA after working in the oil and gas sector and wanting to improve the industry to lessen its negative impact on the climate. "We did simulations and modeling and gave them nature- and tech-based solutions on how they can move toward success."
Galtieri and the rest of the team—Qinying Liang MPA '21, Laura Pulecio Duarte MPA '21, Diego Recinos MPA '21, Bastian Stroemsheim MIA '21, and Hiroyuki Yamagata MIA '21—presented their findings to the executive team at Equinor. They have been asked to give the presentation multiple times for different leadership groups from the company, indicating not only the quality of the research but also the significance of the net-zero goal to Equinor.
"The Capstone team did a great job, and they won SIPA's Isaac Anderson Rauch Award for Excellence," says Jason Bordoff, professor of professional practice in the faculty of international and public affairs, founding director of SIPA's Center on Global Energy Policy (CGEP), and the team's adviser. "Equinor is one of the leaders in the gas industry, and it's exciting to have our students helping them think about how to meet their commitment to the environment."
Funding for Big Ideas
Another School-wide initiative that often results in world-changing climate ideas is the SIPA Dean's Public Policy Challenge Grant, which seeks proposals from students for innovative projects that use digital technology and data to improve the global urban environment. The program runs annually, with $25,000 awarded to the winning team.
In 2016 the winning team of the Dean's Public Policy Challenge was Easy Solar, a social impact venture to reduce energy poverty in urban and peri-urban areas of West Africa, particularly Sierra Leone. Cofounded by Nthabiseng Mosia MPA '16, Eric Silverman MPA '16, and Alexandre Tourre MPA '16, Easy Solar was also recognized by the Schwab Foundation for Social Entrepreneurship and the World Economic Forum as leaders in social innovation.
Five years later Easy Solar is still working in Sierra Leone to make renewable energy accessible and affordable for all, offering a range of products such as solar lanterns, home lighting systems, appliances, and cookstoves with affordable financing plans.
The 2019 Dean's Public Policy Challenge winning project was Data Analytics for Sustainable Herding (DASH), which was created by Jessica Arnold MIA '19, Alonso Flores MPA '19, Nigora Isamiddinova MPA-DP '19, Nitasha Nair MPA '19, and Ji Qi MPA-DP '19. Using data from satellites, mobile telecommunications, and GPS-enabled systems in the African Sahel region, DASH seeks to understand the interplay of climate change, human mobility, and violent conflict between pastoralists and farmers over increasingly scarce natural resources.
The student team, whose members were all Sustainable Development Goals (SDG) Fellows, also won the 2018 Geneva Challenge, a competition among graduate students that focused on social and economic development in the context of challenges posed by climate change.
"DASH is an unforgettable journey, and I brag about it with my colleagues at work," Qi says. "What we learned at SIPA definitely greatly informed the project. The SDG Fellows program and participation in the Geneva Challenge and Dean's Challenge are all enriching experiences and have become valuable assets for our professional and personal lives."
'Economics Meets Natural Sciences and Engineering'
John Mutter, professor of earth and environmental sciences and of international and public affairs, is director of SIPA's PhD in Sustainable Development, another academic program the School offers for up-and-coming environmental and climate change specialists in a range of industries. "Through the PhD program," Mutter says, "we make sure that students get a grounding in both physical science and social science because we believe that the world's big problems—like climate change—lie at the nexus of those two areas."
Douglas Almond, professor of international and public affairs and of economics, was one of the original faculty hires for the PhD program when it began in 2004. Almond previously served as a staff economist at the Council of Economic Advisers during the Clinton administration and studied the health effects of air pollution in China as a Fulbright Scholar.
"I can't say enough positive things about the PhD program and its very specific lens of economics meets natural sciences and engineering," Almond says. "That combination is targeted to these big, existential questions that society just isn't doing enough about. To have these students be so strong in science and math and still maintain their creativity and innovation is really exciting to see."
Graduates of the PhD in Sustainable Development program are a diverse and motivated bunch, from teaching in public policy and economics at the University of Chicago and University of California, Berkeley, to working at the World Bank and the International Monetary Fund.
Both during and after their program, graduates like Sandra Aguilar-Gómez PhD '21 are also conducting in-depth research on climate change around the world. Her work seeks to better understand the economic impact from policies surrounding poor air-quality warnings in the densely populated and heavily polluted metropolis of Mexico City.
"There is established evidence of how one day of very bad pollution can have massive health impacts," she says. "So one day of pollution changes the rate of hospitalization, changes the rate of overall mortality, and specific mortality on cardio and respiratory diseases."
Aguilar-Gómez's research demonstrates that perhaps rather than short-run policies meant to protect citizens on very poor air-quality days, the Mexican government would see greater impact from regulating high-pollution industries like refineries and thermoelectric plants.
"Right now I'm centered around Mexico City, but I would like to use satellite data to measure pollution to extend these analyses to other regions," she says. "Environmental justice is a topic that is gaining traction in the US, but in my view, it is still neglected in other parts of the continent that also present large historical inequalities in exposure to pollution and other forms of environmental degradation."
Collaborative Research for The Good of The Planet
Like Almond, Wolfram Schlenker, professor of international and public affairs and vice dean for academic affairs at SIPA as of July 1, joined SIPA when the PhD program started. The two now codirect SIPA's Center for Environmental Economics and Policy (CEEP), which was founded in 2019 and is actively connected to the PhD program as a way to disseminate research by faculty and students affiliated with the center. CEEP focuses on the causes and consequences of environmental change and how policy can be used to ensure sustainable development around the globe.
"SIPA is a key player in the environmental space because we are doing first-rate research but also discuss implications for policy," Schlenker says. "At CEEP we're engaged in everything from the health effects of pesticide use in agriculture to the impacts of climate on ecosystems as well as various sectors of the economy."
Schlenker's recent research examined the link between climate and migration. Coauthored with Anouch Missirian PhD '20 and published in the journal Science, the study links random year-to-year weather shocks over agricultural growing areas in the countries of origin to asylum applications to the European Union. "Though poorer countries in hotter regions are most vulnerable to climate change," Schlenker says, "our findings highlight the extent to which countries are interlinked."
In another study that is forthcoming in the Journal of Financial Economics, PhD candidate Charles Taylor and Schlenker show how financial markets account for warming temperatures. The Chicago Mercantile Exchange offers future contracts whose payouts are dependent on future weather outcomes—for example, the amount of heat in July in New York City. The authors show how the prices of such contracts have been trending upward over the last two decades: Schlenker notes that "market participants already price in climate model projections, which have been predicting warming trends that are very close to what we have been observing over US cities."
In an effort to lower emissions in China, Almond works with PhD students on research to compare on-the-ground reporting of pollution levels with satellite imagery of pollution levels and then marry those analyses to real-world regulations to show linkages between policy and reality.
Mutter, a CEEP faculty member, investigates the role of natural disasters in constraining development opportunities for poor and emerging societies. "When you think of the number of people who perished because of Hurricane Sandy, it is quite small compared to the density of the area, simply because evacuation was done effectively," he says. "That can be harder to do in a place like Bangladesh, with no big highways to escape on. We have to think a little differently in less developed areas to make sure more people are saved, and part of that is needing to know which places are likely to be impacted by extreme weather."
As part of his work, Mutter has also delved into how climate change affects the prevalence and power of natural disasters. For example, current modeling suggests that as water temperatures continue to rise, hurricanes in the Atlantic Ocean may not form as frequently, but they will track farther north and become more intense— and dangerous to coastal populations.
CEEP highlighted some of its alumni and student work representing the center's four focus areas—climate change, ecosystem services, health, and policy design—at its inaugural conference in 2019. After a pause because of the COVID-19 pandemic, Schlenker and Almond are now planning their second conference for spring 2022.
Policy Students Tailoring Their Degree to Benefit the Climate
The popular Energy and Environment (EE) concentration, which provides MIA and MPA students with advanced knowledge on global energy and environmental issues and how governments, businesses, and civil society can lead effective action, is codirected by Almond and David Sandalow, senior research scholar and the inaugural research fellow at CGEP. The EE concentration gives students a combination of analytical skills, fundamental science courses, and real-world policy experience, taking advantage of the many SIPA faculty with impressive and diverse firsthand knowledge.
Scott Barrett, former vice dean at SIPA and the Lenfest-Earth Institute Professor of Natural Resource Economics, is one such faculty member, having worked on climate change for more than 30 years as a researcher, adviser, and educator. He is a leading scholar on transnational and global challenges as varied as climate change and disease eradication. His research focuses on how institutions like customary law and treaties can be used to promote international cooperation.
His book Environment and Statecraft addressed a theory of treaty design, explaining the success of the 1987 Montreal Protocol in reducing ozone emissions. A second book, Why Cooperate?, showed how international cooperation, institutional design, and the use of incentives can help to combat threats like climate change.
Barrett was a lead author of the second assessment report by the UN Intergovernmental Panel on Climate Change (IPCC) in 1995, which was the first time the IPCC incorporated considerations of policy in its assessment. (Joseph E. Stiglitz, University Professor, was also a lead author of that assessment; Professors Geoffrey Heal and Benjamin Orlove have been lead authors on subsequent IPCC assessments or special reports.)
He also teaches a course on sustainable development for SIPA's PhD students, as well as several courses for EE students, including Climate Change Policy. "It's a mistake to look at climate change in isolation," Barrett says. "This class gives students a holistic perspective on the entire problem, including aspects of science, engineering, economics, ethics, politics, policies, and treaties. By gaining a complete understanding of all the parts and how to connect them, students are stimulated to think about why we haven't been as successful as we could have been over the last 30 years and how we can do better."
The EE concentration was a chief reason student Eduarda Zoghbi MPA '22 chose SIPA. "One of the things I love is that you can get policy-driven classes as your core and couple that with the EE concentration and work with a group of students who are really dedicated to this area," she says. "People have the opportunity to conduct practicum leading the expansion of CGEP's Women in Energy program—another major reason she chose SIPA—into Brazil in collaboration with Columbia Global Centers | Rio de Janeiro.
Columbia Climate School Will Work in Tandem with SIPA
In July 2020 the Columbia Climate School became the first new school at the University in 25 years. Created to meet the global and multifaceted challenges of climate change, the Climate School is building its capacity from Columbia's many world-class research centers and interdisciplinary faculty, including climate change and environmental policy expertise from SIPA.
Assuming the role of cofounding dean at the Climate School is Bordoff, who joined SIPA in 2013 as CGEP's founding director. In announcing the school's leadership this past April, President Lee Bollinger indicated that it would also be co-led by Alex Halliday, director of the Earth Institute; Ruth DeFries, University Professor and Denning Family Professor of Sustainable Development in the Department of Ecology, Evolution, and Environmental Biology; and Maureen Raymo, director of the Lamont-Doherty Earth Observatory and the G. Unger Vetlesen Professor of Earth and Environmental Sciences. Among the Climate School faculty is James Hansen, adjunct professor at the Earth Institute, whose 1988 testimony had kick-started the climate change discussion.
"The Climate School is pursuing a hub-and-spoke approach to bring together the extraordinary capabilities of Columbia, with SIPA playing a core part," Bordoff says. "For decades, Columbia has been a leader in climate science with a big focus on finding solutions through foreign and economic policy. As a leading school in international and public affairs, SIPA has many of the experts needed to understand and innovate in everything from economic development in emerging markets, to geopolitical issues as we move away from fossil fuels, to national security in foreign policy."
As Bordoff helps to lead the Climate School, he will continue to teach at SIPA and run CGEP. Before coming to Columbia, it was his experience in energy policymaking while working with the Clinton and Obama administrations that led him to conceive of the need for a place like CGEP. During that time, he had wished there was an objective, rigorous, analytical resource for leaders in the public and private sectors to help them understand all aspects of the environment in a format and time frame that worked for them.
"Policymakers deal with complex issues and have quick expectations, and often they don't have the time to gain all the knowledge they need about a subject matter," Bordoff says. "Academia is extraordinarily powerful in the new knowledge it creates and the depth of its expertise, but they can take a lot of time to process it; think tanks are fast and efficient, but they don't have the depth of research capability that Columbia does. My goal with CGEP was to connect that capacity for knowledge creation with efficient turnaround times and get it to the people who are making those big decisions about our energy policy."
Research at CGEP
CGEP focuses its research on change problems in which Columbia has a unique capability and expertise to make an impact, such as regulatory and policy-design issues around carbon capture and removal technology.
Sandalow had an extensive career in the US government before joining SIPA in 2013, serving in senior positions at the White House, State Department, and ment of Energy. CGEP provides him with an excellent base to research a range of climate change topics, particularly for his work with China.
He visited China for the first time in 1981—under an exchange program through Columbia Law School, coincidentally has spent years working on Chinese energy and climate policy. At SIPA his work spans issues including ways to decarbonize China's energy sector to how to make the Belt and Road initiative greener, and his research involves many of SIPA's Chinese students. He has an appointment as a distinguished visiting professor at Tsinghua University in Beijing and is the author of the Guide to Chinese Climate Policy, an authoritative resource for researchers and practitioners.
His latest research is on the effect of the entire food system—from land clearing to farming to transportation to disposal—on climate change. Together with partners from Columbia's Earth Institute, NYU, and others, he and his team have formed the Food Climate Partnership, a collaborative research effort to develop better data and policies that can effectively combat the climate crisis.
Staying Ahead of the Curve
With Bordoff's leadership, SIPA's collaboration with the new Climate School will seek to foster solutions to the climate crisis while also enhancing the School's substantial expertise and degree programs in areas such as sustainability, energy, and the environment.
"SIPA is unique in that we're willing to learn by teaching," Mutter says. "We see an interesting problem in the world and say, 'Let's teach a course on that,' instead of waiting for it to be solved first. There's a desire to be on top of things here, and SIPA brings in the expertise to understand if there's a physical phenomenon to be understood as part of a social phenomenon."
Looking ahead to SIPA's future collaborations with the Climate School, Bordoff says, "I think that SIPA is an interesting place because it has depth across so many disciplines. It's important to create action in climate change by bringing in knowledge from other fields, and a purely climate-focused school can't accomplish that."
This story appears in the most recent issue of SIPA Magazine, published in October 2021.