SIPA Magazine
"All I Can Do is Tell
My Truth

."
By Anya Schiffrin
Posted Oct 29 2020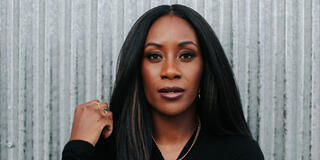 Photo By Denys Meak
Karen Attiah MIA '12 was known at SIPA for her early adoption of Twitter, her vast network of accomplished friends, and her activities in support of African journalism and investigative reporting. Less than 10 years after graduating from SIPA, Attiah has become a high-profile advocate of free expression, writing extensively about her experience editing the late Jamal Khashoggi, the subject of her forthcoming book.
Today, Attiah—a Ghanaian American writer who was raised in Houston—is the global opinions editor at the Washington Post, where her work centers around international affairs and social issues including race, gender, and politics, with a particular focus on Africa. Before joining the Post in 2014, Attiah was based in Curaçao, freelancing for the Associated Press. In 2019, the National Association of Black Journalists named her its journalist of the year; the previous year, she won a George Polk Award, with David Ignatius, for their writing about Khashoggi's murder.
Anya Schiffrin—the director of SIPA's specialization in Technology, Media, and Communications and one of Attiah's former professors—caught up with Attiah by phone in July. The conversation has been condensed and edited for clarity, with assistance from Sofia Bennett.
You started out as a straight news reporter and spent time with AP in Curaçao. How did you transition to being an opinion editor at the Washington Post? And what is the role of an opinion editor and op-ed section in a media landscape where everyone is expressing an opinion these days?
I remember a journalist that you invited to speak with students about freelancing. He said we should be prepared to go somewhere no one else is and try to become the specialist of that region or country. I took it to heart. Several months after graduating from SIPA, I went to Curaçao. I saw the island was going through changes. It was finally becoming independent from Holland. There were issues of race and racism between the Black inhabitants and the white Dutch minority. Curaçao was a meeting point for so many cultures from around the world. I wanted to listen to people's stories firsthand to really understand them and eventually maybe influence policy and action. I talked my way into a freelancer gig with the Associated Press and was covering Curaçao's hard news.
A year later, I came back to Washington, DC. I was referred to the opinions department of the Washington Post, where I produced and worked on social media. Eventually, that turned into more editing and copyediting with writers. Luckily, I was also able to write about things that interested me, including writing about international affairs, particularly in Africa. I've been doing that ever since.
That's how I transitioned from not being allowed to have an opinion to being encouraged to have my own opinion and encouraging others to have strong points of view. Opinion journalism should still be based in fact, careful inquiry, and engagement with other points of views, even ones you disagree with. A lot of people have opinions, but what is lost right now is the art of persuasion. The best pieces are the ones that make you think.
We don't discuss enough the role of power, who gets a platform, and who gets freedom of speech. Whose voices are getting amplified and whose are not? Journalism has incredible power to shape discourse and people's views of reality. The power to have an opinion should come with a huge sense of responsibility. Responsibility comes with being based in fact and fact-checking. In the fast-paced, 24-hour beast of the digital news cycle, it is increasingly difficult to be responsible. I still believe in good persuasion, rhetoric, and advocacy. Good opinion journalism is still out there among all the noise.
Will journalism come out of the COVID pandemic being more or less trusted?
As a media practitioner, I wonder and worry. We have a president who has pushed out misinformation about the virus and even masks have become politicized. Will history look back and judge us for publishing President Trump's lies and broadcasting harmful information to Americans? I believe so. It will be a case study of what not to do during a public health crisis, when you have a leader exhibiting authoritarian impulses and no desire to cater to expertise and general safety. Over 140,000 Americans have died because of COVID. This public health crisis is a political one. If the media is part of covering politics and keeping those in power in check, we have failed.
You've become famous for your advocacy of Jamal Khashoggi, who you edited at the Washington Post. Since then you've become a leading voice for freedom of expression. Can you tell us how you see things right now?
When it comes to attacks on journalism and crackdowns on dissent, in many ways the playbook is the same. Even while Jamal was working for the Post, he was experiencing all sorts of online attacks on his work in Arabic and English. He was getting attacked, then wooed back by those in power and those he had previously worked with. I never expected anything like this would happen to him. I was working with other writers who I was more worried about. I knew exile was difficult emotionally for Jamal and I did what I could to check on him. Saudi Arabia is an ally of the US, part of the G20, and part of the global liberal order as an oil supplier. Whether it's going up against Saudi Arabia or against systems of white supremacy and racial oppression, the playbook is the same. Journalists are not immune to backlash when challenging systems of power.
After Jamal's death, so many people said, "America is a country that respects freedom of expression and protects journalists. We cannot let Saudi Arabia get away with this." And yet, I am seeing colleagues harassed on Twitter by coordinated right-wing campaigns, people getting hit by rubber bullets and tear-gassed in the streets. I've also been the target of coordinated intimidation campaigns and have seen my share of death threats. As a Black woman journalist, power does not like to be challenged. Dominance is often upheld by intimidation and violence, as we're seeing with federal troops being sent into American cities. It is a perilous time to be on the front lines and challenging these things. It is dangerous out there now, particularly for investigative journalists and outspoken Black journalists.
Media institutions need to recognize that and be extremely vocal and committed to protecting their journalists. The word "harassment" isn't enough to describe the current digital violence, threats, intimidation, and doxing occurring. This is the playbook and we are experiencing it.
Your book on the Khashoggi murder, Say Your Word, Then Leave, will be published in the spring of 2021. How was it writing about something so personal?
Writing the book was the hardest thing I have ever done. It was very personal and political. I needed to put aside being a journalist and dig deep into how to make scenes come alive, by putting humanity, color, detail, and emotion onto a page— which we often can't do in a short op-ed. I had to learn to understand the power of a personal narrative. I tried to tell the truth about what I know of Jamal's experience and what I learned about power, America, Saudi Arabia, and freedom of expression. I also discuss the missteps and mistakes when it comes to advocacy. All I can do is tell my truth and hope that will be enough. There's so much more work to be done on Jamal's case.
How do you view the Black Lives Matter movement and calls to diversify journalism in the US?
A measure of hope is that it's become global. We're two months after George Floyd was killed, and it seems that white people, non-Black people, have finally woken up. We're beginning to have the outlines of what Black people have been asking for: change and action.
America has a habit of turning a blind eye, but the manner in which George Floyd was killed—tortured to death for eight minutes, while everyone was sitting at home watching— made it impossible to look away. It was bloodcurdling.
There is a lot of energy to right so many wrongs that are so baked into America and Europe and ideas about Blackness and the Black world. We cannot call ourselves a democracy until Black people are given the parity, representation, and safety that our white neighbors, coworkers, and friends enjoy. This is a human rights issue, a labor rights issue, and a security and policing issue. Fundamentally, it's about life, liberty, and the pursuit of happiness. That is all we are asking for—still asking for, 400 years later.
Are these subjects, and #BLM, discussed in Ghana too?
Yes—I was recently invited to discuss these topics on Ghanaian radio Station JOY FM. International media and journalists should be doing a better job of amplifying and connecting with African journalists and experts as the world navigates the COVID crisis. They've been through the Ebola crisis and other public health emergencies; what lessons can we learn from them?
The narrative was that Africa would not be able to manage COVID and it would be a spiraling disaster with millions of deaths. Meanwhile, here in Texas, as the death count climbs, we are the ones who are spiraling and looking more and more like a failed state. As things stand, the doomsday predictions have not befallen the continent. They have fallen upon the supposedly most powerful country in the world.
You were an early adopter of Twitter. How do you feel about the platform today?
I came to SIPA after a Fulbright Scholarship in Ghana, where I researched how phones and radio were being used for public expression. At the time it was a major innovation. Now social media has become similar to what those phone-in radio shows were in Ghana: something that allows people to express themselves and bypass traditional gatekeeping.
I still deeply believe in using Twitter as a tool for good despite the terribleness it can bring. If you look at Black Lives Matter and #MeToo, these movements were made possible through social media platforms, particularly for people who haven't been able to have their voices heard. And I've met some of the most amazing people who've become professional contacts and friends.
Where do you stand on regulation of Facebook, Google, Twitter. Are there regulations you support or would like to see implemented?
We are in so much trouble if we leave it up to Facebook. That model favors an environment that is extremely hostile. Hate speech is rampant and longtime activists from around the world have been warning for years about bad actors using Facebook, the rise of hate speech and agitation against oppressed groups, and the spread of misinformation. This is what the free market has wrought and there are deadly consequences. They have an Incredible amount of largely unchecked power and it's dangerous. We need to be aware of any institution that holds largely unchecked power.
Which courses and professors at SIPA made a difference?
The media courses at SIPA were instrumental to my philosophy as I approach commissioning and editing pieces. It comes down to being critical of dominant narratives, questioning how a narrative becomes dominant. The statistics and economics courses supplemented our qualitative learning about human rights and media, arming us with tools to fight disinformation. Your classes set me on the trajectory I am on today. You pointed me to Twitter. I also remember Anne Nelson's course in which we mapped influence networks and who was interacting with who on Twitter, Tom Lansner's minicourse about media and conflict reporting, and Paola Valenti's introduction to economics.
I understand that you still keep up with some of your classmates.
The Class of 2012 now has a massive WhatsApp group chat. Sometimes on weekends we have Zoom DJ catch-ups. We are still sharing information and opportunities and having discussions. The ability to go to school with people from around the world and different walks of life, to be enriched by the students, and perhaps enrich other people's experiences was a utopia I miss.
This story appears in the most recent issue of SIPA Magazine, published in October 2020.